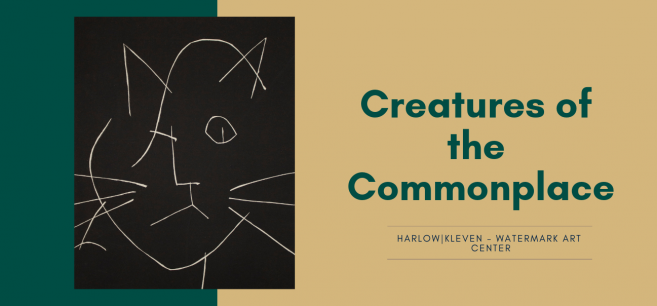 The works of Bemidji State University alumni artists Hope Wall '18 and Jim Jahoda '88 are being showcased at BSU's Harlow-Kleven Gallery in the Watermark Art Center. The exhibit, "Creatures of the Commonplace," features clay and print artwork inspired by animals.
Laura Goliaszewski, Bemidji State's art gallery director, said Margaret Harlow established an award fund to recognize outstanding work by BSU students. The fund is used to purchases pieces from the students during their academic tenure.
"Harlow wanted to encourage students to strive to a higher level by awarding the best students a place in the collection," she said. "It is very prestigious to have their works as part of a world class collection."
"Creatures of the Commonplace" digs deep into the complex connection between humans and animals in nature. For this show, each artist utilized the physical attributes of animals to represent their mass, nature and form.
The exhibit opened on Jan. 4 and will remain open through May. 27.
About BSU's Harlow-Kleven Gallery
Bemidji State University's Harlow-Kleven Gallery at the Watermark Art Center is named for long-time art patrons and BSU alumnae Margaret A. Harlow and Lille M. Kleven. Harlow, a 1936 graduate, established the Harlow Ceramics Collection in 1973, and Kleven established a print collection at BSU in 1979. Both are used as teaching collections for current BSU students. The Harlow Collection includes more than 400 pieces from all eras, including Turkish work that dates to the first century A.D. The Kleven Collection includes more than 800 pieces including work by renowned printmakers such as Henri de Toulouse-Lautrec.
The Harlow-Kleven Gallery was dedicated at the Dec. 2, 2017, opening of Bemidji's Watermark Art Gallery. Space for the gallery was secured in Feb. 2015 when the BSU Foundation Board of Directors voted to use a $500,000 unallocated gift raised as part of BSU's Imagine Tomorrow campaign to fund an ongoing lease for gallery space in the center.
The Watermark Art Center has operated in Bemidji since 1982 as a member-supported, non-profit organization. The Watermark Art Gallery is located at 505 Bemidji Ave N. It is open from 10 a.m.-5 p.m. Monday—Wednesday and Friday–Saturday; 10 a.m.-8 p.m. Thursday; and noon-4 p.m. Sunday.
About Watermark Art Center
The Watermark Art Center is a non-profit, member-supported organization dedicated to encouraging the growth and development of art in the community. They provide gallery space for exhibitions, author readings and workshops, and display national, regional and local artists in group exhibits, solo shows and installations.
Contact
Links

Bemidji State University, located amid the lakes and forests of northern Minnesota, occupies a wooded campus along the shore of Lake Bemidji. Enrolling more than 5,100 students, Bemidji State offers more than 80 undergraduate majors and eight graduate degrees encompassing arts, sciences and select professional programs. BSU is a member of the Minnesota State system of colleges and universities and has a faculty and staff of more than 550. The university's Shared Fundamental Values include environmental stewardship, civic engagement and international and multicultural understanding. For more, visit bemidjistate.edu or find us at BemidjiState on most of your favorite social media networks.
---