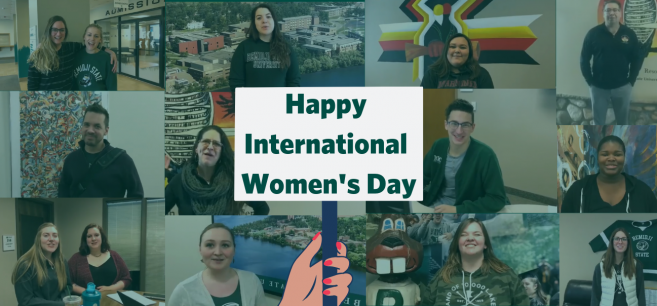 In recognition of International Women's Day and Women's History Month, Bemidji State University is celebrating women's contributions to history, culture and society.
Deb Peterson, interim assistant to the president for affirmative action and accreditation, says celebrating Women's History Month in a higher education environment offers an important reminder of the strides women have taken towards equality.
"It's an opportunity to celebrate women's success and it also reminds us that work still exists to dismantle the social structures that produce disparities between men and women and among groups of women," she said. "We find women in virtually all academic disciplines, but once they obtain work in their chosen career fields, women still face a gendered reality."
Dr. Colleen Greer, professor of sociology and former chair of the department, says Women's History Month also offers a time to acknowledge and reflect on the trials equal-rights advocates experienced to gain equality.
"It reminds us of the struggles they endured to have their voices heard," she said. "The month also sheds light on the multiple contributions of women today and the complexity of their lives. While we now recognize the centrality of women and women's voices in many areas of life, it is important that we also understand that inequalities continue to exist and that we have more work to do to reach equity."
As the Bemidji State campus reflects on gender inequality, it is proud to celebrate the barrier-breaking 50th anniversary of the women's intercollegiate athletics program this year. Although intramural and extramural women's sports date back to the early years of the university, women did not compete at the varsity level until 1969. 1969 was also the year when women's physical education faculty at Bemidji State College joined with seven schools in North Dakota and Minnesota to establish the Minn-Kota Conference, one of the first of its kind across the country.
During the month of March and into April, BSU academic departments, student organizations, employees, faculty and staff are joining together to host a series of presentations, panel discussions and activities that are free and open to the public.
The month-long series of activities began March 7 with a round-table discussion on educational strategies that promote men's development and learning in higher education in relation to gender equality. The discussion was led by two men's issues scholars, Dr. Jason Laker, professor in the Department of Counselor Education and Educational Leadership at San Jose State University in Calif., and Dr. Tracy Davis, professor in the Department of Educational and Interdisciplinary Studies at Western Illinois University.
Dr. Jesse Grant, associate vice president for student life and success, invited Laker and Davis to campus to provide a two-day workshop for students, faculty and staff recognizing that men's and women's issues go hand in hand.
"Studying men's issues directly impacts women's history – or 'herstory'," he said.
Bemidji State University's Center for Diversity, Equity and Inclusion Coordinator Ye "Solar" Hong hopes the line-up of events provides a platform for students and educators to celebrate female leaders in higher education.
"I'm looking forward to seeing how much students take away from the various events on campus during the month," she said. "Seeing students grow from their educational experience on campus is always a huge encouragement for an educator."
All events are open free to the public and sponsored by BSU's Center for Diversity, Equity and Inclusion, violence prevention employee resource group, A.C. Clark Library, Center for Professional Development, Student Center for Health and Counseling, the philosophy, sociology and music departments, Campus Activities Board (CAB) and Bemidji's ONE campaign chapter.
View Bemidji State faculty, staff and students International Women's Day wishes. 
Calendar
March 8 – 31 – Women's History Month book display and giveaway – Hong, BSU's Gender and Women studies program and the A.C. Clark Library will sponsor a Women's History Month celebration book display and giveaway throughout the month. The sponsors will purchase 14 books written by women authors to give away during the last two weeks of March.
March 15 – 4 p.m.– Emotional Labor – a panel discussion with faculty and staff on managing the emotions of peers, students and superiors that become necessary to perform well in their positions. Hagg-Sauer Hall 102, BSU campus. Open to the public. Admission: free.
March 25 – 4 p.m. – Speaking the Unspoken: Many Perspectives of Women and Labor – A community-wide discussion with BSU faculty and staff on the connection between women and labor. A. C. Clark Library, BSU campus. Open to the public. Admission: free.
March 25 – 7 p.m.– I ♥ Female Orgasm – A traveling presentation that combines sex education and women's empowerment with a hearty dose of laughter. Hagg-Sauer 100, BSU campus. Open to the public. Admission: free.
March 26 – 7:30 p.m. – Bemidji Choir home concert featuring compositions from German Benedictine abbess, composer and visionary, Hildegard of Bingen and 36-year-old Indian American composer Reena Esmail. Bangsberg Fine Arts Complex, BSU campus. Open to the public. Admission: free.
April 1 – 5:00 p.m. – Poverty is Sexist: Zaza Rising – a documentary created in support of the Duterimbere Bakery, a women-run social enterprise in rural Rwanda co-sponsored by the ONE campaign. Hobson Memorial Union Crying Wolf Room, BSU campus. Open to the public. Admission: free.
April 2 – 7:30 p.m. –The Bystander Effect – A panel discussion with BSU faculty and staff about confronting the bystander effect, encouraging intervention. Hagg-Sauer 100, BSU campus. Open to the public. Admission: free.
Contact
Links

Bemidji State University, located amid the lakes and forests of northern Minnesota, occupies a wooded campus along the shore of Lake Bemidji. Enrolling more than 5,100 students, Bemidji State offers more than 80 undergraduate majors and eight graduate degrees encompassing arts, sciences and select professional programs. BSU is a member of the Minnesota State system of colleges and universities and has a faculty and staff of more than 550. The university's Shared Fundamental Values include environmental stewardship, civic engagement and international and multicultural understanding. For more, visit bemidjistate.edu or find us at BemidjiState on most of your favorite social media networks.
---
2019-B-108