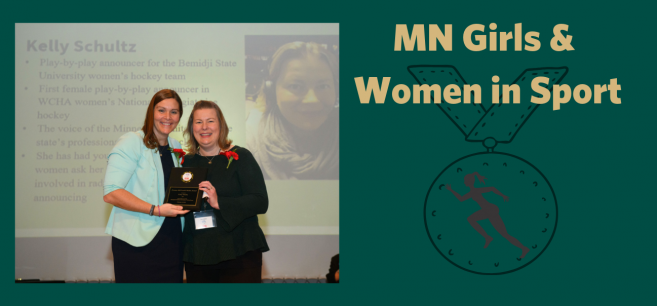 Some of Minnesota's most inspiring and influential athletes, coaches and leaders in sport were recognized at the Minnesota Coalition of Women in Athletic Leadership award ceremony held at the Minnesota History Center in St. Paul, Minn. in early February. The ceremony was conducted in conjunction with the 33rd-annual National Girls and Women in Sports Day, a nation-wide celebration recognizing the accomplishments of individuals in the promotion and advancement of girls' and women's sports. The 2019 ceremony honored 22 individuals, groups or programs that received awards in six separate categories. Among the recipients were three Bemidji State University alumni – Kelly Schultz, Jane Reimer-Morgan and Trish Reimer Kealy. Award recipients were nominated by schools, community organizations, recreation centers, and amateur and professional sports organizations.
The Kwame McDonald Media Award – Kelly Schultz, Bemidji State University Beaver Radio Network
Kelly Schultz is living her dream – and opening doors for female sports broadcasters in the process. An avid sports fan since she was young, Schultz is the radio play-by-play announcer for the Bemidji State University women's hockey team on Beaver Radio network. She was the first female play-by-play announcer in WCHA women's National Collegiate ice hockey, and she remains one of few female play-by-play announcers in college hockey across the board. In October 2018, another dream became reality for Schultz as she broadcast her first NWHL game as the voice of the Minnesota Whitecaps – the state's newly formed professional hockey team. She will serve as the team's play-by-play announcer during its inaugural season in the NWHL. She has had young girls and college-aged women ask her how they can become involved in radio and play-by-play announcing, and she says making those connections are her biggest contribution to women's sports.
Breaking Barriers Award – Jane Reimer-Morgan, Minnetonka High School
Jane Reimer-Morgan has been breaking barriers for girls and women in sport since her playing days in high school. She competed in both basketball and track and field at Bemidji State, and upon graduation in 1977 started her 42-year coaching career. After coaching volleyball, basketball and track & field – boys and girls – at various schools, Reimer-Morgan came to Minnetonka in 1985 and has been there ever since. She served as the school's head track and field coach from 1999-2016 and was named state Track and Field Coach of the Year in 2005 and 2014 while guiding her team to six state titles. She has served as the Skippers' head cross country coach since 1999, guiding them to two state titles. She has been inducted into five halls of fame and was a finalist for National Track and Field Coach of the Year in 2013.
Breaking Barriers Award –Trish Reimer Kealy, Becker High School.
A standout athlete in high school and college, Trish Reimer Kealy is now using that experience to help girls and women continue to break barriers. She was a standout volleyball, basketball and track and field athlete in high school, and was the first female Senior Athlete of the Year award winner at Pillager High School. She was a standout track athlete at Bemidji State and started her coaching career in 1981. After coaching track and field, volleyball and basketball throughout the 1980s, Reimer Kealy moved to Becker in 2005 and has served as the school's head track and field and cross country coach ever since. She was named the Minnesota State Girls' Class AA cross country coach of the year in 2008 and was named a Bemidji Top 60 Athlete at the 30th Anniversary of Bemidji State Women's Athletics.
Contact
Jennifer Flowers, assistant commissioner of Membership Services, Northern Sun Intercollegiate Conference; flowers@northernsun.org
Bemidji State University, located amid the lakes and forests of northern Minnesota, occupies a wooded campus along the shore of Lake Bemidji. Enrolling more than 5,100 students, Bemidji State offers more than 80 undergraduate majors and eight graduate degrees encompassing arts, sciences and select professional programs. BSU is a member of the Minnesota State system of colleges and universities and has a faculty and staff of more than 550. The university's Shared Fundamental Values include environmental stewardship, civic engagement and international and multicultural understanding. For more, visit bemidjistate.edu or find us at BemidjiState on most of your favorite social media networks.
2019-B-111