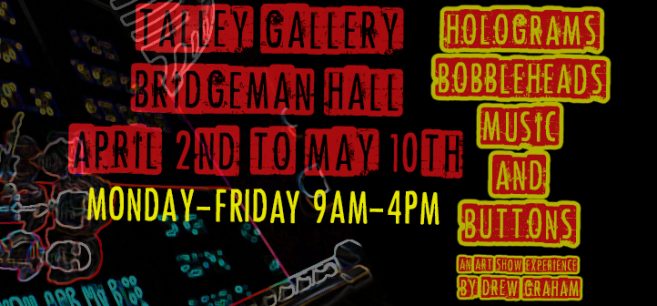 Bemidji State University's Talley Gallery continues its 2018-19 exhibition calendar with "Holograms, Bobbleheads, Music and Buttons," a collection of artwork from Drew Graham, assistant professor of technology, art and design.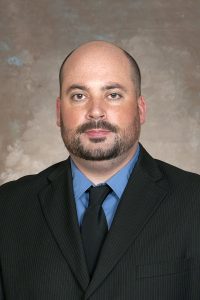 The exhibition, open now through May 10, features a variety of art installations from 3D design, interactive exhibits and video. An opening artist reception was held on April 2 from 2–4 p.m. where Graham explained his pieces and inspiration.
Laura Goliaszewski, Talley Gallery director, says that Graham has incorporated elements of design that exemplify his time on sabbatical.
"The exhibit features some of the aspects of design that Graham is concentrating on, especially the use of techno-gadgets such as video projectors, computers and computer monitors, gaming and sound generators," she said. "The show is filled with interactive machines for the visitors to the gallery and most of the displays have a common thread of one of his passions: music. The show will be a lighthearted experience for all."
All gallery activities are funded in part by the Bemidji State Student Activity Fee Allocation Committee (SAFAC), a student commission, and are open free to the public.
About the Talley Gallery
Bemidji State University's Talley Gallery was dedicated to the memory of Ila Mae Talley on Sept. 27, 1975. Talley joined the Bemidji State Teachers College faculty in 1946 and taught at the college until her death in 1963. During her tenure, she organized the Bemidji Creative Arts Center and the Minnesota Art Education Exchange, now known as the Art Educators of Minnesota. At BSC, she taught a variety of students in elementary art, techniques of weaving, Introduction to Art and Methods of Teaching Art.
The Talley Gallery's exhibits, collections and programs have supplemented BSU art education and cultivated a greater understanding of and appreciation for creative expression in the Bemidji region. Each year, the gallery hosts six visiting professional artists and juries three BSU student shows – two senior art shows and one scholarship show.
Located in Bridgeman Hall room 140 on the campus of Bemidji State University, the Talley Gallery is barrier-free and open at no charge to the public. The gallery is open Monday through Friday from 9 a.m.-4 p.m.
Contact
Laura Goliaszewski, Talley Gallery director; (218) 755-3737, laura.goliaszewski@bemidjistate.edu
---

Bemidji State University, located amid the lakes and forests of northern Minnesota, occupies a wooded campus along the shore of Lake Bemidji. Enrolling more than 5,100 students, Bemidji State offers more than 80 undergraduate majors and eight graduate degrees encompassing arts, sciences and select professional programs. BSU is a member of the Minnesota State system of colleges and universities and has a faculty and staff of more than 550. The university's Shared Fundamental Values include environmental stewardship, civic engagement and international and multicultural understanding. For more, visit bemidjistate.edu or find us at BemidjiState on most of your favorite social media networks.
2019-B-120