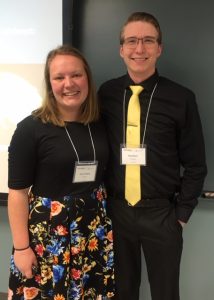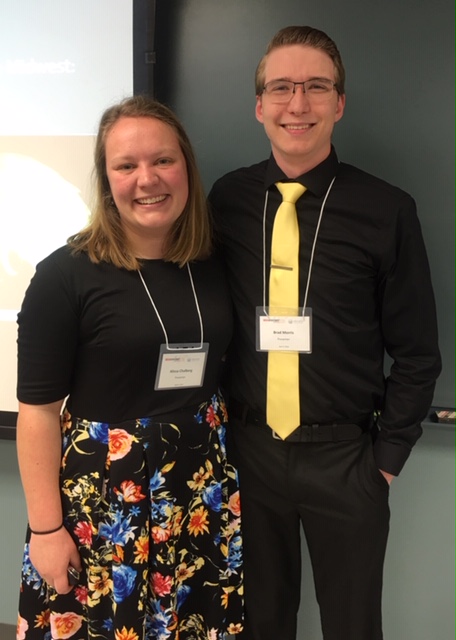 Bemidji State University aquatic biology seniors Alissa Chalberg, from Mahtowa, Minn., and Brad Morris, from Morristown, Minn., have been recognized for their research completed in conjunction with the Minnesota Department of Natural Resource through the Wetland Wildlife Population Research Group led by Dr. Danelle Larson, Wetland Research Group leader.
Their research, "The Correlation Between Amphipod Density and Macroinvertebrates in the Minnesota Prairie Pothole Region" compared wetlands, with and without amphipods, to look at the effects of amphipod stocking on wetland wildlife health. They identified 2,417 invertebrates in total.
Chalberg and Morris presented their research at Bemidji State's Student Achievement Conference held in the beginning of April and at the Minnesota State Undergraduate Research Conference in St. Cloud, Minn. in March.
"Brad and Ali are a true dream-team. Rarely do you find a single student with this amount of talent, ambition, work ethic and overall positive attitude. To find two students of this caliber is amazing; the fact that they work so beautifully in tandem is phenomenal," Dr. Debbie Guelda, professor of biology said. "There are no better representatives of BSU's Aquatic Biology Program."
Both students will attend graduate school at the University of Wisconsin-La Crosse in La Crosse, Wisc. where they were both offered graduate assistantships and plan to study aquatic sciences.
About Aquatic Biology Program
Bemidji State University is the only Minnesota institution to offer a four-year degree program in aquatic biology. This program takes full advantage of BSU's pristine setting and high-tech lakeside facilities to offer hands-on education. It is a 77-credit program and students can choose an emphasis in wetlands ecology, fisheries biology or aquatic systems.
Contact
Links

Bemidji State University, located amid the lakes and forests of northern Minnesota, occupies a wooded campus along the shore of Lake Bemidji. Enrolling more than 5,100 students, Bemidji State offers more than 80 undergraduate majors and eight graduate degrees encompassing arts, sciences and select professional programs. BSU is a member of the Minnesota State system of colleges and universities and has a faculty and staff of more than 550. The university's Shared Fundamental Values include environmental stewardship, civic engagement and international and multicultural understanding. For more, visit bemidjistate.edu or find us at BemidjiState on most of your favorite social media networks.
---
2019-B-148