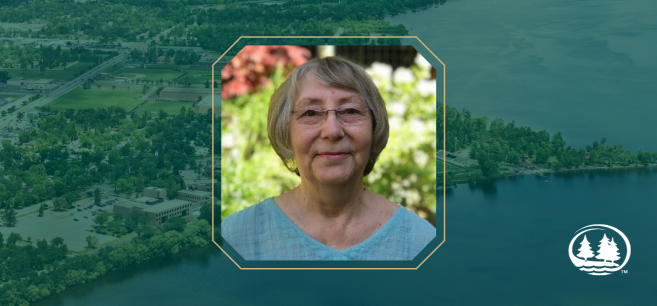 Bemidji State University's Louise Mengelkoch, professor emerita of mass communications, is one of four finalists in the 27th Annual Great American Think-Off hosted by the Cultural Center of New York Mills, Minn. June 7-8.
Finalists are chosen based on a 750-word personal experience essay written to answer a question that is released on Jan. 1. This year's question was, "To Vote or Not to Vote: Does it Matter?"
The four finalists are Rick Brundage of St. Paul, Minn., David Lapakko of Richfield, Minn, Louise Mengelkoch of Lake Oswego, Ore., and Jennifer Nelson of Fridley, Minn. Mengelkoch and Nelson will argue "yes", voting matters
while Brundage and Lapakko will argue "no", voting does not matter.
The debate among the four finalists will be held on June 8. The finalists will be available to meet the public at the Great American Think-Off Kick-Off event the evening of June 7 at the New York Mills Regional Cultural Center during a reception.
About the Cultural center's Great American Think-Off
The Great American Think-Off is an exhibition of civil disagreement between powerful ideas being explored by everyday people. It is held at and sponsored by the Cultural Center, located in the rural farm and manufacturing town of New York Mills, Minn.
This philosophy contest encourages people of all ages and backgrounds to participate. The Cultural Center is a rural
hub for creativity, community vitality, and lifelong learning in the arts.
About Louise Mengelkoch
Louise Mengelkoch is retired and lives in the Portland, Ore. with her husband, Kent, and Lucie, her Labrador. She is originally from Minneapolis and taught journalism for almost 25 years at Bemidji State University. She has published numerous articles in newspapers and magazines, mostly about social issues and politics. She holds master's degrees in English literature and liberal arts. She is the mother of two sons and two daughters, and she is writing a memoir about her
experiences as the grandmother of three lively grandchildren.
Links

Bemidji State University, located amid the lakes and forests of northern Minnesota, occupies a wooded campus along the shore of Lake Bemidji. Enrolling more than 5,100 students, Bemidji State offers more than 80 undergraduate majors and eight graduate degrees encompassing arts, sciences and select professional programs. BSU is a member of the Minnesota State system of colleges and universities and has a faculty and staff of more than 550. The university's Shared Fundamental Values include environmental stewardship, civic engagement and international and multicultural understanding. For more, visit bemidjistate.edu or find us at BemidjiState on most of your favorite social media networks.
---
2019-B-157