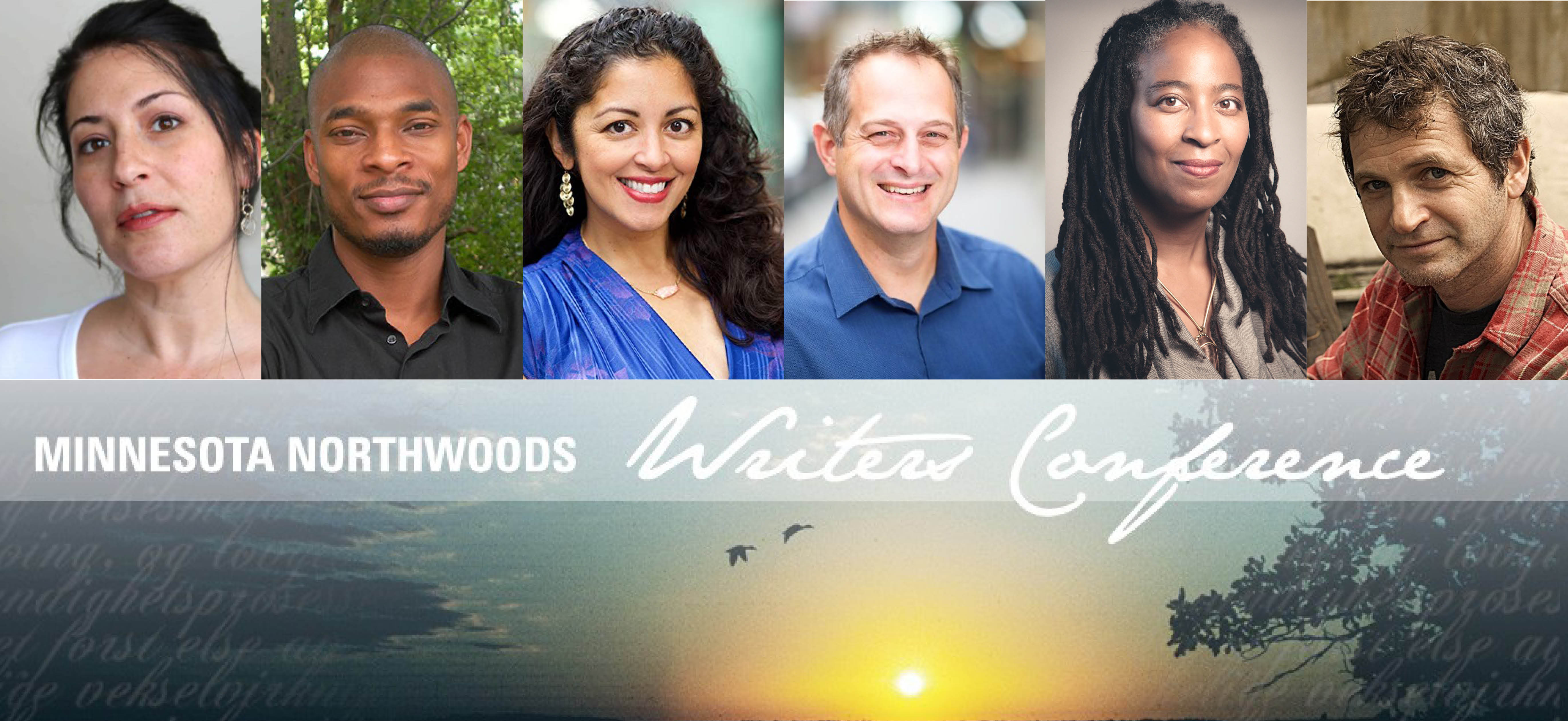 An award-winning lineup of authors from around the nation will read from their work at evening presentations during Bemidji State University's annual Minnesota Northwoods Writers Conference (MNWC), beginning June 17.
Poet Ada Limón will open the series, which also features poet Camille Dungy, poet and Distinguished Visiting Writer Terrance Hayes, fiction writer Peter Orner, creative non-fiction writer Dustin Parsons and poet Aimee Nezhukumatathil.
June 17 — Ada Limón— Poetry
June 18 — Aimee Nezhukumatathil— Hybrid Poetry & Prose
June 19 — Distinguished Visiting Writer Terrance Hayes— Poetry
June 20 — Peter Orner— Fiction
June 21— Dustin Parsons— Creative Nonfiction
June 22 — Camille Dungy— Poetry
Selected for their success as writers and authors as well as their teaching ability, each author will also participate in the conference as teaching faculty. The conference's faculty has included National Education Association fellows, winners of significant honors such as the National Book Award and a future U.S. Poet Laureate.
The Northwoods Writers Conference is funded in part by grants from the Minnesota State Arts Board, the Region 2 Arts Council and the Arts and Cultural Heritage Fund.
All public readings begin at 7:30 p.m. in the Gathering Room of Bemidji State's American Indian Resource Center. Readings, which include a post-event reception and book signing, are free and open to the public.
About the Minnesota Northwoods Writers Conference
The Minnesota Northwoods Writers Conference brings writers together on the shores of beautiful Lake Bemidji with talented and renowned faculty from across the country. Participants spend their days during the week-long conference in workshops with faculty and fellow students for feedback and encouragement. Other conference activities include various literary events, opportunities to explore the Bemidji community and evening reading events.
Distinguished Visiting Writer Terrance Hayes
This year's Distinguished Visiting Writer is Terrance Hayes, a poet who reflects on race, gender and family in his writing. He studied painting and English at Coker College in Hartsville, South Carolina and received his master of fine arts from the University of Pittsburgh in 1997.
Hayes was a guest editor for the 2014 edition of The Best American Poetry, an annual anthology of distinguished contemporary American poetry; his poems have appeared in ten volumes of the series. Additionally, from 2017-2018, Hayes served as a poetry editor for the New York Times Magazine, a supplement included with The New York Times' Sunday publication.
Throughout his career, Hayes has received the 2014 MacArthur Foundation Genius Award, two Pushcart selections, eight Best American Poetry selections, a National Endowment for the Arts Fellowship and a Guggenheim Foundation fellowship.
His first book, "Muscular Music," won a Whiting Writers Award and the Kate Tufts Discovery Award. His second book, "Hip Logic" was a National Poetry Series selection and a finalist for both the Los Angeles Time Book Award and the James Laughlin Award from the Academy of American Poets. His "Wind In a Box," a Hurston-Wright Legacy Award finalist, was named one of the best books of 2006 by Publishers Weekly.
His most recent manuscripts are "American Sonnets for My Past And Future Assassin" and "To Float In The Space Between: Drawings and Essays in Conversation with Etheridge Knight."
Hayes currently resides in New York City where he is an artist-in-residence at New York University. In discussing his own work, Hayes emphasizes his unique and ever-changing style.
"There are recurring explorations of identity and culture in my work and rather than deny my thematic obsessions, I work to change the forms in which I voice them," he said. "I aspire to a poetic style that resists style. In my newest work, I continue to be guided by my interests in people: in the ways community enriches the nuances of individuality; the ways individuality enriches the nuances of community."
Guest faculty Camille Dungy
Dungy, professor of English at Colorado State University in Fort Collins, is the award-winning author of four poetry collections, most recently, "Trophic Cascade," and the essay collection "Guidebook to Relative Strangers." She is also the editor of several anthologies, including "Black Nature: Four Centuries of African American Nature Poetry."
Guest faculty Ada Limón
Limón, English faculty at Queens University of Charlotte, North Carolina, is the author of five books of poetry, including "Bright Dead Things," a finalist for the 2015 National Book Award in Poetry, and "The Carrying," that was named one of the top five poetry books of the year by the Washington Post.
Guest faculty Aimee Nezhukumatathil
Professor of English and creative writing at the University of Mississippi in Oxford, Nezhukumatathil is the award-winning author of four poetry collections including "Lucky Fish" and "Oceanic" and the winner of the Hoffer Grand Prize for Prose and Independent Books. She is also the poetry editor of Orion Magazine, a nonprofit magazine focused on nature, culture and place addressing environmental and societal issues.
Guest faculty Peter Orner
Orner, professor of English and creative writing at Dartmouth College in Hanover, New Hampshire, is the author of two novels, "The Second Coming of Mavala Shikongo" and "Love and Shame and Love," as well as two story collections, "Esther Stories" and "Last Car Over the Sagamore Bridge," all published by Little, Brown and Company.
Guest faculty Dustin Parsons
Professor of English at the University of Mississippi in Oxford, Parsons is the award-winning author of "Exploded View: Essays on Fatherhood, with Diagrams." He has previously served as the non-fiction editor of The Mid-American Review, an international literary journal. Parsons has been awarded the 2013 American Literary Review Prize in fiction and the 2014 fiction prize from The Laurel Review.
Contact
Mathew Hawthorne, conference coordinator; 218-755-2068, writersconference@bemidjistate.edu
Links

Bemidji State University, located amid the lakes and forests of northern Minnesota, occupies a wooded campus along the shore of Lake Bemidji. Enrolling more than 5,100 students, Bemidji State offers more than 80 undergraduate majors and eight graduate degrees encompassing arts, sciences and select professional programs. BSU is a member of the Minnesota State system of colleges and universities and has a faculty and staff of more than 550. The university's Shared Fundamental Values include environmental stewardship, civic engagement and international and multicultural understanding. For more, visit bemidjistate.edu or find us at BemidjiState on most of your favorite social media networks.
---
2019-B-158