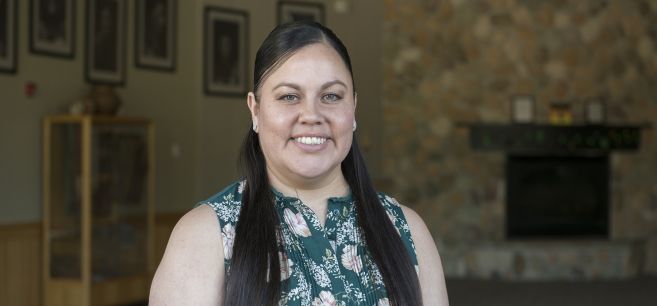 Dr. Delana Smith, a citizen of the Red Lake Nation, former Miss Indian World and BSU alumna, has joined the Bemidji State University faculty as an associate professor of professional education. She hopes to be a role model for Native American students studying education and help all students gain a better understanding of Native American culture, history and heritage.
"My goal at BSU is to first lead by example and show other Native American people that if I can do it, you can do it," Smith said. "I want to be an advocate and voice for American Indian students, regardless of their grade level or age, and be someone they can talk to about life or school, whatever is happening. Finally, I hope to bridge the understanding between teachers and students of Native American culture and learning styles."
Smith grew up in Maple Grove, Minnesota, before moving to Red Lake when she was 19 years old. Growing up, Smith said she was often the only indigenous student in her schools. After moving to Red Lake and gaining her associate's degree in early childhood education from Northwest Technical College, she felt she had the courage to pursue one of her childhood dreams — to compete in the Miss Indian World pageant, which she won in 2004.
Through her own educational experience and her opportunities as Miss Indian World, Smith not only knows what it feels like to be underrepresented in education, but also how to advocate for indigenous people.
"School wasn't always a positive experience," she said. "Many times I was told things like statistically, I was going to flunk out of school by the time I was 18. It was a lot of negative. However, being Miss Indian World allowed me to serve as an advocate for indigenous people everywhere. Through that I received many teachings that I could have never received in a classroom. The pageant taught me about the beauty of indigenous people, regardless of your tribe. That's what I've been bringing into my current teachings here at BSU."
This summer, Smith is teaching a new course, Teaching American Indian Students, where she focuses on culturally responsive teaching for future educators.
"We're looking at ways to integrate Native American culture into teaching standards and into classrooms in general. This can be through language, activities or embracing the outside community," she said. "We are also looking at the historical traumas of Native American students in the education system and bringing awareness to it. Helping teachers gain an understanding of it is a first step."
Bill Blackwell Jr., executive director of Bemidji State's American Indian Resource Center, is excited about the opportunities Smith will create for the university's professional education students.
"Our goal is to become a destination university for American Indian students nationwide," Blackwell said. "The addition of Dr. Smith allows us to diversify the courses we can teach in education, and will allow us to attract more American Indian education majors."
As a BSU alumna, Smith holds a bachelor's degree in early education and a master's degree in education. She has also been an active member of the BSU American Indian Alumni Chapter and was the president of the organization from 2012-2016. Smith also has a doctorate in educational administration and leadership from St. Cloud State University in St. Cloud, Minnesota.
About BSU's Professional Education Department
Bemidji State's professional education program is the oldest program on campus offering undergraduate, graduate, licensure and certificate programs, as well as a variety of endorsements and electives. The department recently received accreditation from the Association for Advancing Quality in Educator Preparation for National Accreditation. The association was founded in 2017 by educator preparation professionals to ensure the quality of education at all levels — from pre-school to graduate school — through excellent educator preparation.
About Miss Indian World
Founded in 1983, Miss Indian World is a five-day competition held in Albuquerque, New Mexico. The event is part of the annual Gathering of Nations, the largest Native American powwow in the world. Young women from across North America represent their tribes and communities as they compete to win the crown. Rather than emphasizing contestants' outward appearance, Miss Indian World aims to select a winner who demonstrates a deep understanding of her culture, traditions, people and history.
Contact

Bemidji State University, located amid the lakes and forests of northern Minnesota, occupies a wooded campus along the shore of Lake Bemidji. Enrolling more than 5,100 students, Bemidji State offers more than 80 undergraduate majors and eight graduate degrees encompassing arts, sciences and select professional programs. BSU is a member of the Minnesota State system of colleges and universities and has a faculty and staff of more than 550. The university's Shared Fundamental Values include environmental stewardship, civic engagement and international and multicultural understanding. For more, visit bemidjistate.edu or find us at BemidjiState on most of your favorite social media networks.
---
2019-B-161