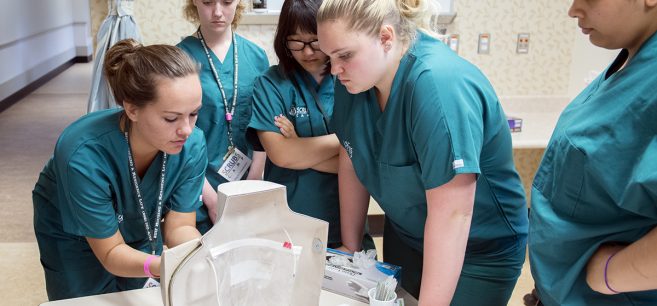 Bemidji State University and Northwest Technical College will welcome high school students interested in exploring health care careers and education pathways to a four-day Scrubs Camp from June 10–13.
Designed to be hands-on, dynamic and fast-paced, Scrubs Camp students will have the opportunity to work with local professionals in a variety of activities. The full schedule include rotations in Bemidji State and Northwest Tech dental and nursing labs, a half-day site visit at Sanford Health in Bemidji, multiple self-care seminars and a Bemidji Airport AirMed tour. Campers will also have the chance network with faculty and health care professionals in the area.
BSU and NTC students will serve as camp counselors and chaperone participants to daily activities and evening programs. These students will also lead a variety of interactive activities on personal and professional health, medical conditions and anatomy.
Sanford Health has partnered with BSU to offer a limited number of full scholarships for campers with financial need. The scholarships cover the full cost of the camp, including overnight accommodations, instructional costs, transportation to off-site facilities during the camp, meals and a camp t-shirt.
POTENTIAL PHOTO & STORY OPPORTUNITIES
Monday, June 10
10 a.m. – 3 p.m.– BSU nursing lab rotation; Bensen Hall, BSU campus
6:30 p.m. – Resilience: First Principles led by Michelle Lamere, assistant director of clinical and translational science institute at the University of Minnesota – Minneapolis; BSU campus
Tuesday, June 11
9 a.m. – 12 p.m. – NTC lab rotations: dental, soft skills and blood borne pathogens; NTC campus
1 p.m. – NTC rotations: simulation lab and medical coding; NTC campus
4 p.m.–AirMed site visit; Bemidji Airport
6:30 p.m.– Alumni panel; Bensen Hall, BSU campus
7:30 p.m.– Campus counselor topics: rotations health assessments and breathing Workshop; BSU campus
Wednesday, June 12
3 p.m.– Beltrami Electric simulation lab; Beltrami Electric
6:30 p.m. – Self-care with Student Center for Health and Counseling with an empath and Reiki discussion; Gillette Wellness Center dance studio, BSU campus
Thursday, June 13
9 a.m. – Campus counselor topics: rotations pressure ulcers and anatomy activity; BSU campus
Contact
Links

Bemidji State University, located amid the lakes and forests of northern Minnesota, occupies a wooded campus along the shore of Lake Bemidji. Enrolling more than 5,100 students, Bemidji State offers more than 80 undergraduate majors and eight graduate degrees encompassing arts, sciences and select professional programs. BSU is a member of the Minnesota State system of colleges and universities and has a faculty and staff of more than 550. The university's Shared Fundamental Values include environmental stewardship, civic engagement and international and multicultural understanding. For more, visit bemidjistate.edu or find us at BemidjiState on most of your favorite social media networks.
---
2019-B-162