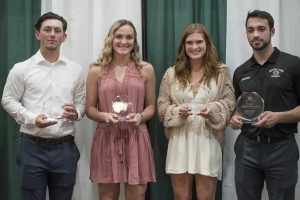 Baudry and Norton named BSU Student-Athletes of the year
Beaver Athletics capped its 2018-19 competition season at its traditional Beaver Nation Celebration banquet, April 25. Graduated seniors Rachel Norton and Justin Baudry were named BSU's Female and Male Student-Athletes of the Year, respectively. Norton won a pair of All-America honors and was named Northern Sun Intercollegiate Conference Offensive Player of the Year while helping Beaver Soccer to the most successful season in its history. Baudry led the men's hockey program in scoring and was named Second-Team All-Western Collegiate Hockey Association. In addition, Megan Dahl (soccer) and Ian Mackenzie-Olson (golf) were named the 2018-19 Female and Male Newcomers of the Year.
---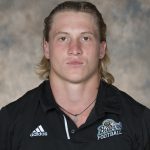 Olszewski makes New England Patriots' 90-man spring roster
Gunner Olszewski was invited to the May 10-11 minicamp held by the defending Super Bowl champion New England Patriots and earned a spot on the team's 90-man spring roster. The undrafted rookie will participate in the team's offseason organized team activities and training camp. Olszewski also joined former Beaver teammates Landon Jones and John Voegler at the Minnesota Vikings rookie minicamp, May 3–4.
---
29 Beavers make NSIC academic list
Bemidji State landed 29 student-athletes on the 2019 spring Academic All-NSIC Team, which recognizes student-athletes who have maintained a 3.20 GPA and meet other eligibility requirements. Softball and outdoor track and field led the way for BSU with nine honorees each. In total, 171 BSU student-athletes received academic honors from the NSIC, WCHA or other organizations this year.
---
Burlingame named All-NSIC
Jessica Burlingame was named second-team All-NSIC after a record-breaking season for the BSU softball program. The senior led the team in nine offensive categories, setting school single-season records in hits, at-bats, runs, triples and stolen bases in the process. She ended her BSU career as the program's all-time leader in at-bats, hits, triples and runs scored.
---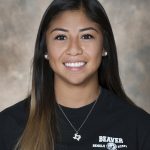 Gomez takes the reigns for Beaver Softball
Brittany Gomez was named interim head coach for Beaver Softball in May. It will be her first head coaching role after an award-winning collegiate and professional playing career. A record-setting hitter at Iowa State, Gomez was the first-ever Cyclone to win four All-Big 12 honors and is the program's career leader in hits, batting average, stolen bases and runs scored. After graduation she played professionally in the National Pro Fastpitch Softball league and was on the gold-medal winning U.S. Women's Baseball National Team at the 2015 Pan-Am Games. She was an assistant coach at BSU for the 2019 season after two years in the same role at the University of Montana.
---
Lindgren and Lopez-Simo lead tennis to third consecutive 10-win season
Zoë Lindgren and Ariadna Lopez-Simo earned All-NSIC honors and helped guide the BSU women's tennis program to its third consecutive 10-win season and an NSIC Tournament berth. Lindgren finished her senior season with an 8-7 record as BSU's top singles player en route to Third-Team All-NSIC laurels, while Lopez-Simo, a junior from Barcelona, Spain, finished 10-4 at No. 2 singles despite missing three matches with an injury. The duo also formed BSU's top doubles team for most of the season, finishing with a 6-5 record and earning Third-Team All-NSIC honors.
---
Benson completes BSU track and field career with All-NSIC honors
Senior Christa Benson finished her 2019 outdoor track and field season with a second-place finish in the heptathlon and a third-place finish in the 400m hurdles at the NSIC championships in May, setting school records in both events in the process. Her performance helped cap a season that saw school records fall in five other events as well — sophomore Venice Stewart set BSU standards in both the 100m and 200m dashes; freshman Kylie Monson set the school triple-jump mark; junior Gena Baklund broke the school's hammer throw record; and BSU's 4×100 relay team posted its best-ever time as well.