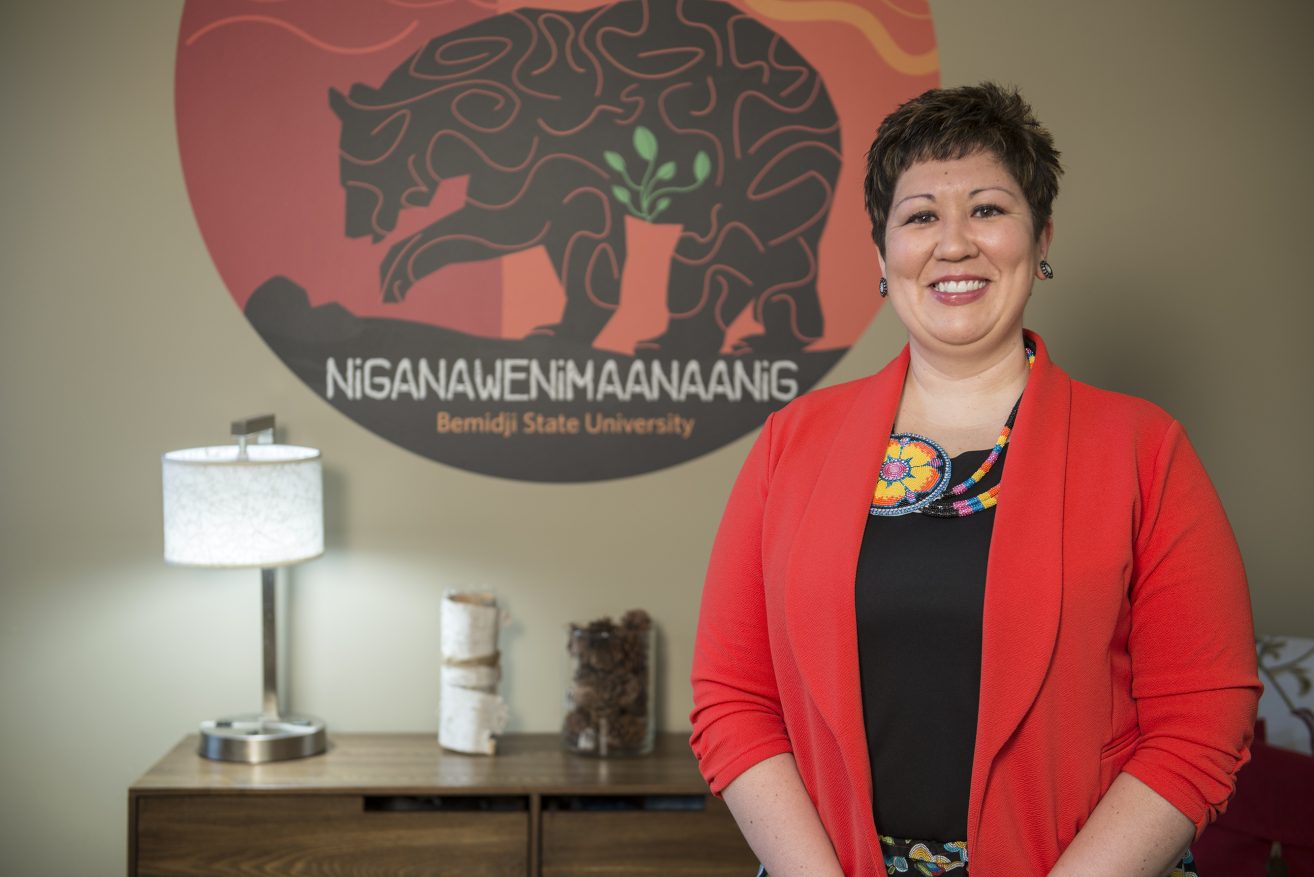 Wilkie's Work Garners National Attention
Over the past two years, Dr. Misty Wilkie has been doing much more than teach at BSU and direct the Niganawenimaanaanig program. She also has received national attention for her work to reinvigorate a national organization for Native American nurses and was named the 2018 Minnesota Indian Education Association Outstanding Educator and a fellow of the American Academy of Nursing.
Her work to help re-establish the National Alaska Native American Indian Nurses Association was featured by Indian Country Media Network in May 2017. She served as the association's president from 2015-17, helping resurrect it after a brief hiatus due to leadership changes and membership declines.
Wilkie was a member of the association as a graduate student and credits it with helping her network with other American Indian nurses with doctoral degrees.
"I found mentors and I was inspired by the work that they were doing," Wilkie said. "I looked up to these men and women, and they made me realize that anything was possible."
In November 2018, she was inducted into the Fellows of the American Academy of Nursing in Washington D.C. Wilkie was selected for this prestigious group after a competitive and rigorous application process. The 2018 inductees brought membership in the organization to more than 2,500 nurse leaders in education, management, practice, policy and research. Nominees provide evidence of their contributions to the improvement of nursing and health care and are sponsored by two current fellowship members.
"It's difficult to put into words what being inducted into the American Academy of Nursing means to me," she said. "To have achieved this goal and to be recognized for receiving the highest honor in nursing is truly humbling."
Wilkie also was named the Minnesota Indian Education Association's Post-Secondary Educator of the Year for 2018 and has made numerous appearances as a conference keynote speaker, panel presenter and guest speaker.
BSU's Niganawenimaanaanig program

helps indigenous nursing students thrive
As a person who will be the first to admit she's uncomfortable being the center of attention, Dr. Misty Wilkie has spent most of the last two years firmly in the spotlight at Bemidji State University.
An associate professor in the Department of Nursing, Wilkie has not only carried her teaching load of advanced health assessment and nursing research courses, but also launched a transformative grant-funded program for indigenous nursing students at BSU.
Her tireless work comes from a singular focus: to increase opportunities for Native American and indigenous nursing students, and to open the same doors for them that were once opened for her.
Finding Her Path
Wilkie's path toward a career in nursing started from a deeply personal and traumatic place — as an 18-year-old single mom watching her five-month-old son recover from a stroke in a hospital far from home.
"It was a foreign experience for me," she said. "I had only ever lived on the reservation — very small, rural communities — and now all of a sudden I'm in Minneapolis by myself. It was lonely, isolating and stressful."
She found solace in her son's primary care nurse, who not only took care of his physical needs, but her emotional needs as well.
"She would interpret everything the doctors had talked to me about and tell me what the treatment plan was for that day," Wilkie said. "She would reassure me that I was doing everything I could."
The experience was a turning point for Wilkie. When she left the hospital with her son, her mind was set on a future in nursing. She returned home and took an anatomy and physiology course, which led her to the nursing program at Hibbing Community College and, eventually, to Bemidji State's degree-completion program for registered nurses seeking bachelor's degrees.
While at BSU, she learned a remarkable fact — nationwide, the number of American Indians with nursing doctorates was 12.
"After reading that, I made it my mission that I would become one of these nurses with a Ph.D," she said. "I knew I wanted to become part of this elite group."
In 2009, she did just that — defending her thesis while 37 weeks pregnant with her daughter to complete her doctorate from the University of Minnesota, increasing the size of her elite group to "about 16," she said.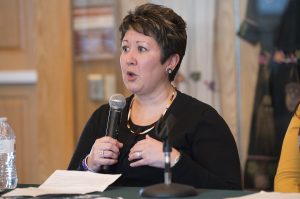 Taking Care of Them
When Wilkie joined the BSU nursing faculty in 2013, she explored ways to bring the same support to BSU's indigenous students that she had experienced as part of the Recruiting and Retaining American Indian Nurses program at the University of North Dakota, where she earned her master's degree.
"I have dreamed of having a program like that here at BSU," she said. "I knew we were an ideal location for this — I just needed money to get it developed."
That funding came in September 2016, when Wilkie and a team of BSU faculty and administrators applied for — and won — a Nursing Workforce Diversity Grant offered by the U.S. Department of Health and Human Services.
"It's empowering to see so many indigenous nurses going through the program and being supportive of one another."

– Naomi Conley, nursing major
The four-year, $2 million grant helped BSU launch Niganawenimaanaanig (nee-gah-nah-WAY-nih-mah-na-nig), a program for indigenous nurses named for an Ojibwe phrase which means "we take care of them."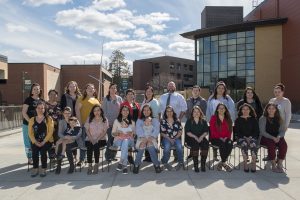 The program's original goal was to provide up to a dozen American Indian nursing students with significant scholarships and other support including mandatory meetings with tutors and student mentors, opportunities to network with elders and other cultural activities.
So far, the program is succeeding beyond expectations. In 2016, the year before Niganawenimaanaanig launched, BSU had six documented indigenous nursing students. This past academic year BSU had 36 American Indian students who had declared nursing as their major, with 23 supported by the program — nearly double its original goal.
Naomi Conley, a nursing major from Barnum who has completed her first year in Niganawenimaanaanig after transferring to BSU from Leech Lake Tribal College, says the support she's received from the program has been crucial to her success. She is on track to graduate in May 2020.
"It has been amazing," she said. "Knowing others in the program has been really helpful. As an indigenous person, you're going to college and are one of only a few brown faces. It's empowering to see so many indigenous nurses going through the program and being supportive of one another."
---
BY ANDY BARTLETT, EXECUTIVE DIRECTOR OF COMMUNICATIONS AND MARKETING