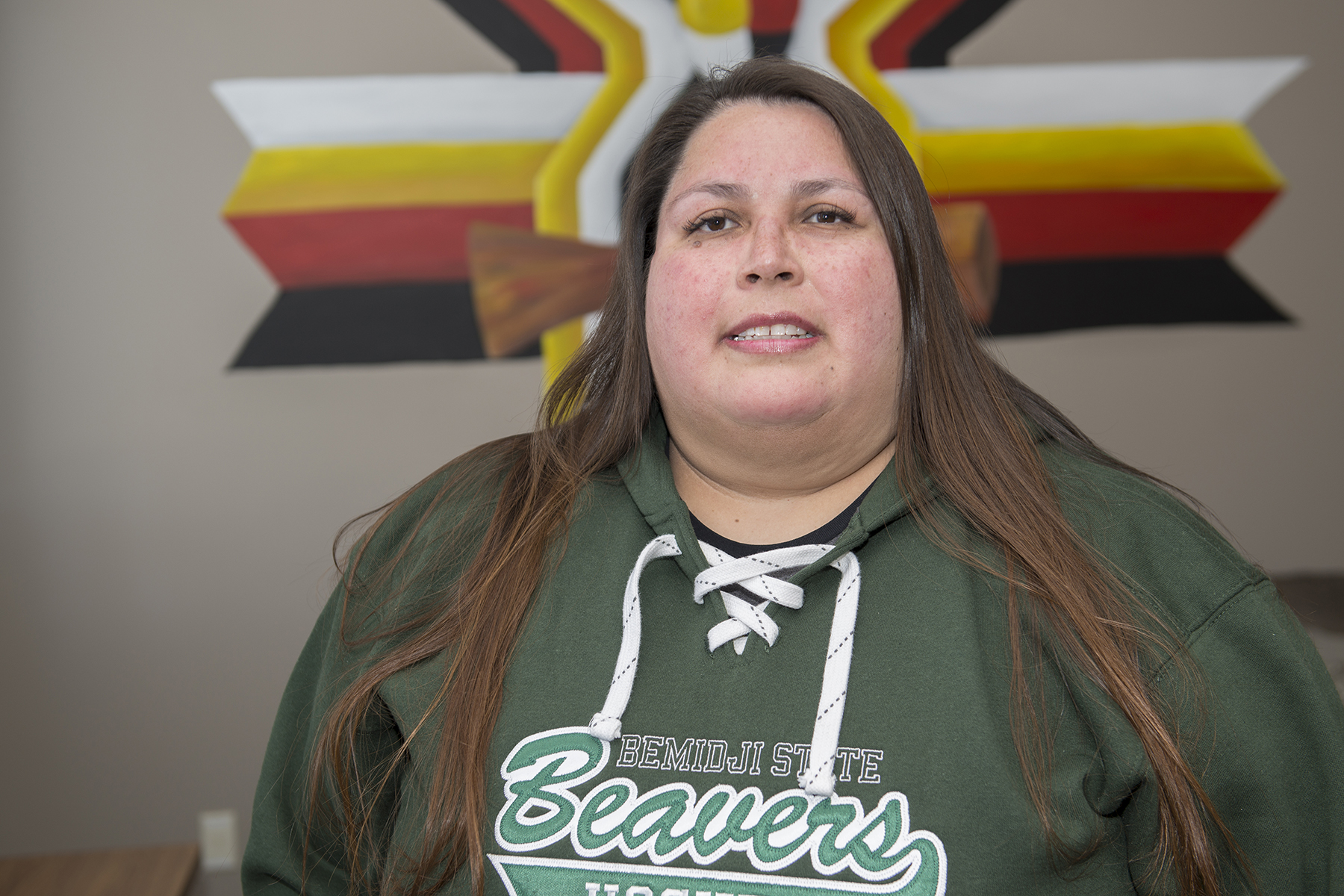 Alicia Bowstring, a senior from Onigum, Minnesota majoring in indigenous studies with a minor in Ojibwe, is the 2019 president of Bemidji State's Council of Indian Students (CIS).
Bowstring came to BSU from Leech Lake Tribal College (LLTC) where she graduated in 2018 with a dual degree in liberal education with an emphasis in STEM and indigenous leadership. While at LLTC, she was active in the Student Senate, tutored other students in the Learning Center, was a two-time Coca-Cola scholarship recipient and was named LLTC's Student of the Year in 2018. Now that she has graduated, she is a member of LLTC's Board of Trustees.
"Leech Lake Tribal College is very important to me," Bowstring said. "It's where I found my grounds and was able to stand on my own two feet. It allowed me to go on to school at BSU. Without it I wouldn't be at BSU right now."
When transferring to Bemidji State, Bowstring said she was a little nervous, but that didn't last long.
"Coming to BSU was a little intimidating at first but it was very welcoming. Right away in my classes I became friends with many people from all walks of life. I instantly belonged," she said.
Now at BSU, Bowstring is looking forward to a productive year ahead. The CIS hosts the university's annual powwow, which is the largest student-run community event at BSU, the Feast for the Homeless held in November, and several student-centered events to support Native American students and connect them to their heritage.
"I would like to bring more activities to students this year. Things like late night study sessions with food, free lunch during mid-term weeks. Things like that really help out and help take the strain off of students," Bowstring said.
Bowstring is also looking forward to leading the CIS with her husband, Bill Bowstring, at her side as the 2019 vice president of CIS.
"We are a team that tackles events and makes them bigger to really show support for students," she said. "Even though some students are younger than us, we want them to know they can always come to us for support or anything they need."
About CIS/Anishinaabe-gikinoo'amaagani-mawanji'iding
The purpose of the Council of Indian Students is to bring together Indian students at Bemidji State University to inform other ethnic groups about modern American Indians, to promote better relation between Indians and non-Indians, to encourage other Indians to take advantage of the opportunities that are available for the betterment of themselves, to bring out solutions to problems this group faces within the university, and to promote the unique and beautiful history, traditions, and culture of American Indians. The CIS is made up of a group of elected American Indian students that sponsor and facilitate events and activities at BSU.
Contact
Links

Bemidji State University, located amid the lakes and forests of northern Minnesota, occupies a wooded campus along the shore of Lake Bemidji. Enrolling more than 5,100 students, Bemidji State offers more than 80 undergraduate majors and eight graduate degrees encompassing arts, sciences and select professional programs. BSU is a member of the Minnesota State system of colleges and universities and has a faculty and staff of more than 550. The university's Shared Fundamental Values include environmental stewardship, civic engagement and international and multicultural understanding. For more, visit bemidjistate.edu or find us at BemidjiState on most of your favorite social media networks.
---
2019-B-170