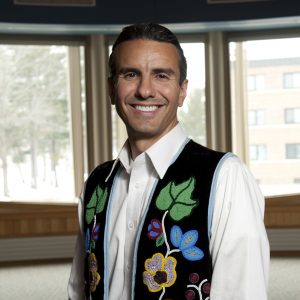 Bemidji State University, in partnership withMinnesota State University, Mankato's American Indigenous Studies Program, has been awarded a $64,208 multicampus collaboration grant through the Minnesota State system for an Ojibwe Language Consortium.
The grant will support an ongoing collaboration with Minnesota State Mankato, which offers Ojibwe language courses to students at BSU and Minnesota State Mankato, as well as expand the existing partnership to include experiential learning opportunities and community engagement for students enrolled in the courses.
Currently, Ojibwe language courses are taught by Dr. Anton Treuer, professor of language, ethnic and indigenous studies, in Bemidjivia telepresence. At Minnesota State Mankato, Chelsea Mead, associate professor of anthropology and American indigenous studies, serves as the faculty coordinator and provides in-class support for the courses. Last year, the universities collaborated to offer the two 100-level classes in the language. This year, the universities will again partner to offer the 100-level introductory classes, as well as 200-level courses.
Mead, who authored and submitted the grant proposal, looks forward to the enhanced opportunities for Ojibwe language students from Mankato to connect with and build a richer relationship with the students in Bemidji. Through the grant, students from both universities will be able to complement their telepresence studies with in-person interactions and experiences. The grant will provide student and faculty member travel to language conferences and bring students from both campuses together during the academic year for cultural activities and gatherings.
"Native American student success is linked to strong connections and ties to identity and community," Mead said. "Language is a critical component of that. This grant gives students the financial support needed to attend big language conferences and engage community members in the language and participate in cultural opportunities."
Treuer said the grant's benefits would go beyond the grant itself.
"We are delighted to receive this grant," Treuer said. "The collaboration between Bemidji State and Minnesota State Mankato will deepen and broaden through the grant activities. And I am personally honored to help build more Ojibwe speakers in both places."
The Ojibwe language courses benefit students by increasing cultural experiences and competencies. The courses expand opportunities for students to learn and explore indigenous languages and cultures, while helping to improve retention and recruitment of Native American students. In addition, for non-Native American students, the courses increase awareness and experience with indigenous cultures and languages.
Bemidji State University is home to the first collegiate Ojibwe language programin the United States, starting with adjunct classes in 1969 and a full three-year sequence of language courses starting in 1971.
Contact

Bemidji State University, located amid the lakes and forests of northern Minnesota, occupies a wooded campus along the shore of Lake Bemidji. Enrolling more than 5,100 students, Bemidji State offers more than 80 undergraduate majors and eight graduate degrees encompassing arts, sciences and select professional programs. BSU has a faculty and staff of more than 550. The university's Shared Fundamental Values include environmental stewardship, civic engagement and international and multicultural understanding. For more, visit bemidjistate.edu or find us at BemidjiState on most of your favorite social media networks.Minnesota State University, Mankato and Bemidji State University are part of the Minnesota State system, which includes 30 colleges and seven universities.
---
2020-B-018