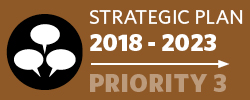 On October 3, Bemidji State University students, faculty, staff and community members sparked a new Homecoming tradition to kick off the university's second century.
President Faith C. Hensrud, Josh Christianson, executive director of university advancement, and Matthew Sauser, student body president, joined together to ignite the Homecoming Flame in the historic BSU fireplace near Lake Bemidji.
"The timing is right to incorporate this notable BSU landmark into our Homecoming traditions as we begin our second century," Hensrud said. "I hope this lighting serves as a reminder that this space is available on campus for all to enjoy."
Manfred Deputy, the first president of Bemidji Normal School, appreciated regular gatherings of students and faculty. His wife, Carrie, recognized the need for an on-campus location for these gatherings and suggested building an outdoor fireplace near the lakeshore. Students, alumni and faculty began collecting stones from which the hearth and benches were constructed in 1932 by M.O. Morse, a Bemidji mason known for the tight fit of his work. The original fireplace survives to this day, though without benches and in a location closer to the lake.
BSU senior Abbie Newman, an elementary education major from Crosby, Minn., attended the hearth lighting with a special connection to the fireplace. Her great-grandmother, Helen Siegel, was one of the two students to light the fireplace for the first time after its completion in 1932, she said.
"I just felt like I should be here," Newman said.
Newman also shared that Siegel taught in a one-room schoolhouse after earning a degree in professional education from the Bemidji Normal School.
The Homecoming flame will remain lit throughout the weekend and will be maintained through the collaborative efforts of Bemidji State students, faculty and staff. The fireplace will be extinguished after the Carl O. Thompson Memorial Concert, which is scheduled to begin at 3 p.m. on October 6.

---

Bemidji State University, located amid the lakes and forests of northern Minnesota, occupies a wooded campus along the shore of Lake Bemidji. Enrolling more than 5,100 students, Bemidji State offers more than 80 undergraduate majors and eight graduate degrees encompassing arts, sciences and select professional programs. BSU is a member of the Minnesota State system of colleges and universities and has a faculty and staff of more than 550. The university's Shared Fundamental Values include environmental stewardship, civic engagement and international and multicultural understanding. For more, visit bemidjistate.edu or find us at BemidjiState on most of your favorite social media networks.
2020-B-060