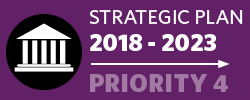 Bemidji State University students and faculty have partnered with Rutgers University in Newark, New Jersey to conduct research on microorganisms and oil degradation at an oil spill site near Pinewood, Minn.
Students from the Center for Sustainability Studies along with Carl Isaacson, associate professor of environmental studies, and Miriam Rios-Sanchez, assistant professor of environmental studies, are working with Rutger University's Dr. Lee Slater, professor of geophysics, and Dr. Dimitrios Ntarlagiannis, associate research professor of earth & environmental sciences to study how microbes in the subsurface break down spilled oil. The project is funded by the National Science Foundation.
After an oil spill occurred in 1979 outside of Pinewood, an oil plume was released into the ground. In November of 2018, the research team installed mineral packets at the site and students returned throughout the year to measure changes in the magnetic properties of the mineral packets. These measurements helped in determining how the activity of the microorganisms changed magnetic characteristics of minerals present in the subsurface.
"Oil spills are a problem across this country," Isaacson said. "The research Bemidji State students are conducting at the Pinewood oil spill site is helping us understand the environmental impacts of oil spill in northern Minnesota."
In mid-June of 2019, the team worked with the United States Geological Survey (USGS) to install instrumental arrays, 20 to 30 foot plastic piping with electrodes attached, to determine how well the subsurface resists or conducts electrical charge.
"When oil is spilled into the environment, microorganisms break down the oil and in doing so they change the electrical properties of the subsurface," Isaacson said. "Bemidji State students are working to understand how these electrical properties can be used to monitor the effects of oil spills."
The students have been returning to the site weekly to make the required measurements and the Rutgers University professors returned to the site on Oct. 17 continue their work with the students.
Contact
Links
---

Bemidji State University, located amid the lakes and forests of northern Minnesota, occupies a wooded campus along the shore of Lake Bemidji. Enrolling more than 5,100 students, Bemidji State offers more than 80 undergraduate majors and eight graduate degrees encompassing arts, sciences and select professional programs. BSU is a member of the Minnesota State system of colleges and universities and has a faculty and staff of more than 550. The university's Shared Fundamental Values include environmental stewardship, civic engagement and international and multicultural understanding. For more, visit bemidjistate.edu or find us at BemidjiState on most of your favorite social media networks.
2020-B-082