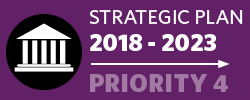 The chilly October temperatures did not discourage Bemidji State University biology students and faculty from conducting their annual deer survey on the evening of Oct. 28.
Dr. Brian Hiller, associate professor of biology, has been working with students and the City of Bemidji for the past eight years to address the growing need to regulate deer populations within city limits. Beginning in the mid-2000s, Bemidji began to witness an increased number of complaints from homeowners about property damage and accidents involving vehicle collisions with deer — some of which led to serious injuries.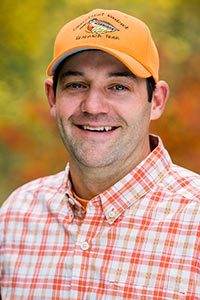 The city began exploring options to address its deer situation, which includes three special city-based archery hunts coinciding with the regular Minnesota archery season. In 2006, Bemidji leaders initiated two archery hunts in Ward 5, the northeast section of the city, and a special limited hunt surrounding the airport to better manage city deer populations. The third hunt in Ward 4, on the west side of Lake Bemidji, was added in 2018.
"The deer are active and out there," Hiller said. "It looks like there are slightly increased numbers from last year."
With support from Minnesota's Department of Natural Resources (DNR), the city was surveying its deer population every four years. Hiller thought more data would be beneficial, so he volunteered BSU students to help with the surveys. The BSU survey efforts expanded this year to include Dr. Jacob Haus, assistant professor or biology, who has background experience in deer management.
With Hiller and Haus' guidance, BSU students are currently conducting their seventh annual survey. Driving slowly through designated areas – with flashlights and maps in hand – students announce when they spot a deer and the team gathers information about the sighting. In addition to analyzing whether the deer is in a residential area, in the woods or in an open field, the team also measures the distance from the vehicle when seen and the number and types of animals spotted.
The team's data is imported into Geographic Information Systems software, which is used to develop sighting maps for the surveyed neighborhood. The data can then be compared to previous surveys along the same route. While the route is the same, the team uses different start and stop points along the way each time it visits a neighborhood.
Contact
Links
---

Bemidji State University, located amid the lakes and forests of northern Minnesota, occupies a wooded campus along the shore of Lake Bemidji. Enrolling more than 5,100 students, Bemidji State offers more than 80 undergraduate majors and eight graduate degrees encompassing arts, sciences and select professional programs. BSU is a member of the Minnesota State system of colleges and universities and has a faculty and staff of more than 550. The university's Shared Fundamental Values include environmental stewardship, civic engagement and international and multicultural understanding. For more, visit bemidjistate.edu or find us at BemidjiState on most of your favorite social media networks.
2020-B-083