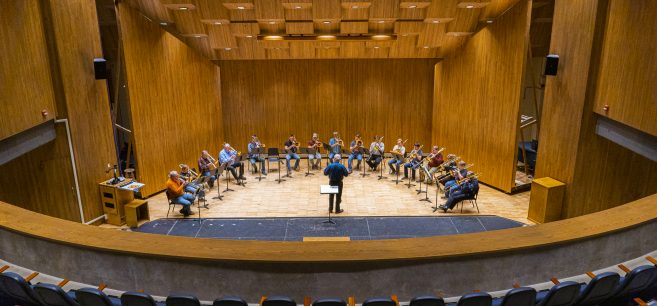 Bemidji State University senior Tim Roehrich first discovered his passion for music and performance when he began playing the trombone at 12 years old. 10 years later, the now 22-year-old will graduate in May 2020 with a degree in trombone performance.
"To me the trombone has always felt so comfortable," Roehrich said. "It's like picking up a piece of myself."
Throughout his time at BSU, the Brainerd, Minnesota, native has become involved in a variety of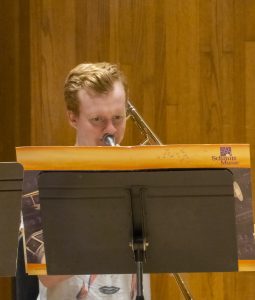 ensembles including the Wind Ensemble, Symphonic Band, Blue Ice Jazz Band, Brass Quintet and the Bemidji Trombone Choir. In his free time, he has also performed with the Heartland Symphony Orchestra in Little Falls, Minnesota, and the Northern Light Opera Company in Park Rapids, Minnesota.
Roehrich is currently training under the direction of BSU alumnus Curtis Olson, an adjunct instructor of music and co-director of the Trombone Choir.
"I really appreciate the music department and what they do," Roehrich said. "The professors are always willing to put time into helping students and go out of their way to encourage students when they need it."
After completing his four-year undergraduate degree at Bemidji State, Roehrich plans to attend graduate school in Pittsburg, Chicago or Texas. He hopes to someday perform professionally with an orchestra or opera company.
Ryan Webber, adjunct instructor of music and co-director of the Trombone Choir, said Roehrich is representative of the quality of students currently in the BSU music program.
"He is an example of a hardworking and growing musician and I'm excited to see him succeed in the future," Webber said. "I'm confident he is going to do great things."
Roehrich will be a featured soloist in BSU's upcoming Trombone Choir concert performing "Symphonie Funebre et Triomphale," written by French composer Hector Berlioz.
The concert will be held November 12 at 7:30 p.m in the recital hall of the Bangsberg Fine Arts Complex. The concert is free and open to the public. Co-directed by Olson and Webber, the ensemble is comprised of 17 members, including both BSU students and members of the community.
"This concert is a great chance to see what the trombone can do. It has a very beautiful sound," Webber said. "It can emulate the human voice and can bring out power when it's needed. This concert is a great opportunity to see what we can do."
Concert Program
"War March of the Priests," composed by Felix Mendelssohn and arranged by Wesley Hanson.
"Two Ancient Carols," composed by Michael Praetorius and arranged by Dick Myers.
"Passacaglia in C Minor," composed by J. S. Bach and arranged by Donald Hunsberger.
"Jesu, Meine Freude," composed by J.S. Bach and arranged by Michael Halverson.
"In Memoriam," composed by Raymond Premru.
"Symphonie Funèbre et Triomphale," composed by Hector Berlioz and transcribed by Irvin L. Wagner.
"Thaxted" ("O God Beyond all Praising"), composed by Thomas Zugger.
"Superman," composed by John Williams.
About the Conductors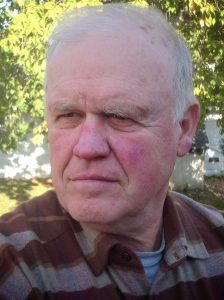 Olson is a BSU alumnus who has returned to his alma mater after a 37-year teaching career at Michigan State University, where he is now a professor emeritus. He taught trombone at Michigan State from 1976-2001, when he was appointed associate dean of the College of Music, a position he held until he retired in 2013 and returned to Bemidji. He has performed with a variety of symphony orchestras and has won numerous awards as a trombone instructor. Olson teaches applied low brass, coaches trombone quartets and the brass quintet and co-directs the Trombone Choir.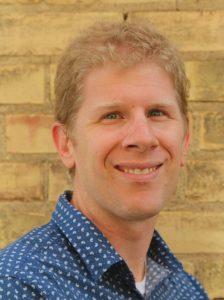 Webber joined the BSU faculty in 2017. He is the recently appointed music director and conductor of the Heartland Symphony. During the summers, he guest conducts the Bemidji Area Concert Band and is the pit orchestra director for the Park Rapids-based Northern Light Opera Company. He has a bachelor's degree in music from the University of California, Irvine and a master's degree in music from the University of Kansas. At BSU, Webber teaches applied low brass, coaches chamber music, co-directs the trombone choir and is the interim pep band director for the 2019-2020 school year.
Contact
Curtis Olson, adjunct instructor of trombone and low brass;(218) 755-2700,curtis.olson@bemidjistate.edu
Ryan Webber, adjunct instructor of trombone and low brass; ryan.webber@bemidjistate.edu
Links

Bemidji State University, located amid the lakes and forests of northern Minnesota, occupies a wooded campus along the shore of Lake Bemidji. Enrolling more than 5,100 students, Bemidji State offers more than 80 undergraduate majors and eight graduate degrees encompassing arts, sciences and select professional programs. BSU is a member of the Minnesota State system of colleges and universities and has a faculty and staff of more than 550. The university's Shared Fundamental Values include environmental stewardship, civic engagement and international and multicultural understanding. For more, visit bemidjistate.edu or find us at BemidjiState on most of your favorite social media networks.
---
2020-B-089