Department of Languages and Indigenous Studies
Bemidji State University's Department of World Languages and Indigenous Studies organized several events throughout the past month in celebration of National Hispanic Heritage Month and Día de los Muertos.
Each year BSU's Spanish program organizes events for the BSU community to celebrate the cultures of Spain, Mexico, the Caribbean and Central and South America. The celebrations are also designed to honor five Central American countries who celebrate their independence in September – Nicaragua, Costa Rica, Guatemala, Honduras and El Salvador.
This year's events included traditional Hispanic crafts, a ceremonial altar for Día de los Muertos, a poster exhibition by BSU students and a showing of the movie "COCO."
The traditional craft workshop encouraged students to decorate sugar skulls and small bookmarks in honor of Día de los Muertos, celebrated from Oct. 31 – Nov. 2. In Hispanic culture, it's believed that during this time the spirits of loved ones reunite with their families and enjoy festivities prepared for them. As opposed to mourning loved ones, Día de Los Muertos is about celebrating the memories of the deceased through feast, art and community.
Jayce Mostad, a BSU student from Kelliher, Minn., attended the celebrations and enjoyed the concepts associated with the holiday.
"I've heard about Día de los Muertos before, but I have never celebrated it myself," he said. "Death is natural, but it's really only as sad as you make it out to be. It's really cool to see it from such a different and positive perspective."
A ceremonial altar was constructed by BSU students and faculty and embellished with sugar skulls, flowers, paper cut-outs, photos and candles. The entire BSU community was invited to view the altar while celebrating Día de los Muertos. In Hispanic culture, traditional altars can include papel picado (paper cut-outs), cempasúchil flowers (Mexican marigolds), crosses and the favorite foods or drinks of the loved ones honored on the altar.
"You place sugar skulls or 'calaveritas de azúcar' on the altar to recognize someone who has died," Ife Adebola, a sophomore from Huntington Station, New York studying business administration, said. "There are so many ways that you can decorate the skulls. You can write the name of your loved one on the skull's forehead and make them as colorful as possible."
During the month, Dr. Miriam Rivera-Hokanson, associate professor of Spanish, and Dr. Ana Lopez-Aguilera, assistant professor of Spanish, highlighted the importance of honoring Hispanic Heritage Month through education and experience.
"In Bemidji there isn't a big Hispanic population, so we wanted the events to be both informative and engaging," Lopez-Aguilera said. "We wanted to show people that Día de los Muertos is more than colorful decorations and face paint."
All Hispanic Heritage Month and Día de los Muertos activities were also made possible by BSU's Office of Equal Opportunity and Affirmative Action and the Center for Diversity, Equity and Inclusion.
Contact
---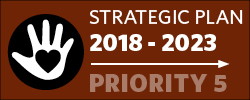 This BSU news feature fulfills priority number five of President Faith Hensrud's 2018-2023 strategic plan.
Strategic Plan Goal #5: Create a university culture in which diversity is embraced and all members are safe, welcome and validated.