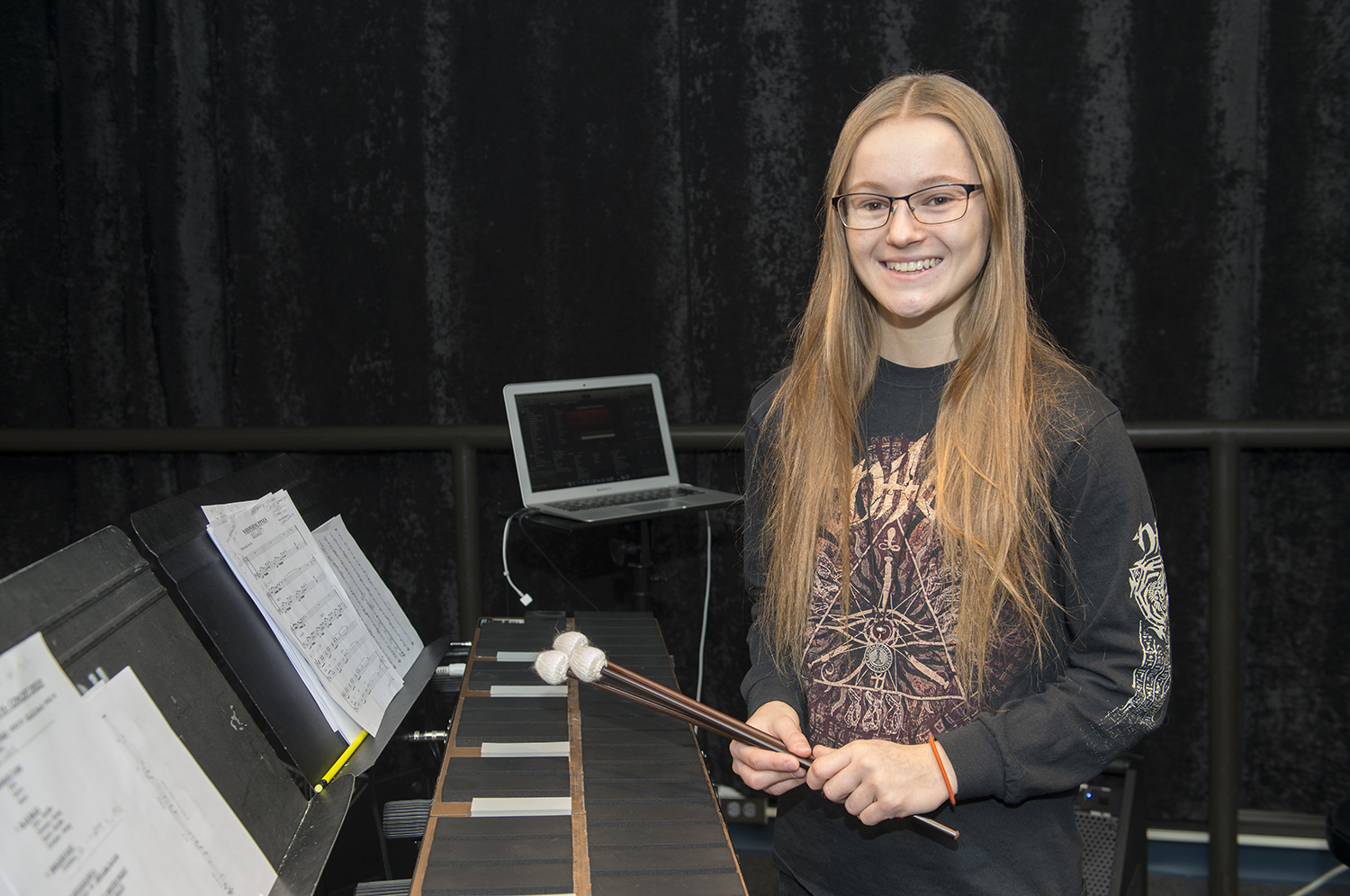 Bemidji State University student Brittney Mollberg has been a percussionist since she was in sixth grade. Now a senior music major, she finds herself studying an array of instruments from the marimba to the snare drum as she explores the vast world of percussion in BSU's music ensembles.
"I'm a person who loves to experience new things, so with opportunities like playing in the pit for the opera, percussion ensemble and even accompanying the choir, I feel like I fit right in," Mollberg said.
Originally coming to Bemidji State to study creative and professional writing, Mollberg decided to pursue a career in music after discovering all of the opportunities the Department of Music offers. Studentslooking to study music can enter several degree paths. The Bachelor of Science in music education prepares both instrumental and vocal students to teach grades K-12. The Bachelor of Arts in music can be tailored to instrumental, piano, vocal performance, pedagogy or jazz studies.
"It doesn't feel like schoolwork when practicing a marimba solo is my homework," she said. "I get to perform concerts as part of my classes. I may not have come to BSU for music, but the way I wound up doing it makes me feel like it's what I'm meant to do."
During her freshman year at BSU, Mollberg decided to join Voltage, an ensemble that uses Musical Instrument Digital Interface to create communication between instruments and computers. This technology, designed in the 1980's, allows musicians to program one instrument to sound like another.
"I play the malletKAT, which is an electronic marimba with pads that I play just like I would the marimba keys," Mollberg said. "The beauty of digital interface is that I can program the malletKAT to sound like any instrument I want – from a brass ensemble, to a choir, to a synthesizer. It offers a lot of creative freedom when it comes to writing tunes for the group."
Creative freedom is one of Mollberg's favorite parts of being a Voltage member and she values the jam sessions she has with her classmates.
"If I can think it up and put it on paper, we can find a way to play it," she said. "It's a musician's playground. Each musician in the group is really talented and brings their own style."
Mollberg will perform with the Voltage ensemble at their annual fall semester concert under the director of Greg Gaston, adjunct faculty of music, on Dec. 11 in the Bangsberg Fine Arts Complex. The concert will begin at 7:30 p.m. and is open free to the public.
Contact
Links

Bemidji State University, located amid the lakes and forests of northern Minnesota, occupies a wooded campus along the shore of Lake Bemidji. Enrolling more than 5,100 students, Bemidji State offers more than 80 undergraduate majors and eight graduate degrees encompassing arts, sciences and select professional programs. BSU is a member of the Minnesota State system of colleges and universities and has a faculty and staff of more than 550. The university's Shared Fundamental Values include environmental stewardship, civic engagement and international and multicultural understanding. For more, visit bemidjistate.edu or find us at BemidjiState on most of your favorite social media networks.
---
2020-B-107