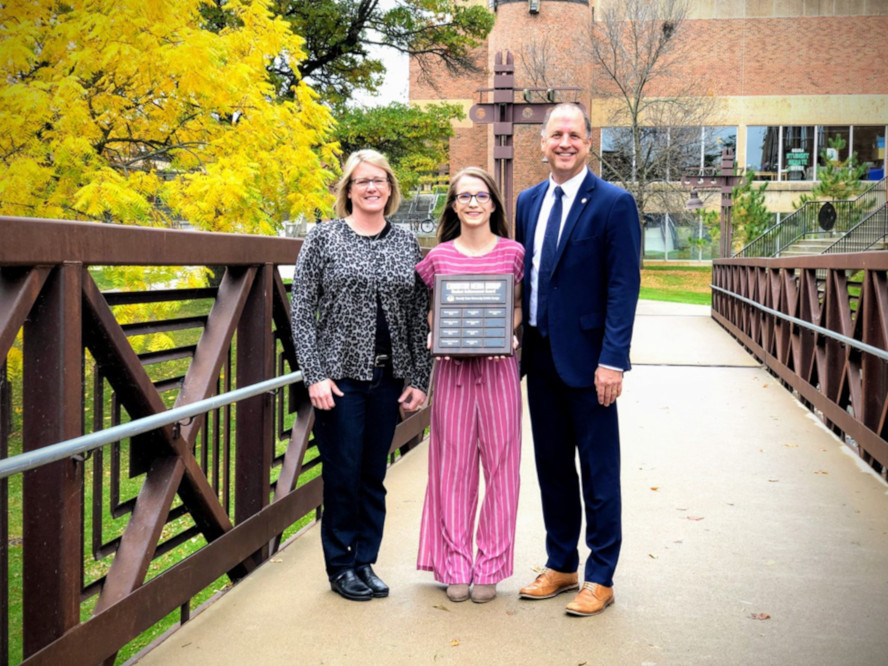 CeCealia Schultz, a Bemidji State University senior from Oaksis, Minn., has won the 2020 EXHIBITOR Media Group Student Achievement Award.
As the recipient of the award, Schultz receives an all-access pass to attend EXHIBITORLIVE2020: Best Practices in Trade Shows and Events, held in Las Vegas, Nevada next spring, and a $500 scholarship to help cover the expenses of attending the conference. Schultz will also have her name engraved on a plaque to be displayed in Bridgeman Hall on the BSU campus.
"It was an honor to receive this award. It allows for my name to be know in the industry," Schultz said. "The award also helped me be able to network with future employers."
The award recipient is selected by the faculty in BSU's School of Technology, Art & Design and is awarded by EXHIBITOR Media Group. Schultz's engagement in her future industry, academic performance and leadership in the classroom set her apart from others in the program.
"As a designer, I really love working directly with clients. My goal is to find a job where I can design and work along side clients," she said. "I am very thankful for the opportunities available to me and I can't wait to see what the future holds. I have the potential to work in many different states and my goal is to narrow down my options in Las Vegas."
Schultz is set to graduate in May of 2020 with her bachelor's degree in art and design with an emphasis in exhibit and graphic design.
About Exhibitor Media Group
Exhibitor Media Group publishes EXHIBITOR magazine, a monthly publication featuring best practices in trade show marketing, and sponsors learning events such as EXHIBITORLIVE, the industry's top-rated conference and exhibition for trade show and corporate event marketing; EXHIBITORFastTrak accelerated learning conferences; and EXHIBITOR eTrak professional online learning. Exhibitor Media Group is the founder and sponsor of Certified Trade Show Marketer, the world's only university-affiliated professional certification program. For more information, visit http://www.exhibitoronline.com.

Bemidji State University, located amid the lakes and forests of northern Minnesota, occupies a wooded campus along the shore of Lake Bemidji. Enrolling more than 5,100 students, Bemidji State offers more than 80 undergraduate majors and eight graduate degrees encompassing arts, sciences and select professional programs. BSU is a member of the Minnesota State system of colleges and universities and has a faculty and staff of more than 550. The university's Shared Fundamental Values include environmental stewardship, civic engagement and international and multicultural understanding. For more, visit bemidjistate.edu or find us at BemidjiState on most of your favorite social media networks.
---
2020-B-110