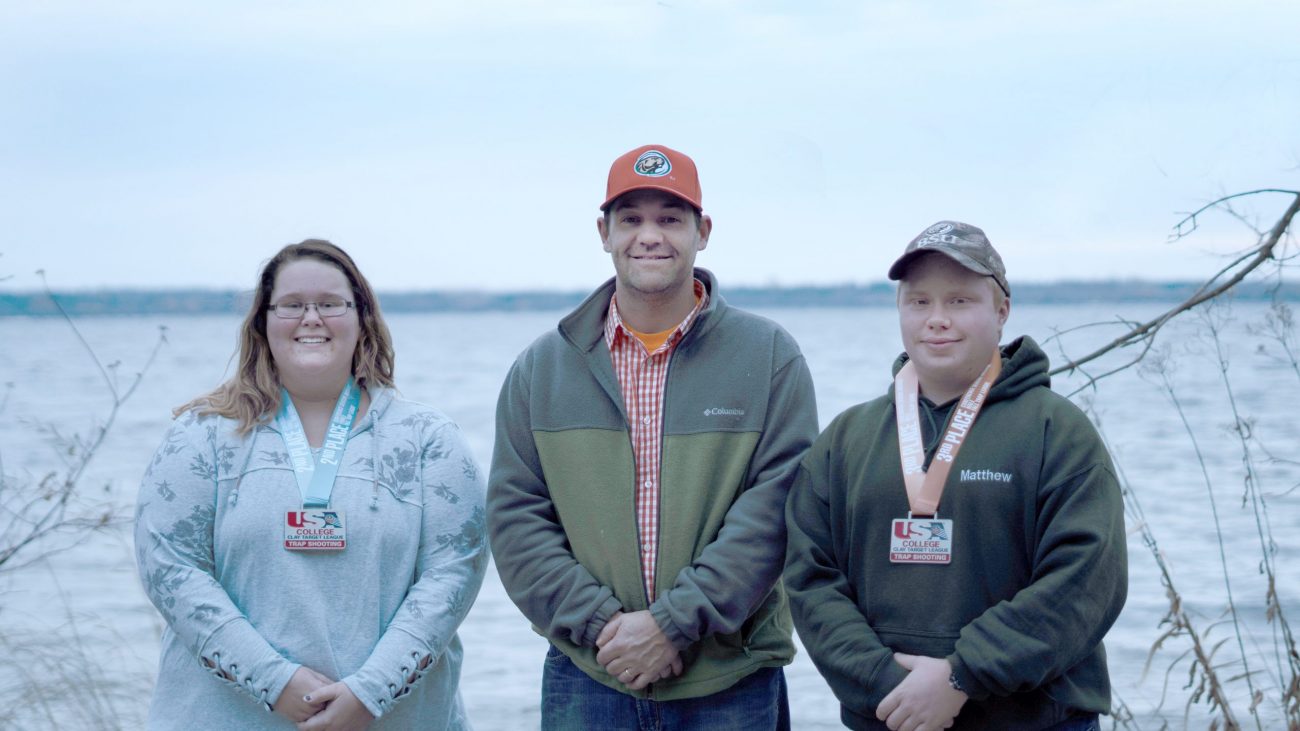 Bemidji State University junior Kassie Voegele and senior Matthew Fabian received medals while competing in the USA College Clay Target League's fall conference.
Voegele, an aquatic biology major from Beulah, North Dakota, won a silver medal for scoring the second highest shooting average in the female division. Fabian, a double-major in biology and biochemistry, cellular and molecular biology from Breezy Point, Minn., won a bronze medal for scoring the third highest average score in the male division. Both students are members of the BSU Shooting Sports Club.
Both Fabian and Voegele had experience in trap shooting before joining the team at Bemidji State. Fabian shot his first round of trap with his dad at a local gun club when he was 10 years old. When he entered high school, he joined his school's team.
"The highlight of my high school career was when myself and four other teammates went to the first National High School Trap Tournament in Mason, Michigan," Fabian said. "We ended up taking 19th overall in the nation."
After graduating from high school, Fabian decided to enroll in BSU after spending two summers attending MusiCamp, an annual summer camp, on the Bemidji State campus.
"Attending camp allowed me to see and get to know the campus extremely well," he said. "I love the small class sizes, faculty, and the campus here. Another big thing that made me want to come to BSU was that I felt like I mattered here and was not just a number."
Fabian joined the BSU Shooting Sports Club in 2018. In this year's USA College Clay Target League's fall conference, he landed himself in third place with an average score of 23.70.
"I was very excited to earn a medal for trap shooting and to have a physical representation of the hard work that I have put in to get to where I am," he said.
Similar to Fabian's experiences, Voegele's dad also introduced her to trap shooting with she was 10 years old. This year, Voegele earned second place in the USA College Clay Target League fall conference female division with an average score of 21.90.
As co-president of the club, Voegele is excited to see what the future holds for the team.
"I am super happy with the way the club is going and am glad to see students are interested in it," she said. "I am really proud of our club, especially for how well we shot this year. It's cool to know that we are a new club and we still brought home trophies."
About the BSU Shooting Sports Club
The BSU Shooting Sports Club started in the fall of 2017. Currently, there are 14 active members. The club is open to anyone interested in shooting, whether they have experience or not and there are no age or grade requirements for a student to join. Everyone involved in the club pays a fee to the Bemidji Trap and Skeet Club to use their facility and to sign up with the USA Clay Target League. Students bring their own gun and ammo, but may be able to borrow a gun from another member if needed.
About the USA College Clay Trap League
The USA College Clay Target League, a recreational clay target shooting sport program, is a division of the USA Clay Target League. The league is open to all secondary and postsecondary schools and began competition in the fall of 2019. The league offers four different clay target "virtual" recreational leagues for students, including trap shooting, skeet shooting, sporting clays and 5-stand. Virtual leagues allow for teams to shoot at their local shooting range, submit the scores online and compare scores against all other team scores in their respective conference.
Contact
Links
---

Bemidji State University, located amid the lakes and forests of northern Minnesota, occupies a wooded campus along the shore of Lake Bemidji. Enrolling more than 5,100 students, Bemidji State offers more than 80 undergraduate majors and eight graduate degrees encompassing arts, sciences and select professional programs. BSU is a member of the Minnesota State system of colleges and universities and has a faculty and staff of more than 550. The university's Shared Fundamental Values include environmental stewardship, civic engagement and international and multicultural understanding. For more, visit bemidjistate.edu or find us at BemidjiState on most of your favorite social media networks.
2020-B-120