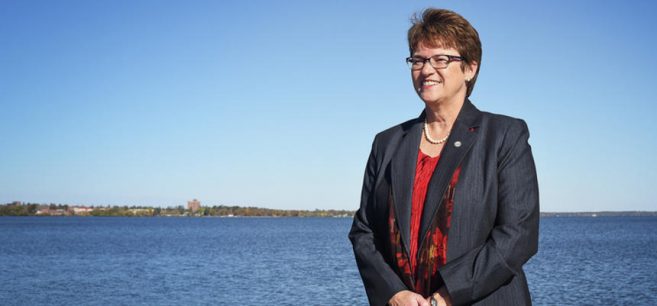 On January 13, Minnesota Governor Tim Walz unveiled the third part of his 2020 capital bonding proposal, recommending $448 million in projects to support the state's institutions of higher education — including $263.7 million for the colleges and universities of Minnesota State.
Walz's proposal includes $142.5 million for asset preservation and $121.2 million for capital bonding projects at Minnesota State campuses.
Dr. Faith C. Hensrud, president of Bemidji State University and Northwest Technical College, thanked the Governor for his emphatic support of higher education.
"While this is the starting line for a long negotiation with the House and Senate during the upcoming legislative session, we're very grateful to Gov. Walz for his strong support of higher education in the state of Minnesota, as reflected in his 2020 higher education bonding proposal," Hensrud said. "Like all campuses in Minnesota, both Bemidji State University and Northwest Technical College have aging facilities which will benefit tremendously from repairs and maintenance funded by the Governor's proposed $142.5 million for asset preservation throughout the system. While new buildings may get headlines, maintaining our existing infrastructure is critical to ensuring that we continue to provide the quality education that Minnesotans deserve long into the future.
"Thank you, Governor Walz, for your support of Minnesota State, and of all higher education in Minnesota."
Neither Bemidji State University nor Northwest Technical College have capital bonding projects in this year's proposal, but would both benefit from asset preservation funds. While exact totals would be determined by the Minnesota State system, the system's asset preservation funding list includes about $7 million in projects for BSU and NTC.

Bemidji State University, located amid the lakes and forests of northern Minnesota, occupies a wooded campus along the shore of Lake Bemidji. Enrolling more than 5,100 students, Bemidji State offers more than 80 undergraduate majors and eight graduate degrees encompassing arts, sciences and select professional programs. BSU is a member of the Minnesota State system of colleges and universities and has a faculty and staff of more than 550. The university's Shared Fundamental Values include environmental stewardship, civic engagement and international and multicultural understanding. For more, visit bemidjistate.edu or find us at BemidjiState on most of your favorite social media networks.
2020-B-127