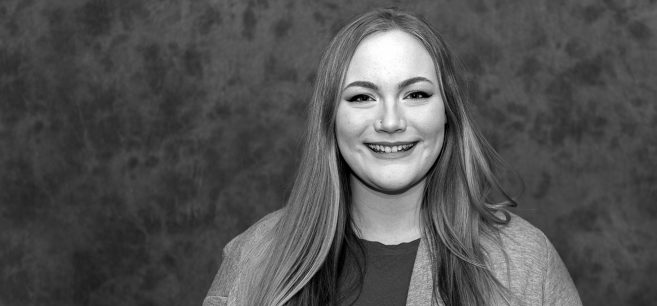 Emily Bergeron, a vocal performance major, has had a passion for music her entire life. Now a sophomore at Bemidji State University, she is continuing her love for music as she performs the role of Fairy Godmother in the university's production of "Cinderella" by Rodgers & Hammerstein.
"I am really having fun with this role," Bergeron said. "The Fairy Godmother is a crazy and sassy character. She is her own entity and she stands out from the others. I think this will be a super fun and visually pleasing musical in the way we have things staged. People should definitely take the opportunity to see us perform."
Growing up in Bemidji, Minn., Bergeron's first step into the performing arts was through dance when she was just three years old. As she grew up, she made it a point to find various ways to involve herself in music.
"I started choir in elementary school, then in middle school I played the viola in orchestra and the flute in band and I also joined show choir," Bergeron said. "In high school, I was in choir, chamber choir, orchestra, show choir and the musicals."
Throughout her music journey, Bergeron began to place her focus on singing. She auditioned for every musical her high school had to offer and was often cast in leading roles; her favorite role being Esmeralda in her high school's production of "Hunchback of Notre Dame."
Following the advice of a high-school faculty mentor, Bergeron decided to attend Bemidji State and pursue a career in music. Upon acceptance, she auditioned for and received a music scholarship and with the help of Dr. Jennifer Olson, assistant professor of music, feels that she has grown physically, emotionally and mentally in the pursuit of her degree.
"Jennifer Olson has helped me in a number of different ways. I have seen growth in my vocal technique and stage presence, as well as in my confidence," Bergeron said. "You can tell when someone really puts their energy into making you better, and she does that. She wants to see you succeed not for her, but your yourself."
In her two years at Bemidji State, Bergeron has joined the Bemidji Choir, Chamber Singers, BSU String Quartet and now, the musical.
"It has been really busy, but in a good way. Things can get overwhelming, but I have a great support system here," she said. "The music department is fantastic and the professors are really willing to work with you; they are top-notch and I am getting a really great education here."
Expected to graduate in spring of 2022, Bergeron hopes to attend graduate school for vocal performance or vocal pedagogy and give private voice lessons along the way. However, with many goals on the horizon, Bergeron's main dream is to sing and perform as much as she can.
"Opera is the world that I would love to delve into – that is my dream," she said. "As a career, I just want to perform. I want to be on stage, sing and perform recitals when I can."
Reflecting on her personal growth throughout the years, Bergeron offers her advice to future students.
"If there is even one ounce of you that wants to do something or is interested in something, even if you think you can't do it, just go for it," Bergeron said. "You can do so much more than what you think you can do. Once you open your mind to that, your personal growth is going to sky-rocket and you are going to see some crazy good changes in yourself."
About the Musical
Set in the 1920's and inspired by the historical drama "Downton Abbey," the Bemidji State Department of Music's production of the musical "Cinderella" will be held in the Bangsberg Fine Arts Complex from Feb. 28 – March 1. Performances will include two 7:30 p.m. shows on Friday and Saturday and a 3 p.m. matinée on Sunday.
Under the direction of Olson, students started individual music rehearsals in the Fall of 2019. In January, they began full cast rehearsal and are in the process of staging and finalizing the show.
The formulation of this opera required collaborations with people and departments across campus and the community. Scott Guidry, associate professor and director of bands will conduct the pit orchestra, which is comprised of both BSU students and professional musicians. Olson, who is also the show's artistic director, worked closely with costume designer and BSU alumnus Fred Rogers and BSU general repair worker and chief set builder Mitchell Bannor to form set-design and costume concepts.
BSU music alumnus Katilynn Meine has served as assistant director and junior music education major Justine Hutchins is the stage manager. Lastly, Alyssa Mess, sophomore mass communications major is hair and makeup designer while Nathan Datres, a senior mass communications major, is the lighting designer and lead tech for the production.
Bemidji State University's production of "Cinderella" is presented through special arrangement with R&H Theatricals.
Contact
Links

Bemidji State University, located amid the lakes and forests of northern Minnesota, occupies a wooded campus along the shore of Lake Bemidji. Enrolling around 5,000 students, Bemidji State offers 70 undergraduate areas of study and eight graduate degrees encompassing arts, sciences and select pre-professional programs. At Bemidji State University, we educate people to lead inspired lives. BSU's Shared Fundamental Values include civic engagement and leadership, international and multicultural understanding, belief in the power of liberal arts, and environmental stewardship. BSU is a Minnesota State university. For more, visit bemidjistate.edu or find us at BemidjiState on your favorite social media networks.
---
2020-B-154