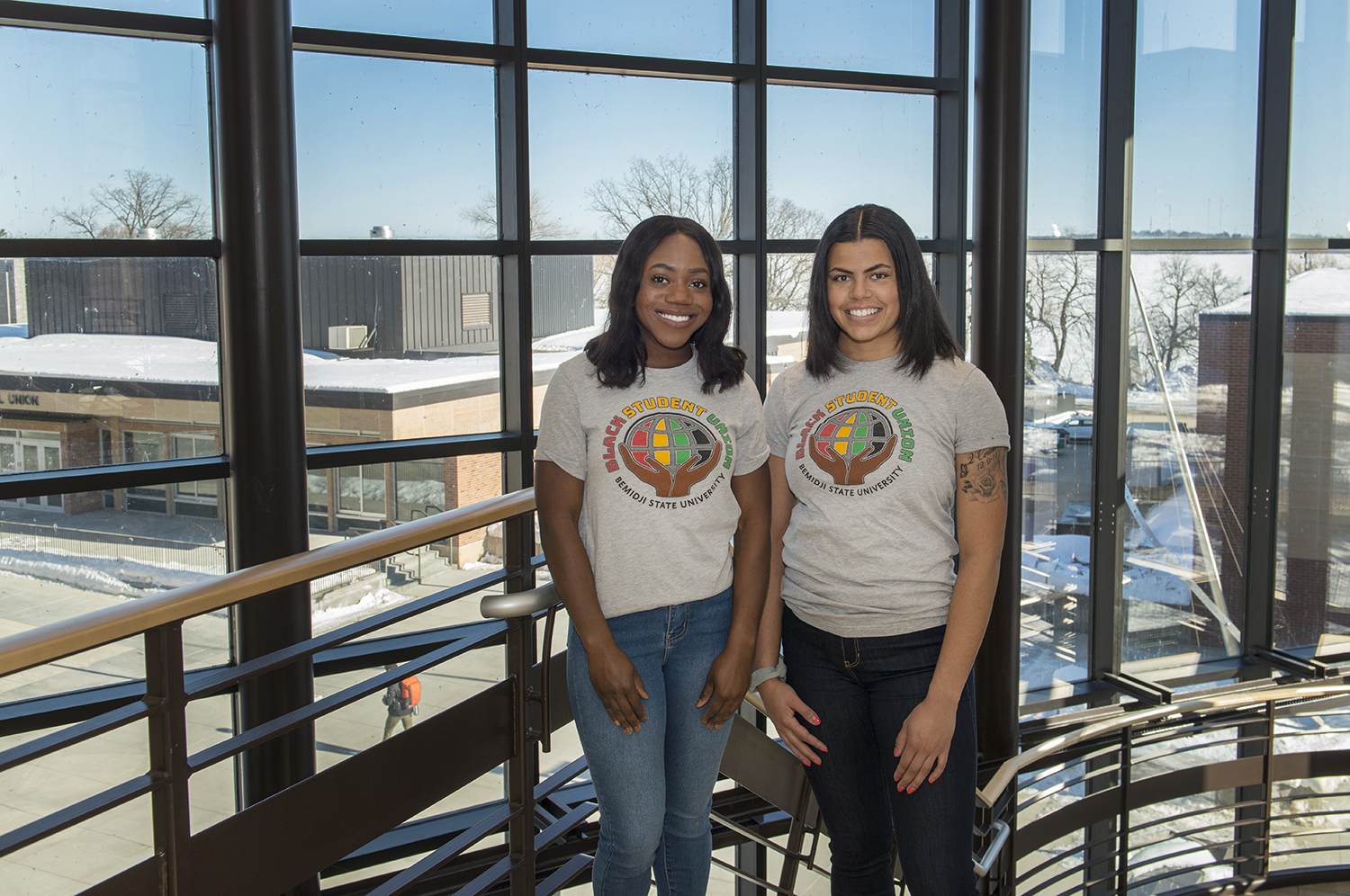 Bemidji State University's Black Student Union, founded in 2017, strives to cultivate a spirit of unity and multicultural awareness on campus and in the region.
The club, which meets twice per month to discuss issues that black college students face on predominantly white campuses, was officially launched in the Spring of 2019 when the club's officers developed a constitution and formally registered the organization with the university. In October 2019 the union held its first meeting and welcomed new club members.
With the support of its students and campus advisers, the Black Student Union aims to bolster personal development by creating diverse, academic and social environments for the BSU community. In celebration of Black History Month, the club hosted a number of events to acknowledge the achievements and legacies of African Americans in the United States, past and present.
Club president and criminal justice major Zoe Christensen from Glencoe, Minn., is eager to foster inclusivity on campus and in the Bemidji area through the efforts of the club.
"The mission of the Black Student Union is to celebrate black culture," she said. "The club isn't just for people of color. We welcome anybody who is even remotely interested in learning about culture so that we can spread awareness. It's a place for anybody to come and learn."
Thankful for the diversity she sees at Bemidji State, executive board member Beatrice Kjelland, a sophomore majoring in biochemistry, cellular and molecular biology from Park River, North Dakota, says the club offers her opportunities that she has otherwise not experienced.
"The Black Student Union allows for us people of color to learn things we didn't know about our culture," Kjelland said. "I come from a very white, Norwegian community and my sister and I were the only black people in our town so coming to Bemidji State University, while the black population is still limited, is a lot more than I have ever experienced."
Ife Adebola, a junior business administration major from Huntington, New York, and club member, hopes the Black Student Union can help recruit more students of color.
"Prospective students may see that there is representation and that they can be welcomed into a community of people that look like them," she said. "Hopefully, the club will make them feel more at home."
Events celebrating Black History Month began on Feb. 6 with a panel discussion and presentation titled "Who Am I." The activities will come to a close on Feb. 25 with a student panel titled "Everything You Wanted to Know About Being Black But Were Afraid to Ask."
Calendar
Wednesday, Feb. 26
6 p.m. – Everything You Wanted to Know About Being Black But Were Afraid to Ask
Location: Memorial Hall 240, BSU campus. Free and open to the public.
Contact: Dr. Gabriel Warren, assistant professor of business administration, gabriel.warren@bemidjistate.edu
Contact
Links
---

Bemidji State University, located amid the lakes and forests of northern Minnesota, occupies a wooded campus along the shore of Lake Bemidji. Enrolling around 5,000 students, Bemidji State offers 70 undergraduate areas of study and eight graduate degrees encompassing arts, sciences and select pre-professional programs. At Bemidji State University, we educate people to lead inspired lives. BSU's Shared Fundamental Values include civic engagement and leadership, international and multicultural understanding, belief in the power of liberal arts, and environmental stewardship. BSU is a Minnesota State university. For more, visit bemidjistate.edu or find us at BemidjiState on your favorite social media networks.
2020-B-155