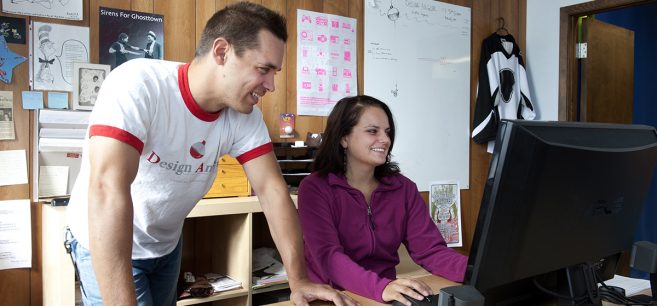 Bemidji State University and the George W. Neilson Foundation are accepting applications from Bemidji-area employers for a summer program that offers financial incentives to businesses who hire Bemidji State University and Northwest Technical College students for paid internships.
The Neilson Foundation will fund 15 internships, including one specifically for health and nursing and 14 for any other private business pertaining to any major or program offered by Bemidji State or Northwest Technical College.
Funding is split equally with 50 percent of the intern's hourly compensation being paid by the foundation, up to $2,500, and the remaining 50 percent paid by the participating business.
Businesses applying for internship funding must be located within 30 miles of Bemidji and must apply for the program by March 5. All non-profit organizations are encouraged to apply directly to the George W. Neilson Foundation, which will finalize selections and notify employers shortly after the deadline.
The internship partnership launched in the summer of 2012 to promote academic development and encourage employers to provide local, paid internship opportunities for BSU students. Since its inception, the program has funded 147 internships with over $565,000 invested by local employers.
About the Neilson Foundation
The George W. Neilson Foundation supports community development projects by providing grants to programs and projects that improve the lives of the area's children, adults and senior citizens. The foundation concentrates its program in the City of Bemidji and the surrounding area. Following the wishes of contributor Katharine Neilson Cram, the foundation supports northern Minnesota and the Bemidji area, where she spent the summers of her youth and lived throughout her later life.
Contact
Links

Bemidji State University, located amid the lakes and forests of northern Minnesota, occupies a wooded campus along the shore of Lake Bemidji. Enrolling around 5,000 students, Bemidji State offers 70 undergraduate areas of study and eight graduate degrees encompassing arts, sciences and select pre-professional programs. At Bemidji State University, we educate people to lead inspired lives. BSU's Shared Fundamental Values include civic engagement and leadership, international and multicultural understanding, belief in the power of liberal arts, and environmental stewardship. BSU is a Minnesota State university. For more, visit bemidjistate.edu or find us at BemidjiState on your favorite social media networks.
2020-0-157