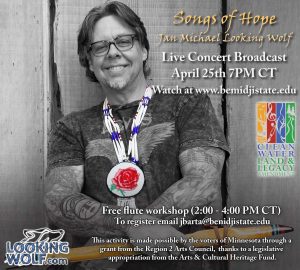 Bemidji State University and the Bemidji-based Region 2 Arts Council are collaborating to offer a virtual Native American flute workshop and concert, featuring renowned flute artists Jan Michael Looking Wolf.
The free virtual workshop and concert are both scheduled for April 25. The workshop begins at 2 p.m. Central time, with the concert beginning at 7 p.m.
Free Workshop
Looking Wolf is offering a free flute workshop via the video conferencing platform Zoom for musicians of all skill levels.
While the workshop is free, pre-registration is required by contacting Dr. Jim Barta, dean of BSU's College of Art, Education & Humanities, at jim.barta@bemidjistate.edu. While the workshop is open to all, priority registration will be given to residents of Clearwater, Mahnomen, Beltrami, Hubbard and Lake of the Woods counties in Minnesota, the region covered by the Region 2 Arts Council. Access information for the Zoom workshop will be shared via email after registration.
Evening Concert
Looking Wolf and Robin Gentlewolf, a student apprentice of Looking Wolf who goes by the moniker "RG", will perform a free concert, entitled "Songs of Hope." The concert was originally planned to be live in Bemidji but has been moved to a virtual format in response to the COVID-19 pandemic. The two-hour concert will feature music meant to provide lessons on Native American cultures and the importance of the flute — and music in general — to provide medicine needed to soothe and heal.
The workshop and concert are sponsored by Bemidji State University and the Region 2 Arts Council.
About Jan Michael Looking Wolf
Jan Michael Looking Wolf is an enrolled Kalapuya member of the Confederated Tribes of Grand Ronde in Oregon. He has produced 23 full-length albums and has been instrumental in incorporating the Native American flute into genres such as pop, blues, rock, and hip-hop/rap. He has composed arrangements for video productions and feature film and received a Lifetime Achievement Award from One World Music in 2019. One of the most honored Native American recording artists in history, Looking Wolf has received six Global Music Awards, an Indigenous Music Award, two Indian Summer Music Awards, six Native American Music Awards with 32 nominations, the OFP Peace Star Award, and two One World Music Radio Awards for Best Native American Recording.
About the Region 2 Arts Council
The Region 2 Arts Council is part of a statewide system of 11 councils which receive funding from the Minnesota legislature. In partnership with the Minnesota State Arts Board, the regional councils provide access to the arts to everyone in Minnesota. Each regional council assess arts needs, develops programs and services to meet those needs, and distributes grants to fund arts programs in their regions. In addition to its legislative appropriation, the Region 2 Arts Council receives funding from the McKnight Foundation and the state of Minnesota's Arts and Cultural Heritage Fund.
Contact
Links