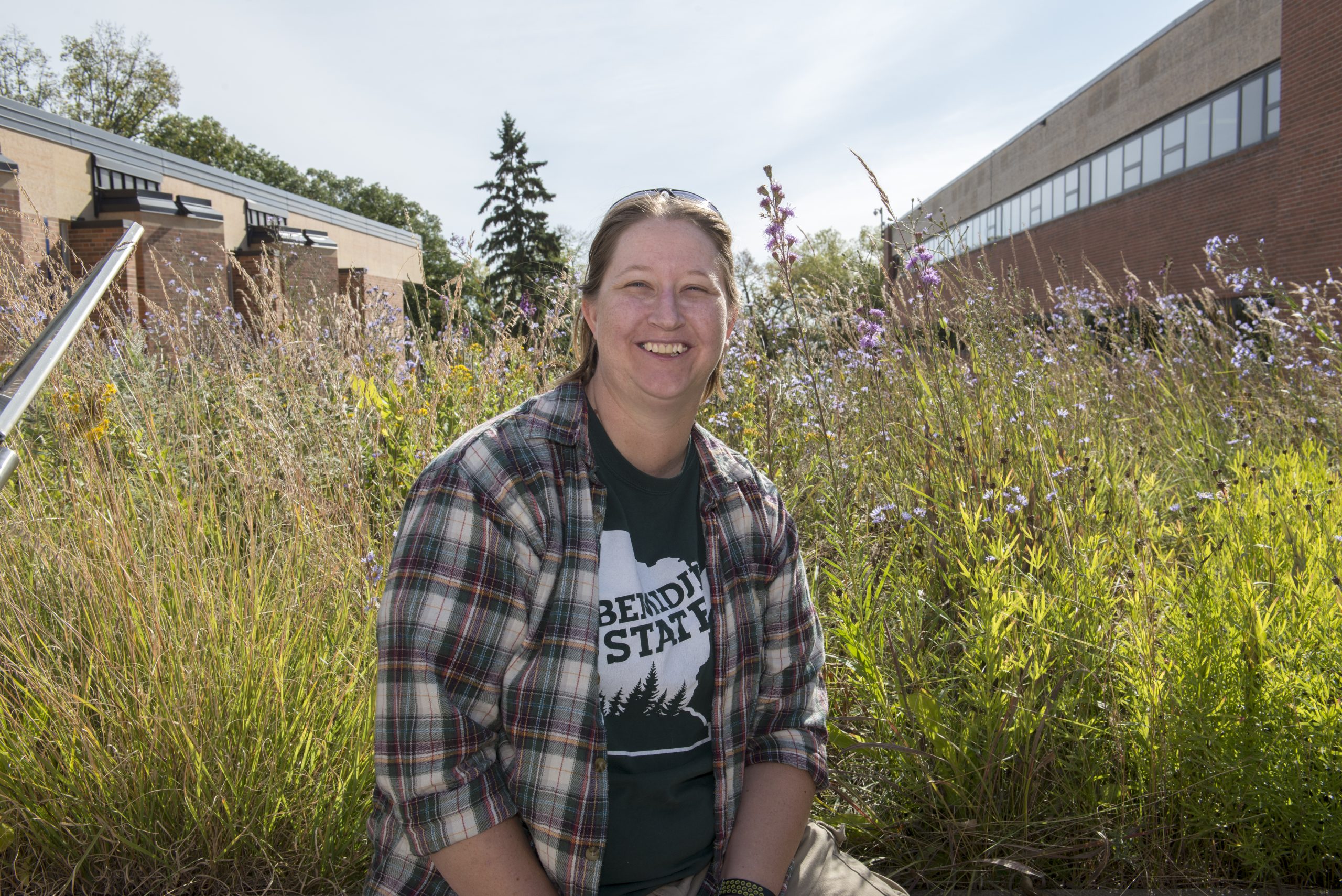 From fighting fires to serving in the U.S. Air Force, Rachel Schapp's life has been filled with exhilaration and meeting new challenges. Now, the senior environmental studies major from Hudsonville, Michigan, is pursuing a new adventure — her passion for sustainable agriculture — at Bemidji State University.
Schaap began working as a fire fighter and emergency medical technician in 2002 for the Glen Lake Fire Department in Glen Arbor, Michigan. Rising through the ranks, she was promoted to division manager of fire suppression and hazmat. Later, she spent six months battling wildfires in the western half of the countryas a wildlife firefighter and  squad medic with the U.S. Fish and Wildlife Service.
Schaap left her fire service career and enlisted in the Air Force in 2009. While at her first station working nuclear security at Aviano Air Force Base in Italy, she suffered a traumatic brain injury — the fourth in her life — which required grueling rehabilitation. She recovered, finishing her six-year enlistment at Seymour Johnson Air Force Base in Goldsboro, North Carolina, followed by two years in the Air Force Reserves.
At that point, Schaap found herself dealing with the physical and emotional turmoil suffered during 15 years of non-stop emergency response work. 
"My body and mind were pretty broken," she said. "The Veterans Affairs diagnosed me with PTSD, anxiety and depression, in addition to multiple injuries that left lasting effects. Despite all of the lingering issues I have, I'd go back to firefighting in a heartbeat. I wouldn't trade it for anything."
Beginning her journey to heal her mind and body, Schaap followed her wife, Elizabeth Wilson, to Minnesota and joined the Bemidji Community Food Shelf as a farm manager. There, she saw first-hand how the growing issue of food insecurity was affecting not only the Bemidji community, but also other families across the country.
"While working at the food shelf, I was able to really start digging into the issue with clients and others in our community to get a much better understanding of the situation," she said. "Out of the dozens of places I have lived, poverty and lack of quality food here in the Bemidji area has been eye opening."
In December 2018, Schaap left her position at the food shelf to become a full-time BSU student. Her goal is simple —  combine her experience, passion and knowledge to address food insecurity through sustainable farming practices.
"Studying at BSU allows me to focus on soil and water conservation in relation to agriculture, attend classes in-person here in the community and expand my knowledge base in sustainability," she said.
Schaap hopes to bridge the gap with conventional famers and provide alternate ways to farm that can preserve land and water. She would also like to start a program to combat food insecurity by teaching people how to grow their own food. 
"Showing families that it is possible to grow a tomato plant on their apartment balcony or in their back yard can be very empowering," she said.