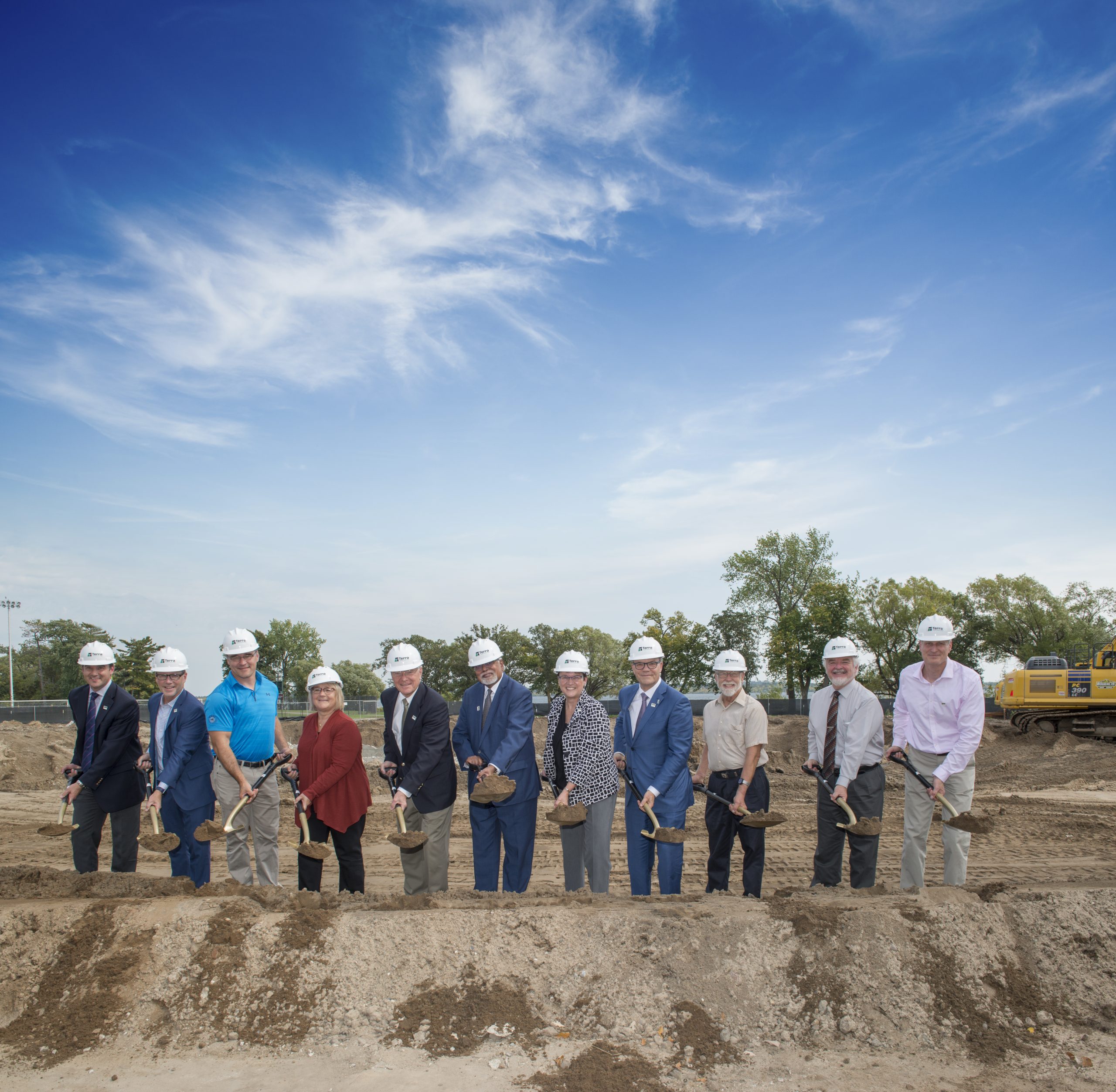 On a sunny September afternoon, more than 125 Bemidji State University faculty, staff and students were joined by representatives from Minnesota State colleges and universities, the state legislature and the Bemidji community to celebrate the groundbreaking of the new Hagg-Sauer Hall. 
The original Hagg-Sauer Hall, built in 1970, was demolished over the summer to pave way for the new, smaller, modern classroom facility as part of an extensive campus-altering construction and renovation project.
Following a Native American honor song performed by Nathaniel McDonald, a freshman accounting major, Karen Snorek, vice president of finance and administration, welcomed attendees to the ceremony and thanked key partners for their support. 
Jay Cowles, chair of the Minnesota State Board of Trustees, praised BSU's planning processes and perseverance to see the Hagg-Sauer project through this important phase, with Dr. Devinder Malhotra, chancellor of Minnesota State, echoing his sentiments. 
"This project is much like the Greek mythological creature the phoenix, where rising from the dust of the old facility will be a new, modern facility, reborn to serve students and the region well beyond our time," Malhotra said. "I believe the renovation of Hagg-Sauer will not only meet our students where they are but, more importantly, where they need to go." 
BSU President Faith C. Hensrud shared a brief history of the old Hagg-Sauer Hall and recapped the 15-year journey BSU had traveled to reach a groundbreaking celebration. She also focused on the future and what the new building will mean for generations to come. 
"As we begin Our Second Century, we recognize how truly special this new building will be as we focus on our students," Hensrud said. "I can assure you, the new Hagg-Sauer Hall will provide state-of-the-art classroom spaces that will enable students to achieve their educational goals, and will provide new experiences that lead to our student's success." 
---
Participants in the Groundbreaking Ceremony
President Faith C. Hensrud
Chancellor Devinder Malhotra
Trustee Jay Cowles
Minnesota State Board of Trustees
Dr. Derek Webb, professor and department chair of mathematics and computer science
Matthew Sauser, former BSU student body president
Trustee Jerry Janezich, Minnesota State Board of Trustees
Trustee Roger Moe, Minnesota State Board of Trustees
Tony Peffer, Former provost and vice president of academic and student affairs
Noah Wendland, BSU student body vice president
John Persell, representative, Minnesota House of Representatives
Justin Eichorn, senator, Minnesota Senate
Kay Mack, Beltrami County administrator
Tom Brown, owner, Terra Construction
Ann Voda, architect, BTR-Architects
Travis Barnes, director of facilities
David Sauer, son of Dr. Phil Sauer
Bill Maki, vice chancellor of finance and facilities for Minnesota State
Josh Christianson, executive director of university advancement
---
Hagg-Sauer Timeline
Mid-2000s: Hagg-Sauer Hall renovations
top BSU facility wish list
2014: BSU receives $1 million from state legislature to plan construction and renovations
2016 & 2017: Hagg-Sauer Hall funds
included in Minnesota Gov. Dayton's
bonding recommendations
2017: Minnesota State lists Hagg-Sauer
Hall replacement as its top bonding priority
for 2018 legislative session
August 2017: State legislators tour
Hagg-Sauer Hall
2018: Minnesota legislature's bonding bill includes $22.512 million for Hagg-Sauer Hall construction and other campus renovations. Gov. Dayton signed bill on May 30, 2018
April 30, 2019: BSU holds retirement ceremony for Hagg-Sauer Hall
June 2019: Demolition begins on old
Hagg-Sauer Hall
September 16, 2019: Groundbreaking ceremony for new Hagg-Sauer Hall