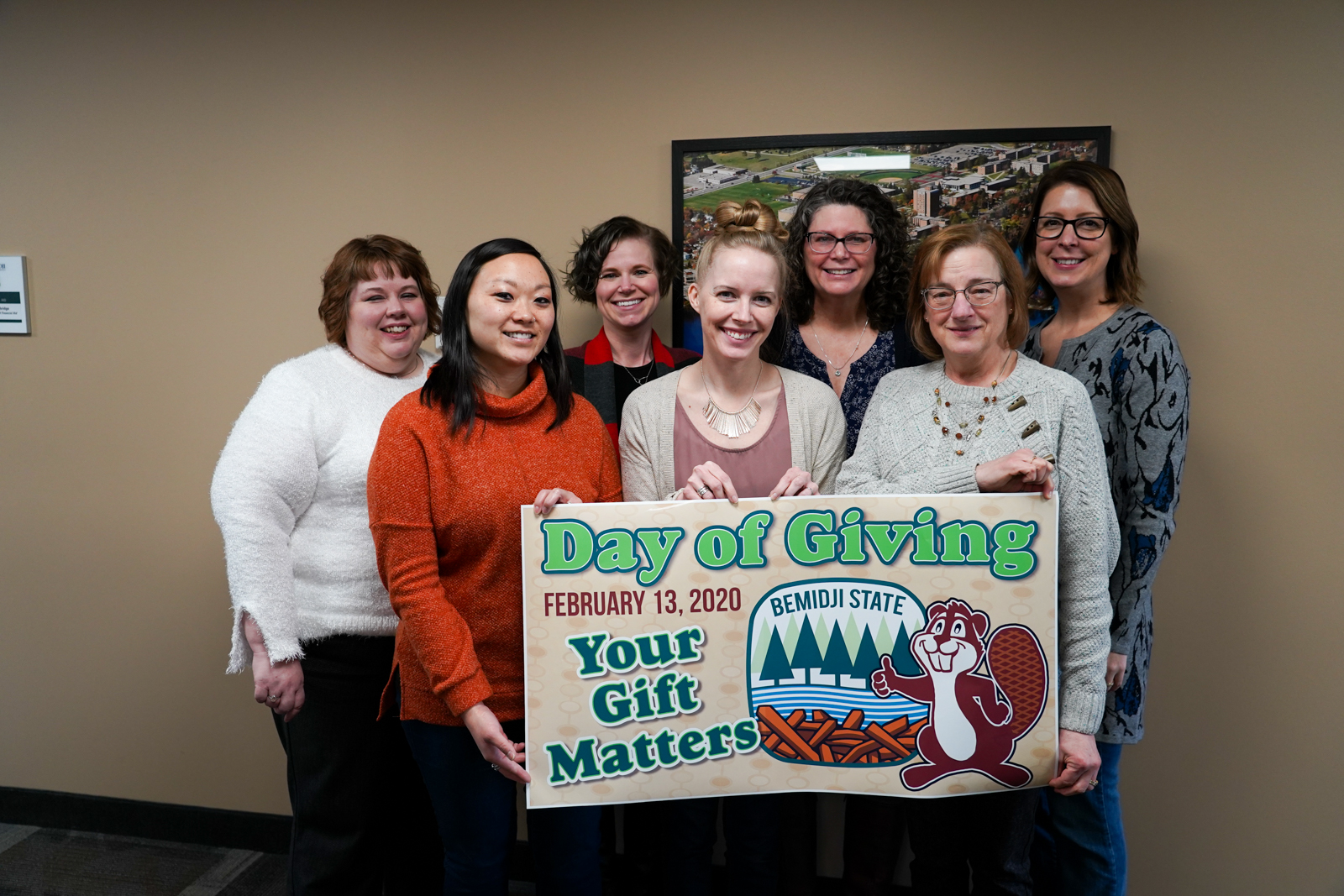 Successful "Build the Dam Challenge" raises $119,508 for student scholarships and athletics
BSU Alumni & Foundation's second annual Day of Giving, called the "Build the Dam Challenge," met its goal of having at least 500 donors contribute to the university. The event, held Feb. 13, challenged BSU alumni, students, employees and supporters from around the world to "build a dam" of critical financial support for students and help fund important initiatives at BSU. Beginning at midnight and ending at 11:59 p.m., 534 donors contributed to academic scholarships through The Lakeside Fund, Beaver Pride athletics scholarships and to specific BSU athletic programs.
BSU students, employees and supporters attended two special events that day — a campus lunch in Memorial Hall and Community Spotlight at Bemidji Brewing in downtown Bemidji. Participants at both events counted toward the campaign's 500-donor goal. In addition, some donors created their own matching-gift challenges with matches ranging from $75 to $45,000. 
The $45,000 matching gift to support academic scholarships was unlocked when the challenge met its goal of 500 donors at 9:30 p.m. All told, donors from 38 states and Canada — and as far away as Hong Kong — contributed $119,508 during the 24-hour challenge.
---
2019 BSU Honors Gala Alumni Award Recipients
BSU President Faith Hensrud and Josh Christianson, executive director of university advancement, presented awards to the 2019 BSU Distinguished Alumni award winners at this year's Bemidji State University Honors Gala on October 4.
Professional Education Hall of Fame – Dr. Boyd Bradbury '88
Young Alumni Award – Than "Alan" Lwin '05
Outstanding Alumni Award – Robert "Bob" Anderson '80
Alumni Service Award – Suzanne "Sue" (Aultman) Kringen '73
---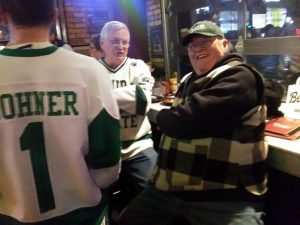 Beaver Hockey Fans Swarm Minneapolis for Mariucci Classic
Beaver Pride ran high for BSU men's hockey before their appearance at the University of Minnesota's Mariucci Classic, Dec. 28 in Minneapolis. The BSU Twin Cities Alumni Chapter hosted a watch party for more than 100 BSU alumni and hockey fans at Sally's Saloon near the University of Minnesota campus for BSU's classic opener against the Minnesota Golden Gophers.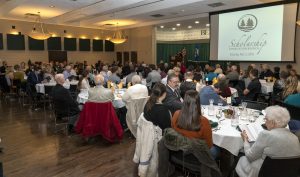 ---
Scholarship recipients, donors celebrated at Scholarship Appreciation Brunch
BSU scholarship recipients and donors were honored at BSU Alumni & Foundation's annual Scholarship Appreciation Brunch on Nov. 2. Nearly 300 attendees joined President Hensrud and BSUAF Executive Director, Josh Christianson at the event, which celebrated the critical role donors play in the success of Bemidji State's scholarship recipients.
In 2019, BSU's Alumni and Foundation awarded 479 scholarships to BSU students valued at more than $603,000.
---
Green & White Dinner & Auction Rescheduled for 2021
The Green & White Dinner & Auction for BSU Athletics is rescheduled for April 17, 2021, at the Sanford Center in Bemidji. 
The event brings BSU student-athletes, community members and donors together to support student-athlete scholarships. Since its inception in 2014, the Green & White Dinner & Auction has raised more than $300,000 for these scholarships.
The semi-formal event will include a catered meal, live and silent auctions, games and raffles and special video presentations.
More details will be announced as they become available at bsualumni.org.
---
BSU Unveils New Benefit for Alumni
BSU Alumni & Foundation recently rolled out its new Discounts & Deals program, an online coupon website that allows
contributing alumni to access exclusive discounts and special offers on travel, dining, hotels and much more in their local areas. The discounts can be viewed online and redeemed via smartphone, tablet, or by printing and presenting a coupon to participating vendors.
Alumni who make a gift of $75 or more receive access to the Discounts & Deals website, featuring many other valuable
benefits. Learn more at bsualumni.org/alumni/benefits.
---
Alumni & Foundation Staff Grows
Gwenia Fiskevold Gould joined BSU Alumni & Foundation as assistant director of annual giving in January. 
She is responsible for the university's phonathon program and oversees the hiring, training and management of the student calling team which reaches out directly to hundreds of alumni each year. 
Fiskevold Gould comes to Bemidji State after working for more than 10 years as a political field operative and legislative assistant for the Minnesota DFL Senate Caucus and as deputy political director for Minnesota Governor Tim Walz and Attorney General Keith Ellison. She earned a bachelor's degree in political science from the University of Minnesota in 2012.
---
Make sure the BSU Alumni Office has your latest contact information
Alumni who have changed jobs or their names and those who have multiple or seasonal addresses are asked to update their contact information by visiting bsualumni.org or calling (218) 755-3989 so you can stay up-to-date on news and events.