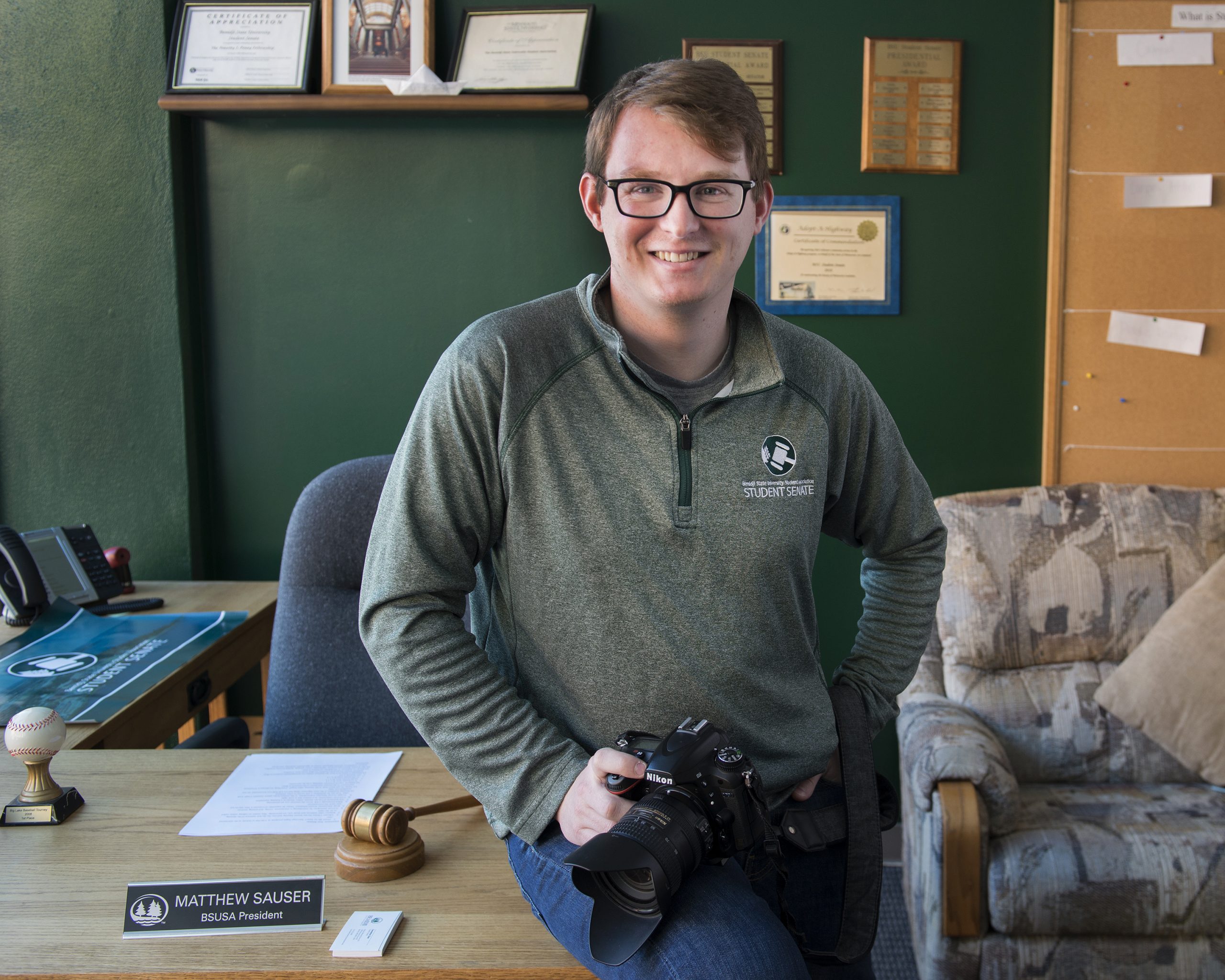 President of Bemidji State University's Student Senate, avid photographer and Bemidji State senior Matthew Sauser grew up in Monticello, but retreated from the city to find success in Minnesota's north woods. 
"I really like birch trees and they were a huge draw for me," Sauser said. "I did some photography in high school and I wanted to continue that in college. So I emailed all the schools I was accepted to asking if there were any openings for a student photographer — and Bemidji State responded."
Sauser has continually pushed himself toward opportunities outside of his comfort zone. Despite self-identifying as a quiet person, he has sought public-facing responsibilities throughout his time at BSU, including door-knocking on the 2018 campaign trail, serving as a residential adviser and, since Fall 2019, serving as BSU's student body president.
"What helped me get out of my quiet phase was the line of work I got into," Sauser said. "I decided to go to school part-time in 2018 and organize for a political campaign in Bemidji. That required me to go door-to-door talking to strangers about very personal and controversial things." 
Sauser returned to BSU as a full-time student in 2019, joined Student Senate and quickly decided to run for student body president. As a fifth-year senior, Sauser felt the extra time he's spent at BSU strengthened his leadership skills and knowledge of campus culture, preparing him to be the voice of BSU's student body.
"I've become a lot more confident and comfortable with myself and what I can do," he said. "All of my roles at BSU have helped add up to that. This campus has drastically changed since my freshman year and I feel like I have good, long-term insight to contribute to the administration. I'm proud of what I've achieved here so far."
Sauser has also taken advantage of his time at BSU to pursue a second passion —  sports photography. He's worked as a photographer for Beaver Athletics since 2015. 
"Working with BSU athletics and photography is a dream" he said. "It is an experience that I would never have passed up. I'm looking into that and seeing what is out there."
Brad Folkestad, associate athletic director for external relations, commends Sauser as a rare student who knew exactly what he wanted before he arrived at BSU. Folkestad said Sauser's photography skills not only exhibit his understanding of the sports industry, but also his ability to adapt to each sport's environment. 
"Matt has been a tremendous asset to the athletic department," Folkestad said. "Along the way he has worked really hard to refine his skills. I would put his photography abilities up against anyone, and we are really going to miss him."
Sauser is on track to graduate in May with a degree in political science, and says that while he could see himself running for public office in the future, his passion is in supporting campaigns — which he hopes to at the State Capitol.
"One thing I've realized is that I have a bigger passion for things behind the scenes," he said. "I like the campaigning more than the legislating. There is a certain energy and momentum with campaign work and I absolutely love it."