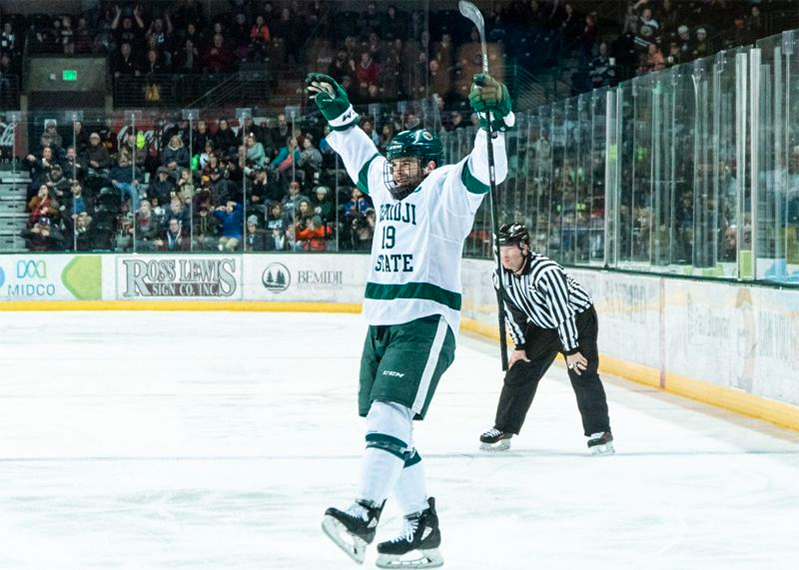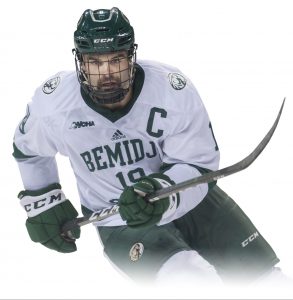 Adam Brady, co-captain for the Bemidji State men's hockey team, knows this old adage well. He also has a deeper appreciation for the team's successes during the 2019–20 season, because he has reason to believe it. 
The senior forward from Delhi, Ontario, Canada, leads the nationally-ranked Beavers in scoring and is among the nation's leaders in power-play goals. 
Just a few short years ago, though, an accident on a foggy December night left his hockey career in doubt. In 2015, while home during the United States
Hockey League's holiday break, Brady sustained serious injuries in an automobile accident which left the budding star bedridden with an uncertain future.
"Hockey was all I had known since I was three or four years old," he said. "I wanted to do anything I could to get back on the ice. But there weren't a lot of schools that believed in me."
One of the schools that never lost sight of his potential was Bemidji State. 
"Coach (Tom) Serratore believed in me from day one," Brady added, "He was confident that I would get back to 100 percent."
That confidence, and the valued counsel of his coaches in Lincoln, convinced Brady to continue his playing career at BSU. It also served as motivation to push his body back onto the ice. 
When Brady made his debut in BSU green and white on Oct. 13, 2017, it served not only as the ultimate payoff for a grueling two-year rehabilitation, but also as proof that BSU's faith in him had not been misplaced. In his first game back on the ice, Brady scored the go-ahead goal in a 5-2 victory over eventual national champion Minnesota Duluth.
In the three years since then, Brady has become a consistent contributor on BSU's power-play unit and has piled up more than 30 goals and 45 assists. More importantly, he has spent the last two seasons wearing a captain's letter on his sweater.
Serratore, who has coached the Beavers for 19 years, says Brady's leadership ability is his greatest contribution to the program. 
"He is a tremendous leader," Serratore said. "He is a player who does things the right way on and off the ice."
Brady says the accident forced him to view life — and his hockey career — through a different lens. 
"When something like that happens, you learn not to take anything for granted and to always cherish the moments you have with your teammates on the ice," he said. "Every day is a gift, and I am just taking it all in while it lasts."