Starting in April 2018, Bemidji State University began a celebration of a truly historic milestone — recognition of its 100th birthday.
Bemidji's quest to win the right to host Minnesota's sixth normal school can be traced back to 1906, when Bemidji Schools Superintendent A. P. Ritchie first conceived the idea. Over the next seven years, Bemidji, Cass Lake and Thief River Falls waged a lobbying battle with the state legislature, each trying to make its case as the new school's home. Cass Lake seemed poised to win the battle in 1909, when the legislature passed a bill awarding the school to Cass Lake. The Cass Lake Times celebrated the decision, running a headline reading "Cass Lake Bill Wins 'Against the Field.'" Minnesota Governor John A. Johnson vetoed the bill in full, however, saying in his veto message "in my judgment there is no pressing need for the establishment of an additional normal school at this time."
The battle continued for another four years, with Bemidji finally prevailing and winning the right to host the school in 1913.
Five years later, in June 1919, Bemidji Normal School opened its doors to its first group of students.
Nearly 100 years to the day from when ground was broken for construction of the school's first building — "The Main," as it was known, which today still stands as Deputy Hall — Bemidji State University threw a raucous kickoff celebration of its centennial year in the Bangsberg Fine Arts Complex. This issue of Bemidji State University magazine officially brings that celebration to a close.
As we have celebrated this historic and monumental milestone in our history, we've also found opportunity to recognize many other significant milestones in this university's storied history — including the 50th anniversaries of the Hobson Memorial Union, our since-retired holiday Madrigal Dinners production and organized varsity intercollegiate athletics for women. We also acknowledged the 10th anniversary the BSU Sustainability Office.
An Homage to the Past with an Eye on the Future
Bemidji State University formally launched an 18-month celebration of its 100th anniversary on April 12, 2018, with a full day of activities and special events on campus. The recognition began with a morning history walk reception on the concourse outside the Bangsberg Fine Arts Complex Main Theatre, featuring historical artifacts from the university archives and banners recapping key moments in Bemidji State's century-long story. A multimedia extravaganza followed, with BSU students performing eraappropriate song and dance routines during intermissions of a video documentary on the university's history. A luncheon followed at the American Indian Resource Center and an afternoon ceremony renamed the courtyard between the Hobson Memorial Union buildings as "Centennial Plaza."
A complete look back at the kickoff of "A Bemidji State Century" may be found as the cover story to the Spring/Summer 2018 edition of Bemidji State University magazine. That story, along with the rest of the issue, is available on our website.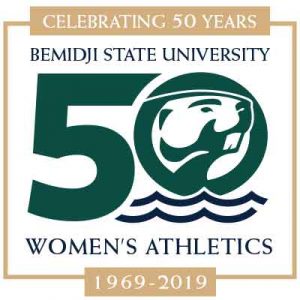 Women's Athletics 50th Anniversary
Former and current BSU women's athletes, coaches, supporters and family packed the American Indian Resource Center's Gathering Room for an Oct. 6, 2018, social to launch a recognition of the 50th anniversary of varsity intercollegiate athletics for women at Bemidji State. The social, emceed by BSU alumna and retired North Dakota State University Director of Women's Athletics Lynn Dorn '72, also recognized four remarkable women for their roles in creating BSU's women's intercollegiate athletics program. Dr. Marjory Beck, Dr. Ruth Howe and Betsy McDowell were recognized as founders of women's athletics, while long-time BSU faculty member and coach Dr. Pat Rosenbrock was celebrated as the program's historian for her tireless effort to document the history of women's athletics at the university.
Bemidji State's journey to the modern, competitive NCAA Division II women's athletics program it enjoys today began with four sports — basketball, volleyball, field hockey and swimming — in an era when prevailing conventional wisdom dictated that while athletic competition was considered healthy for men, it was "harmful and inappropriate" for women.
BSU also recalled its history as a founding member of the Minn-Kota Conference, one of the first in the nation for women's athletics, in 1969, its national leadership as a founding member of the Association of Intercollegiate Athletics for Women in 1971, and its eventual moves to the Northern Sun Conference and the NCAA.
The celebration culminated in a weekend of activities in August 2019.
Ramsey Gallery Installation
Bemidji State's Office of Communications & Marketing opened a showcase of historic artifacts from the university archives and from private contributors in the Ramsey Gallery of the Bangsberg Fine Arts Complex in October 2018. The gallery also featured recreations of banners highlighting decade-by-decade key moments in the university's history which were used during the Centennial Kickoff in April 2018. The exhibit also included special displays celebrating the 50th anniversaries of both the Madrigal Dinners and women's intercollegiate athletics, and later was home to artifacts found in the 1918 time capsule left in Deputy Hall's cornerstone when construction on the building began.