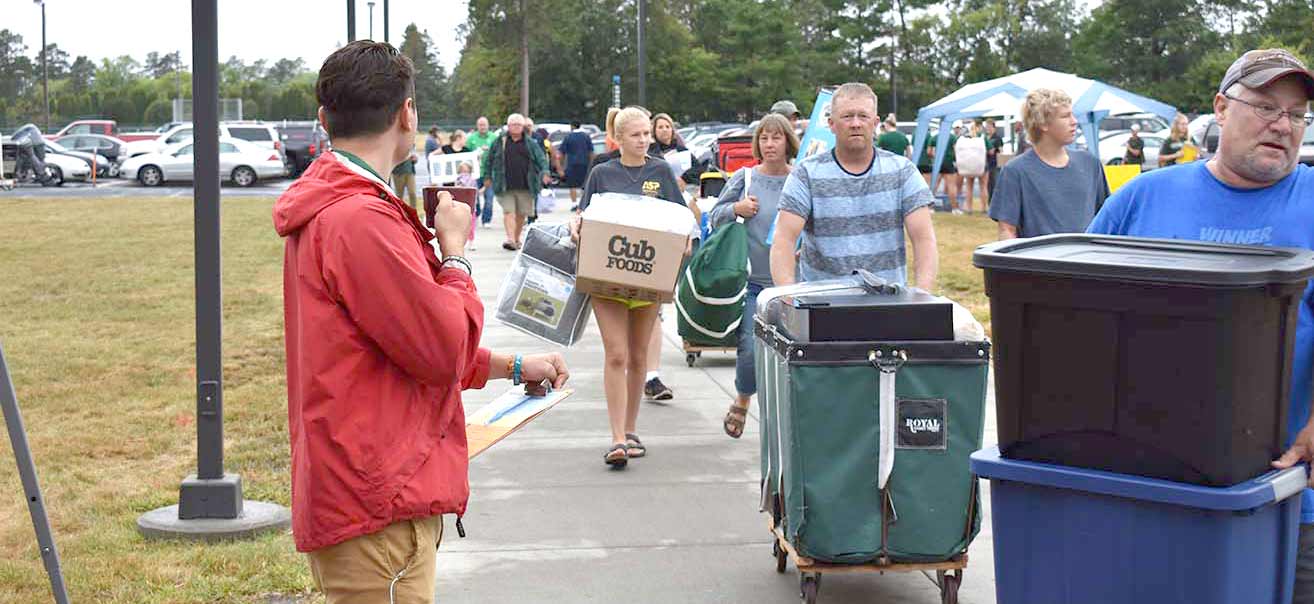 June 5, 2020 Message to Students
The following message was sent to all Bemidji State University students on Friday, June 5, regarding the university's preliminary plans for the Fall 2020 semester.
Fall semester update — Classes begin Aug. 24, and we will welcome you back to campus
Fall semester classes will begin August 24 as scheduled and Bemidji State will be open and ready to welcome students. Most of our courses will be taught by remote means, with limited in-person, on-campus learning opportunities that complement the remote instruction.
To support our students' holistic experience, including the potential for accessing student activities, study spaces, and resources, we are encouraging students who had planned to take on-campus courses to be in Bemidji for the fall semester.
Courses that require an in-person component will be completed as we are able and allowed by Minnesota State and the Office of Higher Education (OHE), and will incorporate safety measures like physical distancing, use of cloth face masks, enhanced cleaning protocols, and clear communication to students, faculty, and staff about what will be required to participate in any in-person instruction.
As course delivery methods are updated for fall semester, enrolled students will receive an automated email message notifying them of any change to their registered courses. After receiving that message students should click on "view/modify schedule" in eServices and select "printable schedule" to view course details and notes.
There are several student campus COVID-19 forums scheduled on the following dates:
• June 11, 2:00 PM
• July 9, 4:00 PM
• Aug 11, 11:00 AM
Zoom meeting IDs for these forums will be sent in a separate email. Watch your BSU student email for information about accessing these forums. These forums will be recorded and posted to the BSU website.
HOUSING & RESIDENTIAL LIFE FOR FALL 2020
Bemidji State University Residence Halls plan to be open for fall semester. In accordance with the Centers for Disease Control and Prevention (CDC), Minnesota Department of Health (MDH), and Minnesota State system guidelines, the following changes have been made for the 2020-2021 academic year.
All double rooms in our traditional residence halls have been converted to single-occupancy rooms for 2020-2021. In these halls, double-as-single and single rooms will be offered at the double room rate. Single rooms with a private bath will remain at the regular rate.
Halls converted to single occupancy at the lower double room rate include:
• Oak – a First-Year Residential Experience (FYRE) hall
• Tamarack – a First-Year Residential Experience (FYRE) hall
• Pine
• Birch
Linden Hall will continue to offer our semi-private suites at the regular Linden rates.
University Heights and Cedar Apartments will remain as 1-4 person units at regular apartment rates.
We understand many students were looking forward to having a traditional "roommate experience." We genuinely hope that can happen at some point in the near future, but we also want you to know we are working hard to plan ways for you to engage with your peers in meaningful and fun ways while maintaining safe and healthy communities. We are also trying to provide those who wanted to live together the chance to live near each other in the same floor and hall communities.
In late May, every student who started or completed a housing application through StarRez received an email from Housing and Residential Life with important information regarding the room selection process for first-year and transfer students, proposed room rates for the 2020-2021 academic year, and notice about additional information coming soon regarding an early and extended move-in process and more. Please refer to this email and stay tuned to future emails for additional information regarding our planned residential experience for this upcoming academic year.
We know you will have more questions. Please join one of our three open forums at the dates and times listed above, or submit your questions at any time using the "I Have a Question" form on BSU's Coronavirus website.