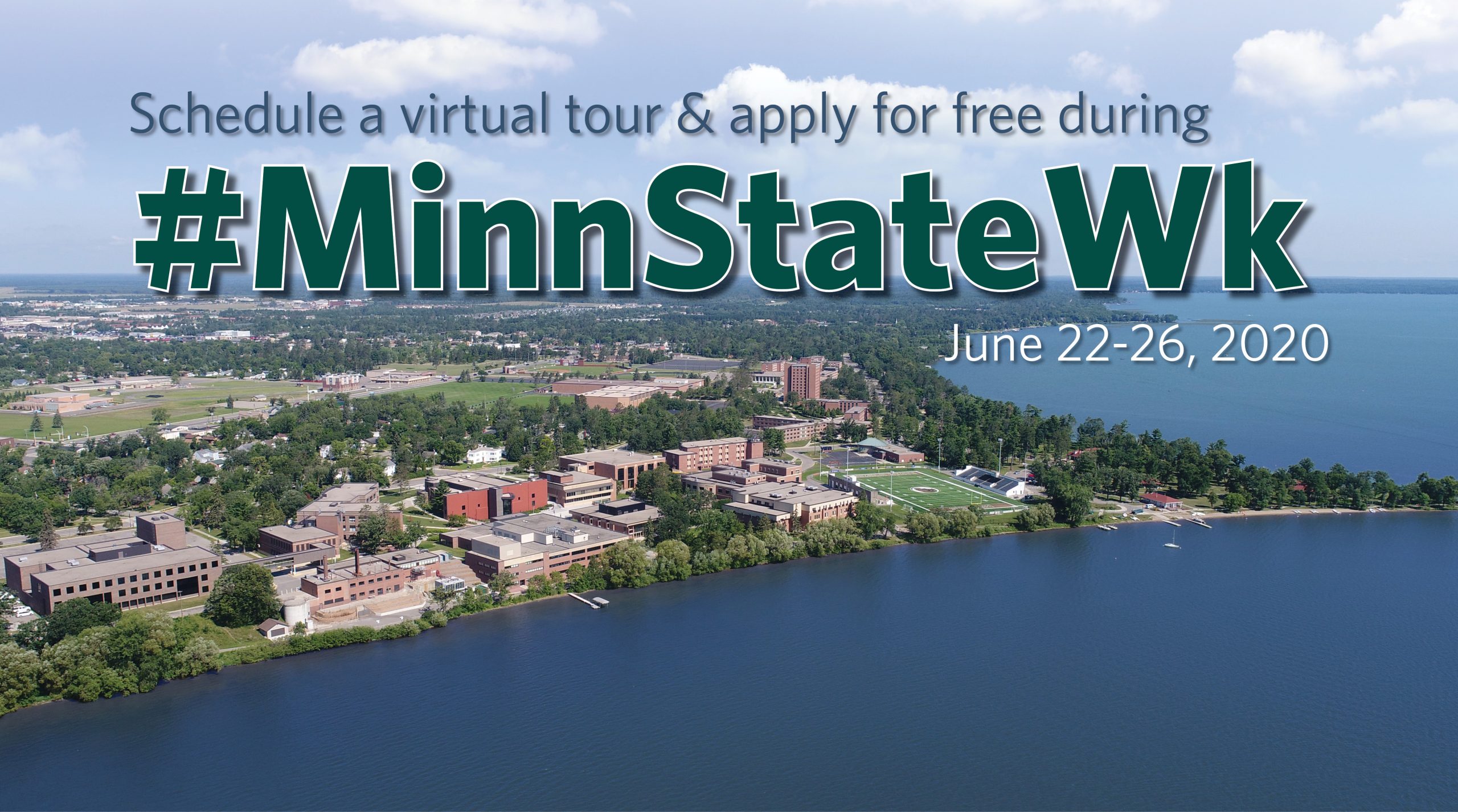 Bemidji State University, along with six other universities and 30 colleges in the Minnesota State System, will be part of a virtual Minnesota State Week from June 22-26. Students can submit an application for free during this week and are encouraged to connect with the BSU Admissions team.
Students who participate in a virtual visit event, complete an info request form or apply to BSU during this week will receive a BSU sticker and window cling.
The Office of Admissions will hold three Zoom meetings on June 23 and June 25 at 10 a.m., 1 p.m. and 5 p.m. Students can register for a Zoom session by visiting bemidjistate.edu/admissions/minnstateweek/.
Additionally, the Department of Professional Education will hold major-specific virtual sessions daily from 1-3 p.m. throughout the week.
Why Choose BSU?
BSU offers more than 80 degrees and pre-professional programs, many that are customizable to fit personal interests and talents.
Located on Lake Bemidji, BSU is a small, easy to navigate campus. Students don't have to worry about racing across campus to get to class on time.
Student-to-faculty ratio is 20:1, making it easier for students to get involved.
Underground tunnels connect nearly every building on campus, making the winter months not only warm, but manageable. Shorts and flip-flops, year round!
About Minnesota State System
Minnesota State is the fourth largest system of state colleges and universities in the United States and the largest in the state with 30 colleges, seven universities and 54 campuses. They commit to ensuring access to an extraordinary education and to provide an opportunity for students to create a better future for themselves, their families and their communities.
The faculty and staff strive to provide the best education available in Minnesota, preparing graduates to lead in every sector of Minnesota's economy. These colleges and universities continue to be the place for students to receive an education, update their skills and prepare for new careers.
Contact
Office of Admissions; (218) 755-2040, admissions@bemidjistate.edu
Links
2020-B-194