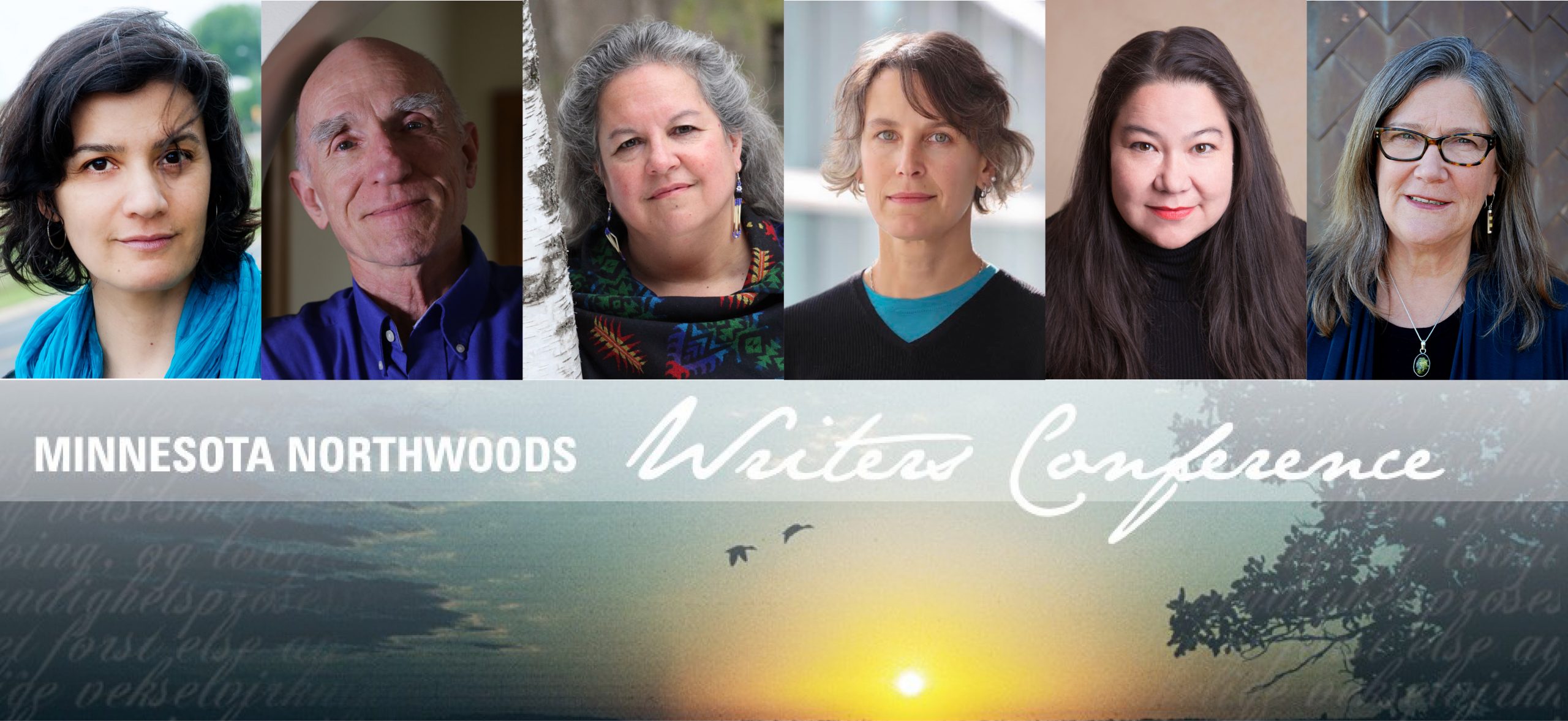 An award-winning lineup of authors from around the nation will read from their work at evening virtual presentations during Bemidji State University's annual Minnesota Northwoods Writers Conference, beginning June 22.
Poet Brenda Shaughnessy will open the series, which also features poet Elizabeth Bradfield, distinguished visiting writer Dr. Robin Kimmerer, fiction writer Scott Sanders, creative non-fiction writer Alison Hawthorne Deming and creative non-fiction writer Meera Subramanian.
June 22 — Brenda Shaughnessy — poetry
June 23 — Dr. Robin Kimmerer — distinguished visiting writer
June 24 — Alison Hawthorne Deming — creative nonfiction
June 25 — Scott Sanders — fiction
June 26 — Meera Subramanian — creative nonfiction
June 27 — Elizabeth Bradfield — poetry
All public readings will be limited to 500 attendees and will begin at 6:30 p.m. via Zoom webinar.
Traditionally the MNWC brings writers together on the shores of beautiful Lake Bemidji with talented and renowned faculty from across the country. This year, due to COVID-19 pandemic, the conference has been moved to an online format where participants will spend their days during the week-long conference in workshops with faculty and fellow students for feedback and encouragement.
The annual conference is funded in part by grants from the Minnesota State Arts Board, the Region 2 Arts Council and the Arts and Cultural Heritage Fund.
Distinguished Visiting Writer Dr. Robin Kimmerer
Kimmerer is a plant ecologist, writer and distinguished teaching professor in the College of Environmental Science and Forestry at the State University of New York in Syracuse. She also serves as the founding director of the Center for Native Peoples and the Environment, whose mission is to create sustainability programs that incorporate indigenous and scientific knowledge. In collaboration with tribal partners, she and her students have an active research program in the ecology and restoration of plants that have cultural significance to indigenous peoples.
Kimmerer has served as writer in residence at the H.J. Andrews Experimental Forest in Oregon, the Blue Mountain Center in New York, the Sitka Center for Art and Ecology in Oregon and the Mesa Refuge in California. She is the author of numerous scientific papers on ecology, restoration and the contributions of traditional ecological knowledge to our understanding of the natural world. Her latest book "Braiding Sweetgrass: Indigenous Wisdom, Scientific Knowledge and the Teachings of Plants," released in 2013, was awarded the Sigurd Olson Nature Writing Award.
An enrolled member of the Citizen Potawatomi Nation, Kimmerer is active in the efforts to broaden access to environmental science education for Native American students and to create curriculum models that will integrate indigenous philosophy and scientific tools. Co-founder and past president of the Traditional Ecological Knowledge section of the Ecological Society of America, Kimmerer also serves as a senior fellow for the Center for Nature and Humans.
Kimmerer holds a bachelor's degree in botany from SUNY College of Environmental Science and Forestry with master and doctorate degrees in botany from the University of Wisconsin.
Brenda Shaughnessy
Shaughnessy is the author of five poetry collections and a finalist for the Griffin International Prize and the Kingsley Tufts Prize. She received a 2018 Literature Award from the American Academy of Arts and Letters and a 2013 Guggenheim Foundation Fellowship. Her poems have appeared in Best American Poetry, The Nation, The New Yorker, Paris Review, Poetry Magazine and more. She is associate professor of English and creative writing at Rutgers University-Newark and lives in Verona, New Jersey.
Elizabeth Bradfield
Writer and naturalist, Bradfield is an associate professor and co-director of creative writing at Brandeis University in Waltham, Massachusetts. Founder and editor-in-chief of Broadsided Press, a contributing editor at the Alaska Quarterly Review, she is also the winner of the Audre Lorde Prize from the Publishing Triangle, finalist for a Lambda Literary Award, the James Laughlin Award from the Academy of American Poets and more. She is the author of "Toward Antarctica," "Once Removed," "Approaching Ice," "Interpretive Work," and more. Her poems and essays have appeared in The New Yorker, West Branch, Poetry, The Atlantic Monthly and Orion.
Scott Sanders
Sanders is the author of more than twenty books of fiction and nonfiction, including "A Conservationist Manifesto," "Hunting for Hope" and "A Private History of Awe." He is a distinguished professor emeritus of English at Indiana University in Bloomington, Indiana and a fellow of the American Academy of Arts and Sciences.
Alison Hawthorne Deming
Regents professor at the University of Arizona, Hawthorne Deming is the author of ten books of poetry and prose. Her work has received numerous award including fellowships from the Guggenheim Foundation, Wallace Stegner and the National Endowment for the Arts. Hawthorne Deming's most recent books include "Stairway to Heaven" and the essay collection "Zoologies: On Animals and the Human Spirit." Her work has been published in The Norton Book of Nature Writing, the Best American Science and Nature Writing and more.
Meera Subramanian
Award-winning journalist Subramanian has investigated the natural world and climate change across the globe. Some of her work includes exploring the disappearance of India's vultures, post-hurricane shoreline growth and perceptions of climate change. She is a contributing editor of Orion and a former Massachusetts Institute of Technology Knight Science Journalism fellow. Her narrative nonfiction book "A River Runs Again: India's Natural World in Crisis," was a 2016 Orion Book Award finalist.
Contact
Links
2020-B-193