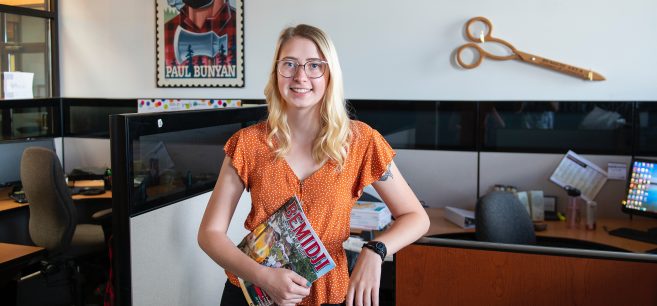 Bemidji State University works to connect students with the Bemidji community. This summer, Leah Seidenkranz, a Bemidji State University senior marketing communication major from St. Paul, Minnesota, is exploring her future career opportunities by working in and giving back to the Bemidji community.
As the Bemidji Area Chamber of Commerce's program and membership liaison intern, Seindenkranz works closely with Executive Director Abby Randall on member communications, social media planning and marketing campaign development.
"I have already gained a lot of real-world experience. It has been beneficial to work with a non-profit organization and be involved in the community," Seindenkranz said.
Drawn to Bemidji State's array of programs and personalized education opportunities, Seindenkranz quickly fell in love with the small class sizes and close knit campus. As she grew at Bemidji State, she became increasingly involved within the Department of Mass Communication.
"I am involved in the American Marketing Association. I also hosted a radio show on BSU's radio station, KBSU and worked with KBSU TV," she said. "I also participated in a sales simulation this semester."
Inspired by her BSU professors, Seindenkranz is on track to graduate in spring 2021 and while hoping to continue working in the marketing field, is open to all future opportunities. In fact, it was Dr. Kelly LaVenture, associate professor of business administration, who first informed Seindenkranz of the local internship opportunity.
"I was in her Marketing Research class and she posted the internship on D2L," she said. "I applied, had an interview via zoom with Dr. LaVenture and Abby Randall and started at the end of May."
But Dr. LaVenture is not the only professor who has had an impact on Seindenkranz' success. Dr. Angie Kovarik, assistant professor of business administration, is also one of her academic career advisers.
"Dr. Angie Kovarik has been a great mentor for me in my schooling," she said. "I took my first marketing class with her and that helped me decide on my major, join the American Marketing Association and participate in a virtual sales competition. Her classes are fun, engaging and she's helped me succeed in many aspects of my education."
Contact
Links
2020-B-009