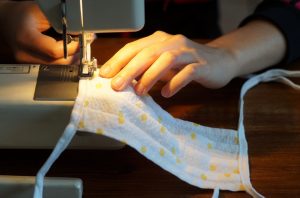 BSU student makes masks while courses moved online
In the early days the global effort to combat the COVID-19 outbreak, Holly Bachschneider saw her opportunity to contribute by helping to provide those in need with cloth face masks.
Like most students across the nation, Bachschneider finished the spring semester of her junior year under the shadow of the coronavirus. While spending time at home in Virginia, Minnesota, she decided to join her mom and sister and lend a hand with a mask-making project.
"It is so rewarding knowing that you are helping people feel safe during these difficult times,"
she said.
Bachschneider estimates that they have created 1,400 masks so far, which have been distributed to family, friends and businesses throughout her community.
She added that the mask project was a welcome distraction while finishing her spring coursework
from home.
"It was hard finishing this semester during the coronavirus," she said. "I got so used to going into the classroom and completing assignments and discussion boards while working with students. The work was the same, but the so many of our field experiences had to change because of this pandemic."
She expects to graduate in Dec. 2021 with a degree in elementary education as a member of BSU's distributed learning in teacher education program.
"The professors in this program are the best," she said. "They are so supportive and are my biggest fans while going through the program. I couldn't ask for better professors."
By Andy Bartlett
When news that a previously unknown virus had been discovered in Wuhan, China, began making its way into the national headlines in late December 2019, few could have imagined the severity of its eventual impact on the world.
No different from most other colleges and universities, Bemidji State University has been managing its response to COVID-19 with guidance from the Minnesota State system of colleges and universities, a variety of state government agencies including the Office of the Governor, the Office of Higher Education, the Minnesota Department of Health and the Centers for Disease Control and Prevention.
How our COVID-19 response developed
University administrators and Minnesota State system office leadership increased their attention toward this new virus as early as January, when the first confirmed case of COVID-19 was reported in the United States. Less than two weeks later, on Feb. 3, the federal government declared a public health emergency.
Minnesota State officials formulated a system-wide response, which began with a Feb. 28 announcement from Chancellor Devinder Malhotra that all international travel for the system's employees and students would be immediately suspended.
BSU administrators scrambled in response to the announcement, working to recall several faculty members who, with Spring Break approaching, were en route to international destinations.
Janice Haworth, professor of music, was making final preparations for the Third International Music Education Conference in Egypt when the travel suspension was announced.
"I was crushed," she said. "I learned on Saturday that all international travel was canceled, and I was supposed to leave that Monday morning. I had done a lot of work preparing my classes — I had included Egypt as one of the cultures in the World Music course that semester — plus my work on this research presentation. I did end up filming my presentation and a colleague shared it at the conference."
Within days, several colleges and universities across the country announced the suspension of in-person instruction, including the University of Minnesota, and the World Health Organization officially declared COVID-19 a global pandemic.
"March 11 was the pivotal day for our response to COVID-19," BSU President Faith C. Hensrud said. "The University of Washington had announced the day before that it was suspending in-person classes, and the situation developed very quickly from there. Minnesota State convened its system-wide COVID-19 response group on the 11th, and the decision to extend our Spring Break — which as we now know would become a full suspension of in-person classes for the remainder of the semester —  came the very next day."
In those early weeks, Minnesota State's COVID-19 response evolved rapidly, often changing several times in one day. University employees at all levels made tremendous efforts to keep up. BSU's Emergency Operations Team was activated and began meeting daily, and President Hensrud's cabinet also began meeting for several hours each evening to address the rapidly developing situation.
Transitioning to Online Learning
During the two-week extension of Spring Break, BSU's faculty undertook the greatest challenge of their collective professional careers and moved approximately 800 courses to online delivery. While online teaching was part of the normal routine for some BSU faculty, for many others they were preparing for their first-ever online teaching experience.
"The first thing we started doing was to compare notes and collect data," Dr. John Perlich, associate professor of communication studies, said during
a March interview. "We needed to find out what our students had access to, and what they could and couldn't do."
Information Technology Services mobilized its support capabilities as well, providing laptops to students who needed technology to access their newly remote courses from home, and also providing upgraded internet access points for those who needed better Wi-Fi to accommodate streaming video.
A virtual commencement
In late March, the Minnesota State system made the difficult decision to suspend all in-person commencement activities at the system's 30 colleges and seven universities. Feeling a particularly strong desire to celebrate the Class of 2020, which endured through two months of online courses, BSU designed a virtual, live photo mosaic. Graduates posted photos of themselves in their caps and gowns and had the opportunity to virtually see their friends and colleagues celebrate this momentous event in their lives.
"We put a heavy burden on our students," Hensrud said. "What happened to them during the spring semester wasn't fair — they were forced into an uncomfortable and often unfamiliar learning environment, our on-campus students were moved out of their homes, and our graduating students lost their commencement."
During her remarks to graduates during the virtual Class of 2020 recognition event, she challenged students to focus as much on what they gained through the ordeal of Spring 2020 than they did on what they had lost.
"It is my hope that you recognize the opportunities this situation has presented," she said. "You now know that you can respond to — and succeed under — conditions of adversity; you know you
can face the unknown and still find success; and you know how to keep your focus and stay the course during an unprecedented crisis."
Where we are today
Throughout the summer, faculty and staff worked to prepare for an uncertain fall, knowing that course delivery was likely to be primarily through methods other than on-campus instruction. Just under 500 students live in BSU's residence halls, and about 100 of the 800 courses being offered this semester are in-person; the remainder have been transitioned to alternate delivery methods. Masks are required in most circumstances indoors, and social distancing guidelines are being followed. At the time this magazine was published, there had been no reports of uncontrolled COVID-19 spread on campus.
"We've taken a more conservative approach to our fall semester than some other institutions, and so far our caution has paid off," Hensrud said. "Everyone at Bemidji State is looking forward to a future that feels normal. For now, our highest priority remains the health and safety of our students and employees — and we will take the steps necessary to ensure their safety.
"We don't have the answers to how the pandemic will unfold," she added. "What we do know is we will continue to help students succeed, virtually and in-person when possible, on the shores of Lake Bemidji."