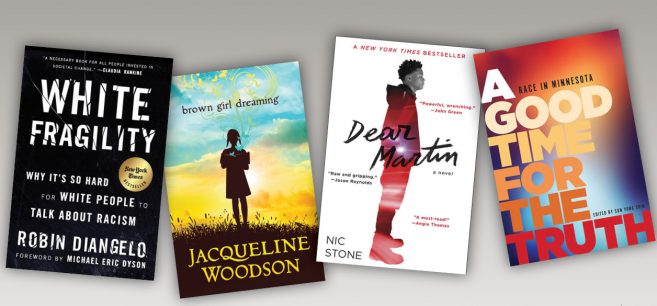 Four members of BSU's faculty were featured on Northern Community Radio's "What We're Reading" program during the month of June. Drs. Rucha Ambikar, assistant professor of sociology and communication studies; Dennis Lunt, assistant professor of philosophy; John Gonzalez, professor of psychology; and Egypt Grandison, assistant professor of business administration, recommended books to help people learn more about Black Lives Matter, racism and racial injustice. Read the full story here. 
Among the books recommended were:
"White Fragility" by Robin DiAngelo
"The Hate You Give" by Angie Thomas
"Brown Girl Dreaming" by Jacqueline Woodson
"March" by John Lewis
"Dear Martin" by Nic Stone
"Hood Feminism" by Mikki Kendall
"Why Are All the Black Kids Sitting Together in the Cafeteria" by Beverly Daniel Tatum
"The End of Policing" by Alex S. Vitale
"The New Jim Crow" by Michelle Alexander
"How To Be An Antiracist" by Ibram X. Kendi
"Stamped From The Beginning" by Ibram X. Kendi
"Between the World and Me" by Ta-Nehisi Coates
"The N Word": Who Can Say It, Who Shouldn't, and Why" by Jabari Asim
"Winter in the Blood" by James Welch
"Exit West" by Mohsin Hamid
"What Does it Mean to be White" by Robin DiAngelo
"Racism without Racists" by Eduardo Bonilla-Silva
"A Good Time for the Truth" by Sun Yung Shin
The professors also discussed how they incorporate issues of racism into their research and classes.