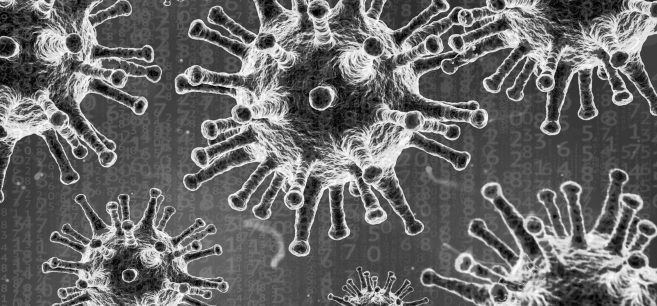 Biology faculty video series explains COVID-19, viruses and vaccines
To help university employees and residents in the Bemidji community better understand viruses and vaccines, College of Business, Mathematics and Sciences faculty created videos explaining the novel coronavirus, how it operates and potential interventional strategies to inhibit it.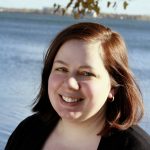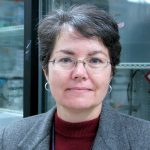 Dr. Holly LaFerriere, assistant professor of biology, explained the biology of viruses, specifically the SARS-CoV-2 virus that causes COVID-19. This virus is classified as an obligate intracellular parasite, meaning it relies completely on the ability to infect a living host cell in order to create and spread more viruses. Viruses are not alive, as they can't move, metabolize or replicate on their own.
Dr. Marilyn Yoder, dean of the college, describes the physical structure of the SARS-CoV-2 virus, explaining the three main components of a virus: the envelope, spike proteins and other viral membrane proteins. Each of these components are created by cells in the host, in this case humans infected with COVID-19.
Dr. Mark Wallert, professor and chair of the Department of Biology, explained how vaccines are developed and the potential for developing a treatment for COVID-19. Vaccines are used to stimulate the production of antibodies and drive an immune system response to protect the body, curing a host of an infection.
The videos are available here. 
---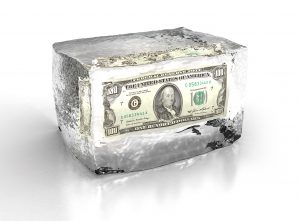 Minnesota State welcomes students back with fall tuition freeze
The colleges and universities of Minnesota State welcomed students, both back to campus as well as online, with a freeze on undergraduate tuition for fall semester. Tuition at Minnesota State's colleges and universities makes them, on average, the least expensive higher-education option in Minnesota. Tuition at the system's 30 colleges starts at approximately $5,000 per year, with state universities averaging about $8,000 per year, before factoring in scholarships or other aid. The Board of Trustees vote to freeze undergraduate tuition kept Fall 2020 tuition at the same level charged during the spring semester of 2020. A 3 percent tuition increase will go into effect spring semester 2021 to fund inflationary costs and long-term financial and programmatic sustainability.
---
Federal CARES Act funds support BSU students impacted by COVID-19
Bemidji State students who were financially impacted by the COVID-19 pandemic received much-needed relief through funding provided by the U.S. Government's CARES Act. Financial assistance was available for students who did not drop or withdraw from classes and attended in-person classes before they were suspended as a result of the pandemic in March. Students who met eligibility requirements received $340, with students eligible for federal Pell Grants receiving an additional $285. In addition, students could apply for COVID-related emergency funds, up to $500, during the spring and summer.
---
Virtual commencement celebrates more than 1,000 Class of 2020 graduates
On May 8, more than 560 students, family members, faculty and staff joined to celebrate the university's 101st graduating class. The virtual event, held live on Zoom as a result of the ongoing COVID-19 pandemic, acknowledged the Class of 2020's commitment to the BSU community. Graduates were addressed by Minnesota State Chancellor Devinder Malhotra; Jay Cowles, chair of the Minnesota State Board of Trustees; U.S. Senator Amy Klobuchar; Stacia Goodman, a Minneapolis-based artist commissioned to install a mosaic inside the new Hagg-Sauer Hall; Then Acting Vice President for Academic Affairs Dr. Allen Bedford; Associate Vice President of Student Life and Success Travis Greene; Executive Director for University Advancement Josh Christianson on behalf of the university's more than 45,000 alumni; and by academic deans, faculty and staff. The virtual graduate recognition ceremony was later re-broadcast by Lakeland Public Television.
---
DNR grant funds student group's efforts to expand hunting community
BSU's student chapter of The Wildlife Society received a $14,800 grant from the Minnesota Department of Natural Resources Angler and Hunter Recruitment and Retention grant program. The chapter's project, "Future Hunters and Wildlife Stewards of Bemidji," aims to remove financial, physical and psychological barriers that prevent potential hunters from joining the hunting community and to broaden the interest and skills of current hunters. This grant will fund training courses — including introduction to whitetail deer hunting, introduction to archery education and hunting, wildlife track and sign and wilderness survival — to equip community members with hunting knowledge and skills.
---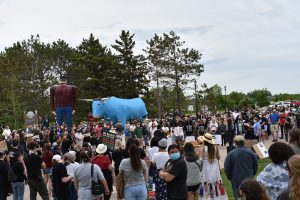 Black Student Union sparks conversations with social injustice demonstration
BSU's Black Student Union led a peaceful demonstration June 6, both to recognize the death of George Floyd and to raise awareness for social injustice. The demonstration, held at Bemidji's Paul Bunyan Park, included nine minutes of silence to commemorate Floyd, along with speeches and musical performances from BSU students, professors and community members. Several hundred members of the community attended the demonstration.
---
BSU launches new online master's program in public accounting
Bemidji State University has launched a new online master's degree in public accounting. The program, offered by the Department of Accountancy, can be completed in as little as one year and equips students with advanced-level skills needed to succeed in today's dynamic and complex accounting environment. The program is available in an accelerated option, which allows undergraduate students to complete bachelor's and master's degrees in five years, and as a traditional graduate program
---
U.S. News again ranks BSU among region's Top 25 public schools
Bemidji State University has received its highest ranking in the annual U.S. News and World Report Best Colleges since 2010, tied for 22nd amongst the region's public universities. Overall, BSU tied for 86th amongst all colleges and universities in the Midwest region, up six spots from last year. BSU was also recognized as the 17th top performer among Midwestern universities on social mobility, which measures a school's success at enrolling and graduating large proportions of underrepresented students who receive Pell Grants.
---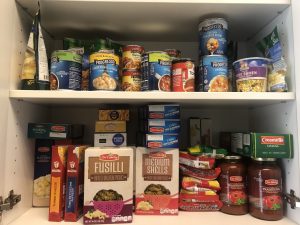 Food Pantry
The Hobson Memorial Union is helping to address a growing issue of food insecurity among college students through a new food pantry. In partnership with United Way of Bemidji Area, a former supply room located near the union's information desk has been converted into an easily accessible,
yet private, food pantry. Students and union staff will maintain the pantry with food purchased by gift cards provided
by the United Way. BSU Dining Services and the Sustainability Office are providing donations as well, and any member of the campus community is welcome to contribute.
---
Communications & Marketing produces "What's New, BSU?" online variety show
During April and May, staff in BSU's Office of Communications and Marketing began producing a weekly variety show broadcast live on Zoom, featuring interviews with and short videos produced by the university's employees. The video series, which featured segments such as "Meet My Pet," "Tour My Home Office" and "What I'm Streaming," was meant to help maintain personal connections between friends and colleagues as the university's employees adjusted to the challenges of remote work. "What's New, BSU?" aired for six 30-minute episodes between March 27–May 1; all are archived on BSU's Coronavirus website.
---
$1.8 million grant will help BSU develop a new generation of math teachers
Bemidji State will help high-need schools in northern Minnesota address a critical shortage of mathematics teachers by offering full, grant-funded scholarships to more than a dozen students majoring in mathematics and mathematics education. The initiative, funded by a $1,813,687 grant from the National Science Foundation's Robert Noyce Teacher Scholarship Program, provides resources for higher education institutions to recruit and train science, technology, engineering and mathematics teachers for K-12 schools. The grant will fund 16 students in two cohorts, one starting in the fall of 2021 and a second in Fall 2022.
---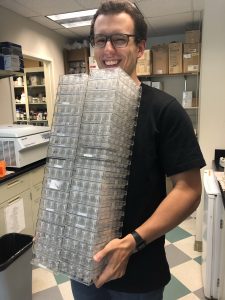 Students win research scholarships
Three BSU biology students have received funding to continue their undergraduate research as recipients of the Dr. Richard Beitzel Biochemistry Student Research Fund scholarships. Recipients include biochemistry, cellular and molecular biology students Emily Withers and Hannah Leffelman, and biology major Adam Smiley. Smiley, a first-generation student from Maple Grove who aspires to become a research scientist, and Withers, a Nisswa native pursuing research in pulmonary fibrosis, graduated in May 2020. Leffelman, a senior from Bemidji, is conducting research into the role of a protein called NHE1 in the regulation of cancerous cell proliferation.