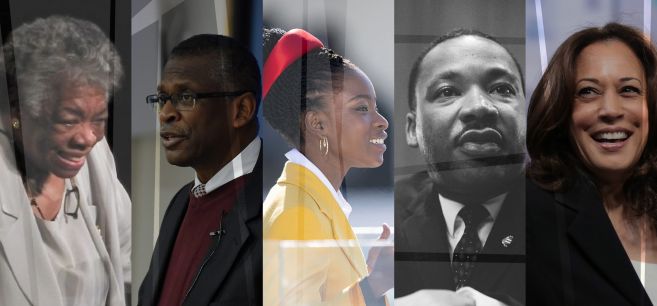 In recognition of Black History Month, Bemidji State University is joining communities across the nation to honor and celebrate the history and accomplishments of African Americans throughout February.
"It's important to celebrate Black History Month because it helps us to know that all of our history isn't painful," Dr. Gabriel Warren, assistant professor of business administration, said. "We get a chance to highlight the amazing people who have helped to move our country forward, which inspires future generations to recognize that they too are making Black history by the way they live their lives."
Additionally, Bemidji State's Black Student Union will host a series of student programs starting Feb. 2 with the launch of a podcast by student-creator and host Michael Bailey Jr., a marketing communication major.
The sophomore from Eden Prairie, Minn., was inspired to start the Black Student Union podcast series by the "I Am Athlete" podcast hosted by retired NFL wide receiver Brandon Marshall and explores the challenges black athletes face. Bailey said his podcast will focus on how COVID-19 has affected students, the Black Lives Matter movement and current events. Episodes will be released weekly.
Upcoming Black History Month Events:
To impart knowledge and inspire critical thinking across campus, faculty in Bemidji State's Department of Psychology recently compiled a list of resources that encourage audiences to challenge racist beliefs and policies by learning about white supremacy and antiracism.
Suggested Black/African American movies
"13th" (2016) available on Netflix.
"Atlanta" (2016) available on Hulu.
"Black Panther" (2018) available on Hulu.
"Do the Right Thing" (1989).
"For Colored Girls" (2010) available on Netflix.
"Get Out" (2017).
"Greenleaf" (2016) available on Netflix.
"Precious" (2009).
"Moonlight" (2016) available on Netflix.
"When They See Us" (2019) available on Netflix.
Suggested websites that focus on experiences of Black, Indigenous and people of color:
Suggested written resources:
"A Black Woman's History of the United States" by Daina Ramey Berry and Kali Nicole Gross.
"How to Be an Antiracist" by Ibram X. Kendi.
"Me and White Supremacy" by Layla F. Saad.
"The New Jim Crow" by Michelle Alexander.
"So You Want to Talk About Race" by Ijeoma Oluo.
"White Like Me: Reflections of Race from a Privileged Son" by Tim Wise
"What does it mean to be White: Developing White Racial Literacy" by Robin DiAngelo
"White Fragility: Why It's So Hard for White People to Talk about Race" by Robin DiAngelo.
"Waking Up White and Finding Myself in a Story of Race" by Debra Irving.
Suggested resources for those personally impacted by injustice:
Beltrami County Mobile Crisis Team: 1-800-422-0045 (available 24/7)
National Suicide Prevention Hotline: 1-800-273-8255
2021-B-099