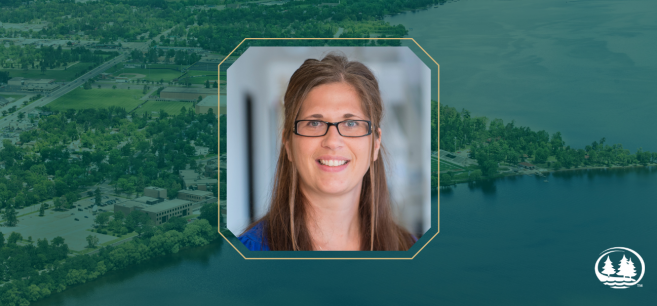 The American Association of Colleges of Nursing has selected Bemidji State University's Dr. Tricia Cowan to serve in its first Diversity Leadership Institute cohort.
"I wanted to participate in the Diversity Leadership Institute to work on my allyship journey," Cowan, assistant professor of nursing, said. "I am excited to learn concrete ways to help fix the unequal advantage and opportunity that exists in nursing programs."
Cowan was nominated by the Niganawenimaanaanig Indigenous Nursing Program, a Health Resources and Services Administration Nursing Workforce Diversity Program grant recipient, for her dedication to equality in the classroom.
"She has been a strong ally of Niganawenimaanaanig and diverse students, faculty and staff since she began at BSU," Dr. Misty Wilkie, associate professor of nursing and the director of the Niganawenimaanaanig program, said. "Her leadership efforts have always been geared toward diversity, equity and inclusion, so she was a perfect candidate to nominate for the institute."
As a representative of an institution with a HRSA Nursing Workforce Diversity program, Cowan's $2,000 participation fee was waived.
While the AACN works to establish quality standards for nursing education and supports professional nursing education, the central focus of the institute is to provide an overview of diversity and inclusion in academic nursing and nursing practice.
This preliminary Diversity Leadership Institute was an exclusive opportunity, with only 43 applicants selected from a pool of more than 70. Cowan's appointment began at the end of January and will extend through June.
Contact
Links
2021-B-104