On May 11, Bemidji State University's Niganawenimaanaanig – an Ojibwe word meaning "we take care of them" – program will host a free, virtial Indigenous nursing conference.
The conference, "Strong Tribal Nations During Trying Times," will welcome health care professionals from across the nation who will provide lectures on a range of health care issues affecting Indigenous communities including cancer and missing and murdered Indigenous women.
The day will begin at 9 a.m. with an address from Dr. Misty Wilkie, associate professor of nursing, followed by an opening song by Ojibwe Nation. A member of the Turtle Mountain Band of Chippewa Indians, Wilkie has worked in higher education for 16 years. In addition to teaching at Bemidji State, Wilkie serves as the Niganawenimaanaanig director and was the primary author for the initial four-year project.
Bemidji State President Faith C. Hensrud will also provide an official welcome to attendees.
The conference was organized by the Niganawenimaanaanig Indigenous nursing team including Wilkie, Matt Hanson, grant coordinator, and Michelle Saboo, student mentor.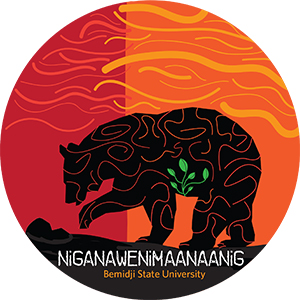 Schedule of Events
All conference events are open free to the public; registration is required.
9-9:30 a.m. – Welcome and Introduction
Wilkie, Ojibwe Nation and President Hensrud.
9:35-9:55 a.m. – Address a Leading Cause of death in Indian Country: Cancer Burdens
American Indian Cancer Foundation staff members Lindsey Petras, cancer programs manager, Justin Jones, cancer programs coordinator, and Misha Loeffler, cancer equity coordinator.
10-10:45 a.m. – Indigenous Resilience and Health
Dr. Donald Warne, professor of family and community medicine at the University of North Dakota in Grand Forks. Warne is also the director of UND's Indians Into Medicine and Public Health Programs.
11-11:40 – Native Americans Into Medicine: Building Communities for Change
Dr. Mary Owen, director of the Center of American Indian and Minority Health at the University of Minnesota Medical School in Duluth. Owen is also the current president of the Association of American Indian Physicians.
11:45 a.m. – 12:05 p.m. – From College to Covid-19: Niganawenimaanaanig Alumni Share their Experiences
Sage Miletich '18, post-coronary care nurse in Duluth; Anna Fogarty '18, adult intensive care unit nurse at Sanford Fargo Medical Center in North Dakota; Terry Defoe '20, community health nurse for Bois Forte Health and Human Services in Orr, Minnesota; and Jineane Williams '18, travel intensive care unit nurse working with COVID-19 patients. The panel will be moderated by Dr. Mary Fairbanks, Bemidji State professor of nursing.
12:05-12:30 p.m. – Lunch
12:30-1:30 p.m. – Prioritizing Nehiyaw Maskihkiya Ekwa Mamitoneyicihkan (Indigenous Medicines and Thinking) During the Pandemic and Beyond
Dr. James Makokis, medical director of Shkaabe Makwa at the Centre for Addiction and Mental Health in Toronto, Ontario.
1:35-2:25 p.m. A Long Year with Long COVID: Doing Our Best in Uncertain Times
Dr. Emily Haozous, nurse and research scientist with the Pacific Institute for Research and Evaluation in Albuquerque, New Mexico.
2:30-3 p.m. – MMIW (Missing and Murdered Indigenous Women) and Healthcare
Deborah Maytubee Shipman, founder of Missing and Murdered Indigenous Women USA.
3:05-3:50 p.m. – Accelerating Possibilities for American Indians/Alaska Natives in Health Professional Education
Dr. Erik Brodt, an associate professor in the Department of Family Medicine at Oregon Health and Science University in Portland. He also serves as the director of the OHSU Northwest Native American Center of Excellence.
3:50-4 p.m. – Closing Remarks
Hanson and Ojibwe Nation.
About Niganawenimaanaanig
Bemidji State's Niganawenimaanaanig program provides cultural, financial, social and academic support for indigenous nursing students. It offers holistic support for students to increase the likelihood of graduating from the BSU nursing program and earning a bachelor of science in nursing.
When Wilkie joined the Bemidji State nursing faculty in 2013, she explored ways to better support BSU's Indigenous nurses and began to seek funding to start the Niganawenimaanaanig program. That funding came in September 2016, when Wilkie and a team of BSU faculty and administrators applied for — and won — a four-year, $2 million Nursing Workforce Diversity Grant offered by the U.S. Department of Health and Human Services.
The program offers American Indian nursing students significant scholarships and other support including mandatory meetings with tutors and student mentors, opportunities to network with elders and other cultural activities. To date, the program has helped 17 Indigenous nursing students graduate, including a program record of seven students in Spring 2021.
Contact
Links
2021-B-176