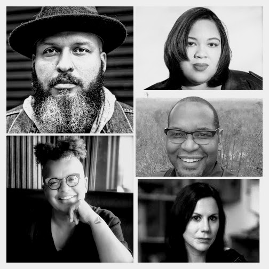 An award-winning lineup of writers from around the nation will present their work during Bemidji State University's annual Minnesota Northwoods Writers Conference, beginning June 21.
Poet John Murillo will open the virtual public reading series, which will also feature distinguished visiting writer Nikky Finney, creative nonfiction writer Faith Adiele, creative nonfiction writer J. Drew Lanham, fiction writer Danielle Evans and poet Jennifer Foerster.
June 21 — John Murillo – poetry.
June 22 — Nikky Finney – Distinguished Visiting Writer.
June 23 – Faith Adiele – creative nonfiction.
June 24 – J. Drew Lanham – creative nonfiction.
June 25 – Danielle Evans – fiction.
June 26 – Jennifer Foerster – poetry.
All public readings will be limited to 500 attendees and will begin at 6:30 p.m. via Zoom.
Traditionally the conference brings writers together on the shores of Lake Bemidji to work closely with renowned faculty from across the country. For 2021 the conference has been moved to an online format where participants will spend their days during the week-long conference in virtual workshops with faculty and fellow students for feedback and encouragement. The conference will also feature social opportunities for attendees including craft conversations and yoga for writers.
The conference is funded in part by grants from the Minnesota State Arts Board, the Region 2 Arts Council and the Arts and Cultural Heritage Fund.
About Distinguished Visiting Writer Nikky Finney
Poet and storyteller Finney was born in Conway, South Carolina, and grew up during the Civil Rights, Black Power and Black Arts movements. A recipient of the PEN American Open Book Award and the Elizabeth O'Neill Verner Award for the Arts in South Carolina, Finney's work explores African American perseverance, sexuality, poverty, history and memory.
Professor Emeritus of the University of Kentucky, Finney taught English for more than 20 years. In 2013, Finney accepted the John H. Bennett, Jr. Chair in Creative Writing and Southern Letters position at the University of South Carolina in Columbia where she now teaches in the Department of English Language and Literature and in the African American Studies program.
She is a faculty member at the Cave Canem summer workshop for African American poets, a founding member of the Affrilachian Poets and has been a visiting scholar at Berea and Smith Colleges.
Finney's published works include "On Wings Made of Gauze," "Rice," "The World Is Round" and "Head Off & Split," which won the National Book Award for Poetry in 2011. Her newest collection of poems, "Love Child's Hotbed of Occasional Poetry," was released in 2020.
Currently, Finney's work with African American womanhood and history is on display in the inaugural exhibition of the African American Museum of History and Culture in the District of Columbia.
About John Murillo
Murillo is an assistant professor of English and director of the creative writing program at Wesleyan University in Middletown, Connecticut, and also teaches in the low residency master of fine arts program at Sierra Nevada University in Incline Village. He has authored two poetry collections, "Up Jump the Boogie", a finalist for both the Kate Tufts Discovery Award and the PEN Open Book Award, and "Kontemporary Amerikan Poetry," the recent winner of the 2021 Kingsley Tufts Poetry Award. Recent poems by Murillo have also appeared in the American Poetry Review, the New York Times and "The Best American Poetry" anthology series.
Murillo has also achieved two Larry Neal Writers Awards, a Pushcart Prize, the J. Howard and Barbara M.J. Wood Prize from the Poetry Foundation and an NYSCA/NYFA Artist Fellowship. He's held additional fellowships from the National Endowment for the Arts, Bread Loaf Writers Conference, Fine Arts Work Center in Provincetown, Cave Canem Foundation and Wisconsin Institute for Creative Writing.
About Faith Adiele
Named one of Marie Claire Magazine's "Five Women to Learn From," Adiele resides in Oakland, California, and teaches around the world. As a creative non-fiction writer, Adiele is the author of "Meeting Faith: The Forest Journals of a Black Buddhist Nun," which won a PEN Award, and "The Nigerian-Nordic Girl's Guide to Lady Problems." She is also a co-editor of "Coming of Age Around the World: A Multicultural Anthology."
Additionally, Adiele has worked across mediums on creative projects including the Public Broadcasting Service documentary "My Journey Home," which showcased her search for her father and siblings, and the new television series "A World of Calm" produced by the Calm meditation app and HBO Max.
About J. Drew Lanham
Essayist and poet Lanham is a professor of wildlife ecology at Clemson University where he works in the Forestry and Environmental Conservation Department. He is also a certified wildlife biologist.
Lanham is the author of "The Home Place: Memoirs of a Colored Man's Love Affair with Nature," which received the Reed Award from the Southern Environmental Law Center, the Southern Book Prize and was a finalist for the John Burroughs Medal.
Lanham's essays and poetry have appeared in numerous magazines and journals including Orion, where he is a contributing editor, Audubon, Flycatcher and Wilderness, and in several anthologies, including "The Colors of Nature and State of the Heart".
About Danielle Evans
Fiction writer Evans is the author of the story collections "The Office of Historical Corrections" and "Before You Suffocate Your Own Fool Self." In addition to winning the PEN American Robert W. Bingham Prize, the Hurston-Wright award for fiction and the Paterson Prize for fiction, Evans is a 2011 National Book Foundation 5 Under 35 honoree and a 2020 National Endowment for the Arts fellow.
Her work has appeared in magazines including The Paris Review, A Public Space, American Short Fiction, Callaloo, The Sewanee Review and Phoebe. Select pieces have also been anthologized in the 2008, 2010, 2017 and 2018 editions of "The Best American Short Stories" and in "New Stories From The South."
Evans currently teaches in writing seminars at Johns Hopkins University.
About Dr. Jennifer Foerster
Foerster currently teaches at the Rainier Writing Workshop at Pacific Lutheran University in Tacoma, Washington and is the literary assistant to the U.S. Poet Laureate, Joy Harjo. The recipient of a National Endowment for the Arts Creative Writing Fellowship and the Wallace Stegner Fellow in Poetry at Stanford University in Stanford, California, Foerster is the author of two books of poetry, "Leaving Tulsa" and "Bright Raft in the Afterweather."
She received her doctorate in English and literary arts at the University of Denver and is a also graduate of the Institute of American Indian Arts in Sante Fe, New Mexico. Foerster grew up living internationally and is a member of The Muscogee Nation of Okmulgee, Oklahoma.
Contact
Links
2021-B-182