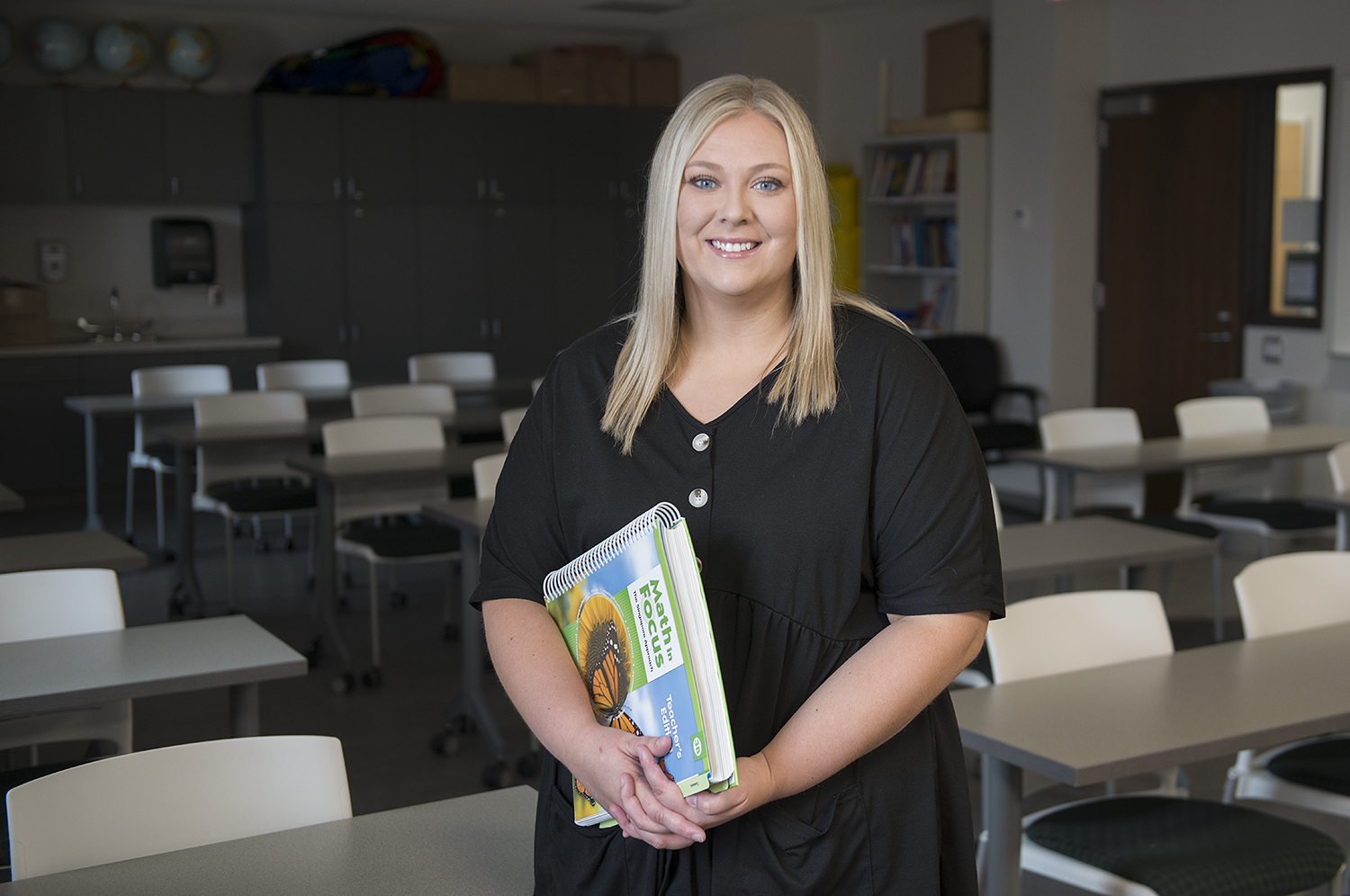 Alumna Sara Holm '19, always knew she would attend Bemidji State University to become a teacher. After earning her elementary education degree and a minor in sports management, Holm is now settled into a successful career as a third-grade teacher at Red Lake Elementary in Minnesota's north woods.
Originally from Shevlin, Minnesota, Holm grew up on a family farm where she and her two older bothers are fifth generation caretakers. After graduating from Bagley High School in 2015, it was a no-brainer that Holm would go to Bemidji State. Not only did she love BSU's professional education program and its lakeshore campus, she also had deep connections campus with a mom who's a longtime employee and an alumnus-dad.
"Going to BSU was in my life plan from a very young age. I was very familiar with the campus and that made the transition to college from our close-knit small town a lot more comfortable as a freshman," she said. "I have always loved the view of the lake and all the trees on campus. Other colleges don't even come close to matching BSU's beauty. Plus, getting outdoors between classes was a must for me."
Taking advantage of Bagley High's postsecondary enrollment options, Holm completed her associate's degree and even enrolled in a number of Indigenous studies courses at Bemidji State before becoming a full-time student. This experience allowed her to adapt to life on campus, she said. Then, when she started her journey BSU's Department of Professional Education, Holm felt better prepared to visit classrooms, shadow teachers, teach lessons and acquire tips from veteran teachers across the region.
"I was very fortunate to have been placed in classrooms throughout the Bemidji and Bagley School Districts," Holm said. "But during the longest field experience, which happens just before student teaching, I went to Red Lake Elementary School and that's where I knew I wanted to start my career."
Holm applied for a full-time position at Red Lake Elementray after she completed her degree and was offered a position. Now, Holm has the privilege of watching the students she worked with during her college experience grow and progress through school.
"I was so impressed with how welcoming the teacher, staff and students were to me," she said. "It was such an impactful experience that I knew I wanted to apply there after graduating. Even now as I see that class of first graders going on to be in fourth grade I am able to continue those relationships and see their growth over the years."
During the summers, when school is not in session, Holm spends time with her fiancé and goldendoodle in the north woods of Bagley and Itasca State Park.
"We love to call the Bemidji area home," she said. "We truly feel that there's no better place to live."
Links
2022-B-007