Each year, Bemidji State University's Spanish language program organizes events for the BSU community to celebrate the cultures and experiences of communities within Latina/o/x, Chicana/o/x and Hispanic Heritage. The month's festivities began on Sept. 15, the day that marks the victory of independence from Spain for five Central American countries – Nicaragua, Costa Rica, Guatemala, Honduras and El Salvador.
Primarily celebrated in the U.S., the Latina/o/x, Chicana/o/x and Hispanic experience between Sept. 15 and Oct. 15 recognizes the contributions made by communities with roots in Latin America and celebrates their rich heritage. For others outside of these communities, this time period is an opportunity to learn and interact with the unique cultural aspects of Latina/o/x, Chicana/o/x and Hispanic heritage. It is also a time to reflect on the tumultuous history that has left its mark on the cultural landscape of Latin America.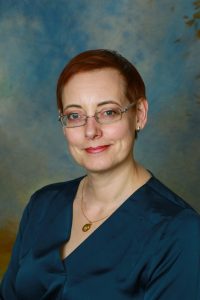 Dr. Ana Lopez-Aguilera, assistant professor and chair of the Department of Languages and Indigenous Studies at Bemidji State, presents a unique perspective on the month's celebration. As a professor of language, she recognizes the importance of culture that is communicated through language.
"I have always enjoyed studying languages," Lopez-Aguilera said. "They provide structure, but it also makes you think critically."
In the classroom, Lopez-Aguilera sets out to teach students about the structure and terminology of the Spanish language. She also teaches material centered on Spanish literature and art forms.
"While teaching the language is my initial focus, getting students in touch with the culture creates a better understanding," she said. "There is a deep connection that exists between culture and how we communicate and express ourselves."
As an educator, Lopez-Aguilera recognizes the importance of the Latina/o/x, Chicana/o/x and Hispanic experience. Not only for students that identify as Hispanic, Latina/o/x, or Chicana/o/x but all students on campus. Although Northern Minnesota may look different to diverse hubs such as New York or Los Angeles, it is still important to take the time to learn about the heritage of Hispanic communities, Lopez-Aguilera said.
With roots in Málaga, Spain, Lopez-Aguilera has developed a more holistic perspective on the cultural landscapes of these communities. She carries a deep awareness of the dark history that has left its mark across the cultural landscape of Southern and Central America and other regions.
"The meaning of this month's celebration has changed over the years, and it is a topic with many details to discuss and explore," she said. "It can be intimidating to approach, but it's crucial to spend time with it."
Immigrating to the U.S. has been a learning experience for Lopez-Aguilera on many fronts. But as she opened herself to the many aspects of life and various cultures, she developed a greater sense of self-awareness.
"By becoming more involved with a language, a culture that is not well-known to you, you begin to think about things differently," she said. "You begin to discover parts of yourself that you didn't know existed, and that is enriching."
The number of members of these cultural communities continues to grow within the United States and is embedding itself within the culture. With that, BSU and other institutions around the country continue to recognize and celebrate the experience of their heritage.
Contact
Links
2022-B-034