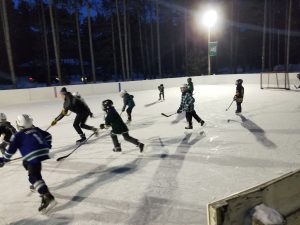 More than 20 years ago Bemidji State University alum Bryan Hammitt '95 repurposed materials from the John S. Glas Fieldhouse to create a 120-by-65-foot ice rink at home. Since then, the Hammitt backyard rink has become a beloved staple throughout his small neighborhood.
Hammitt secured boards and nets from the former home to the Bemidji State Beavers hockey team from 1967- 2010 and began construction in 2000. Two years later, he laid the first sheet of ice and has since spent countless hours adding classic ice rink amenities including a warming house and "homeboni," a converted lawn tractor used to create smooth sheets of ice.
"I built it for the love of the game of hockey," Hammitt said. "We didn't build it to make hockey players, we did it for the memories."
About 16,000 gallons of water are required to develop the foundation of the rink, annually.
"I start by packing a snow base, then flood, then pack, then flood, then pack — after I do this about four times it is pure ice," Hammitt said on a YouTube video featuring the rink. "I flood it about one to two times per week all winter long using 450 gallons of water per flood."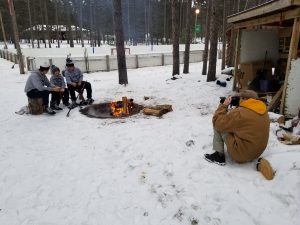 The backyard rink has been featured in many different places from Minnesota Wild tickets to the "Better Homes and Garden" magazine. It was the first and only outdoor rink shown in Matthew Jasper's "Home Ice," a book that features photos of 72 ice rinks around Minnesota and was also highlighted in promotions for the 2019 Hockey Day Minnesota in Bemidji.
Heavily involved in the local hockey scene, Hammitt favors one Bemidji State hockey memory among others — the coldest outdoor game in college hockey's modern era during Bemidji's Hockey Day Minnesota weekend. Braving temperatures that dipped as low as 15 below zero, the Beavers secured a power-play goal with less than two minutes remaining in overtime to topple Michigan Tech, 4-3.
Hammitt had no idea the rink would become as popular as it has but when he received the boards and net from Bemidji State, he knew he was creating something that would withstand the test of time.
"There have been championships won between these boards and nets," Hammitt said. "I'm proud to take these boards and the history they have and to pass them onto the kids that play here."
Links
2021-B-114