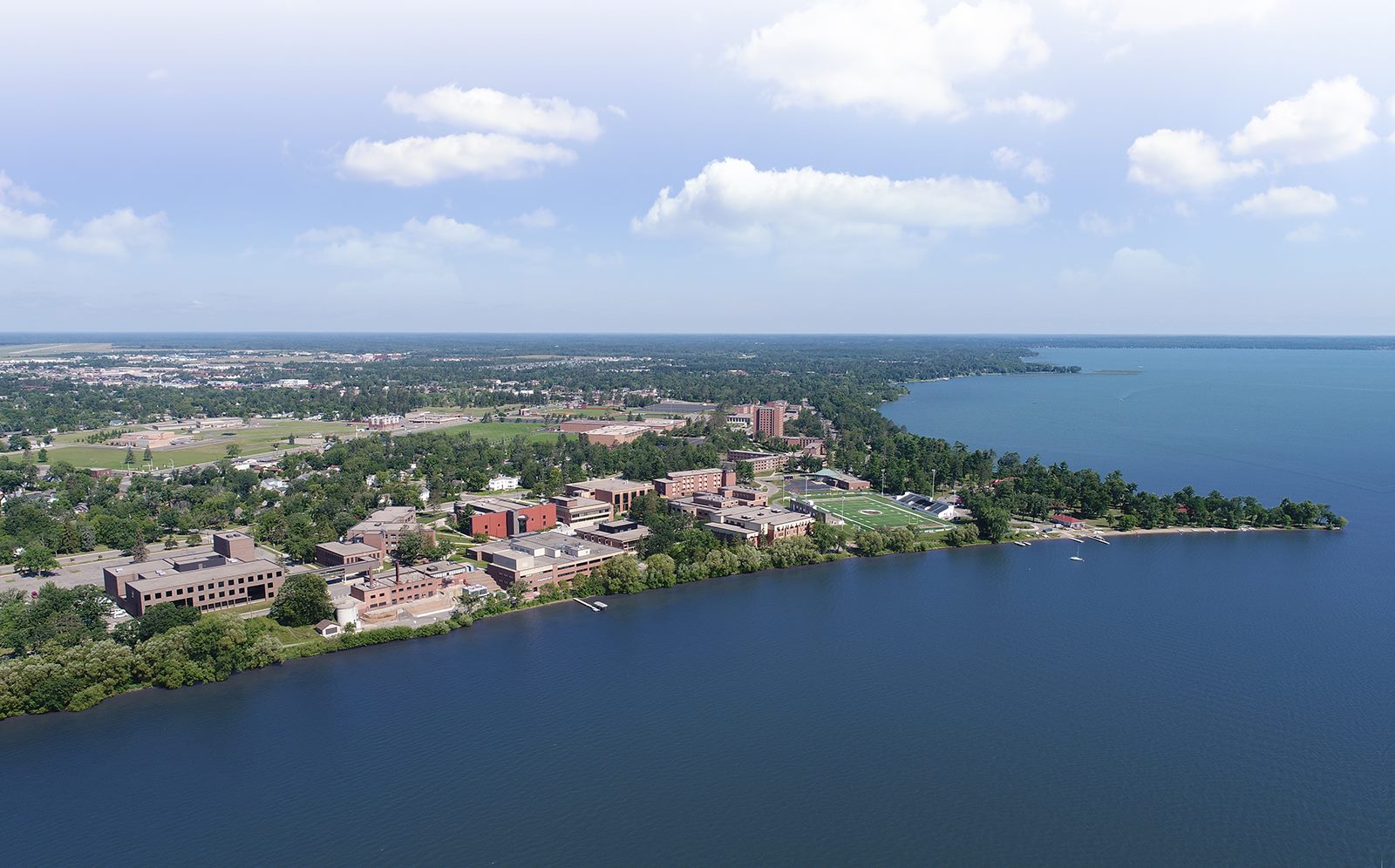 We acknowledge that Bemidji State University is located on land and water that is the current and ancestral homeland of the Ojibwe and Dakota. We acknowledge the painful history of genocide, forced assimilation, and efforts to alienate the Indigenous inhabitants from their territory here. We honor and respect the many diverse Indigenous peoples still connected to this land, retained tribal sovereignty, treaty rights, and cultural resilience. Indigenous people are spiritual and physical caretakers of this land to which we all belong. Bemidji State University respects these sacred lands, stands with the community members from these Nations, and will fight injustice in all its forms.
Bemidji State University unveiled the preceding acknowledgment on March 5, which recognizes the Indigenous peoples who have been dispossessed from the land occupied by its lakeshore campus.
"This is a historic moment for Bemidji State University," BSU President Faith C. Hensrud said. "We have long understood and respected our location on Ojibwe and Dakota land, and this acknowledgment is one small step we as an institution can take toward fostering a closer relationship with the original stewards of this land."
A Brief Land History of the BSU Campus
Bemidji State University sits on land occupied first by the Dakota and later by the Ojibwe, long before the first white settlers arrived in northern Minnesota. The Treaty of 1855 would create a dozen American Indian reservations and reclassify much of northern Minnesota's remaining Indigenous land to be shared with white settlers.
An influx of white settlement soon ensued, and despite the existence of treaty agreements many Ojibwe were denied their right to share and access much of this land. Some Indigenous people continued to live in Bemidji, but many others moved to what is now Cass Lake, Minn.
In 1863, the Leech Lake Reservation east of Bemidji expanded to accommodate the many Ojibwe people who could not easily consolidate on the reservation. It was expanded again in 1864 to include the town of Bemidji and the land on which the BSU campus now sits.
In 1867, a new treaty established the White Earth Reservation and reduced the size of the Leech Lake Reservation. Bemidji once again found itself outside the Leech Lake Reservation's borders and in the hands of the United States government and, later, the White and Street Townsite Company.
Starting in 1858, Minnesota began establishing state-supported institutions called Normal Schools. As white settlers moved into the north-central region of the state, it was determined that a school should be built to accommodate the population.
In 1909, a number of northern towns began lobbying to host the school, including Bemidji, Thief River Falls and Cass Lake. On July 15, 1913, Bemidji was selected as the home of Minnesota's sixth normal school, and a deed for the land on which the school would be built was transferred from White and Street Townsite Company to the city of Bemidji on Sept. 30, 1913.
With funding from the legislature, construction began in April 1918 to clear the thickly wooded school site a mile north of town on the west shore of Lake Bemidji. The Bemidji Normal School opened June 23, 1919.
Land Acknowledgment Process
Erika Bailey-Johnson, director of Bemidji State's sustainability office and Niizhoo-gwayakochigewin program, began drafting a land acknowledgment with colleagues across campus in Spring 2019 after attending a conference where one was prominently featured.
"The land acknowledgment their organization had approved was used before every keynote, breakout session and event for the duration of the conference," Bailey-Johnson said. "Often the land on which Indigenous nations and communities reside is not the land to which they have ancestral ties, as many have experienced dispossession and displacement through colonization."
In Fall 2019, a proposal was brought forward which included an emphasis on an inclusive and campus-wide vetting process. A few months later, in February 2020, Hensrud convened a land acknowledgment working group and the process of creating a formal, widely vetted Bemidji State University land acknowledgment statement, was initiated.
The workgroup included;
Dr. Allen Bedford, vice president of academic affairs
Travis Greene, associate vice president for student life and success
Dr. Vivian Delgado, assistant professor of Indigenous studies
Dr. Cornelia Santos, assistant professor of environmental studies
Chrissy Koch, executive director of the American Indian Resource Center
Erika Bailey-Johnson, Niizhoo-gwayakochigewin and sustainability director
Alicia Bowstring, former Council of Indian Students president and 2020 BSU graduate from Laporte, Minn.
"Several mindful conversations were had about the history and culture of Bemidji, the intent and meaning behind specific concepts and phrases, and whether or not to connect to spiritual concepts of the land and land loss," Bailey-Johnson said. "It is our responsibility to know and act on this acknowledgment. This is just a first step to begin the healing that needs to happen to create just communities where we all thrive."
Just over a year after convening the working group, a final draft was presented to President Hensrud's Indigenous Advisory Council. The council met in Sept. 2020 and concluded that a separate gathering of interested individuals should occur to provide specific feedback on the draft statement. In addition to Bailey-Johnson and Santos, this meeting included Dr. Anton Treuer, professor of Ojibwe in Bemidji State's Department of Languages, Dr. Mary Fairbanks, professor of nursing, Veronica Veaux, assistant professor of business administration, and Dr. John Gonzalez, professor of psychology.
"Witnessing the conversations developing the statement was a wonderful learning experience," Bedford said. "This statement provides a foundation for us to engage meaningfully with our history and with our work to build multicultural understanding."
The statement was also vetted by the campus community through an all-campus survey, a panel discussion and bargaining unit presentations, and received final approval from President Hensrud on March 3.
"It's heartening to see Bemidji State University's adoption of this Indigenous land acknowledgment," Treuer said. "The acknowledgment has been a long time coming but is welcome indeed."
Native Vision: Milestones in Bemidji State's History
Bemidji State's connection to American Indians students, language, culture and pride has evolved from an institutional emphasis into a foundational pillar of the university's mission.
A regional public university located between Minnesota's three largest American Indian reservations — Leech Lake, Red Lake and White Earth — Bemidji State has a storied history of taking strides to represent the people of its community and the region.
"The BSU administration, staff and students know that history did not begin with the arrival of the first white explorer, settler or lumberjack," Hensrud said. "Everyone who comes to campus should know about the historical and contemporary presence of Indigenous people here. This land acknowledgment seeks to make that a natural, visible part of who we are and what we do at BSU."
Amid a surging American Indian political movement, Bemidji State made history in 1969 when it began the nation's first collegiate Ojibwe language program and matched the University of Minnesota by establishing an Indian studies major.
The following year in 1970 the Indian Studies Center, also known as Anishinabe* Family Center, opened in a former residence near campus as a gathering place for students and home to programs such as the Indian Community Action Project, serving tribes in four states. That same year, American Indian students formed the Amerind Club, later renamed the Council of Indian Students, and organized BSU's first American Indian Education and Awareness Week and later BSU's first powwow in 1972.
In 1979, The first edition of the "Oshkaabewis" Indigenous newsletter was published on campus. It was reconfigured in 1990 to the "Oshkaabewis Native Journal" and became the only academic journal of the Ojibwe language. It is currently produced and edited by Treuer.
In 2003, the aging Indian Studies Center was replaced with the current American Indian Resource Center and in 2015 the Indian studies program was renamed Indigenous studies, offering not only a major but also a minor and emphasis.
The following year, President Hensrud included a native drum and singing group at her October 2016 inauguration and, for the first time ever, in BSU's commencement ceremony in 2017. She also established an American Indian Advisory Board composed of community and regional representatives and formed an on-campus Indigenous Advisory Council per the suggestion of Dr. Vivian Delgado, assistant professor of Indigenous studies.
"I have been involved in the land acknowledgment process since the beginning," Delgado said. "The efforts put forth to make this happen validates the years of work of the Indigenous Studies four-year degree program at BSU and the strength of our communities."
In May 2017, the university set a new precedent by establishing simultaneous dual-enrollment agreements with four tribal colleges in northern Minnesota. The pacts established direct pathways for native students to move from the two-year schools into a four-year degree.
Contact
Links
2021-B-123
First published: Mar 5, 2021