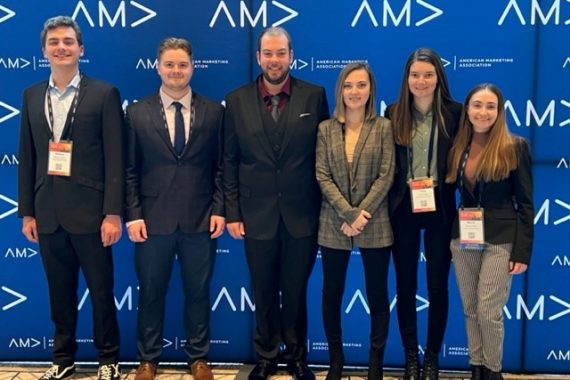 Members of Bemidji State University's American Marketing Association attended the International Collegiate Conference from March 16 through 20. They competed in various marketing and sales competitions against over 900 students attending from over 100 schools around the globe.
The AMA ICC is an international conference that provides students with professional and career development opportunities, networking and competitions.
"Attending the AMA ICC was an amazing experience. Getting the chance to network with both students and professionals in the fields of marketing and business was great," Gillian Harmon, a graduate business administration student from Bemidji, Minnesota, said. "The conference also gave me the chance to learn about how diversity, equity and inclusion have become such an important part of businesses to know how to better navigate my future in the field."
Joshua Huenecke, a business administration student from Bemidji, Minnesota, said the conference provided invaluable networking opportunities and experiences unmatched in the classroom setting.
"The various speakers shared their insightful knowledge on diversity and inclusion, marketing strategies, LinkedIn profile building and much more," he said.
Perfect Pitch Competition
More than 180 students competed in the conference's perfect pitch competition where participants were tasked with giving a 90-second speech about themselves to a prospective employer.
Bemidji State's Melody Hoza, a senior business administration student from Fairbanks, Alaska, Tricia Niznik, a senior sport management student from Rogers, Minnesota, and Matthew Cizek, a freshman business administration student from the Czech Republic were among the competitors. Hoza and Niznik were among 50 competitors to advance to the final round and Hoza ranked among the top 15 and received an honorable mention.
"Through my opportunities at AMA ICC, I have gained more confidence in presenting in front of others and networking with professionals," says Niznik.
Sales Role-Play Competition
Hoza and Mitchell Nemec, a sophomore business administration student from International Falls, Minnesota competed in a sales role-play competition where students are given a scenario and product to role-play selling. Competitors have 10 minutes with a potential buyer to close the sale.
"I was able to network with chapters and professionals from all over the country and compete in two competitions," Hoza said. "The connections I made and experiences I had are something I will cherish for the rest of my life."
Out of 61 students competing, 12 advanced to the final round, including Hoza and Nemec. Hoza placed second and Nemec third.
"The ICC was like nothing I could have ever imagined. It was an incredible experience that allowed me to grow in many ways, including my education, future and friendships," Nemec said.
Bemidji State's AMA chapter was also recognized in three categories of the chapters annual report – professional development, membership and internal and external communications.
Contact:
Link: