On April 20 Bemidji State University students taking marketing classes with Dr. Angie Kovarik, assistant professor of business administration, held a mock trade show at Bemidji's entrepreneurial support center, the LaunchPad.
In place of its weekly Entrepreneur Meet-Up, the LaunchPad invited entrepreneurs and members of the Bemidji community to explore student's academic work in trade show-style booths where they pitched their products.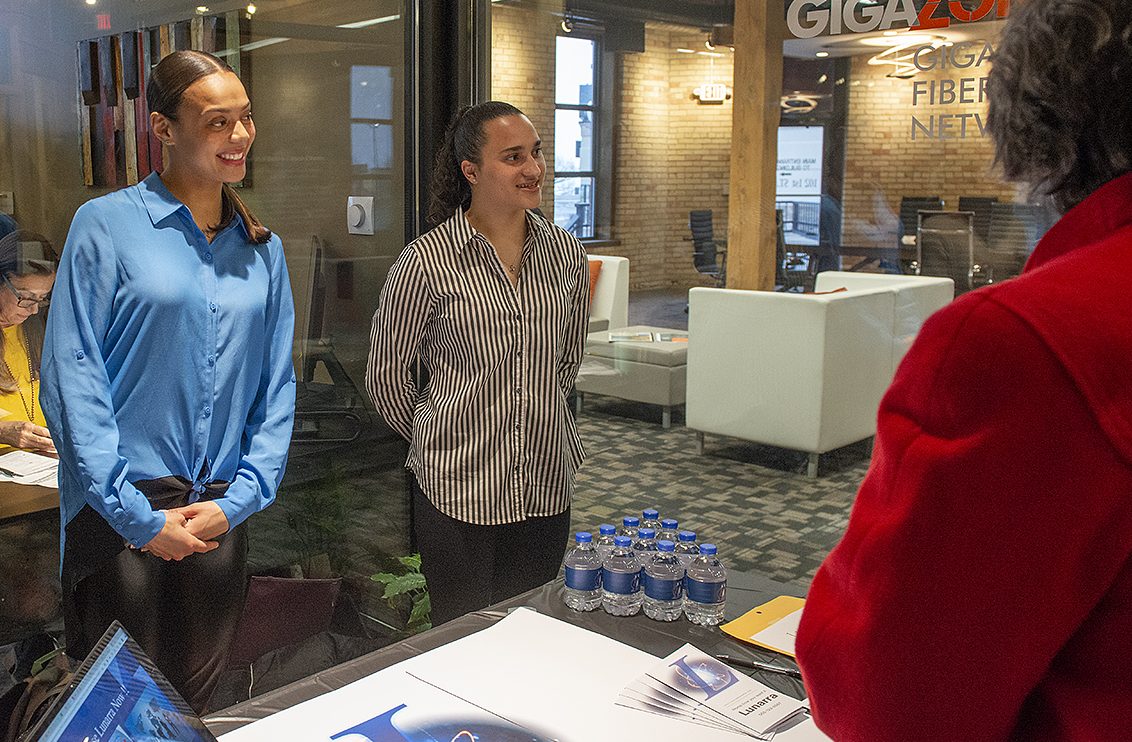 Though normally an annual event, this year's trade show was the first since the onset of the COVID-19 pandemic in 2019. Kovarik said the event is an opportunity for students to showcase their original product ideas using marketing concepts.
"The mock trade show benefits students by giving them networking and presentation experience," she said. "It helps them hone in on soft skills."
Student groups engaged in a friendly competition sponsored by Entrepreneur Meet-Up members for best presentation.
The Sip Saver, a bracelet that can detect if your drink has been spiked with a drug, received the Best Overall award. The product idea was developed by Macy Strandlien, a marketing communication freshman from Shevlin, Minnesota, Spencer Shaver, an exercise science junior from Savage, Minnesota, and Daeja Nylund, a business administration freshman from Baxter, Minnesota.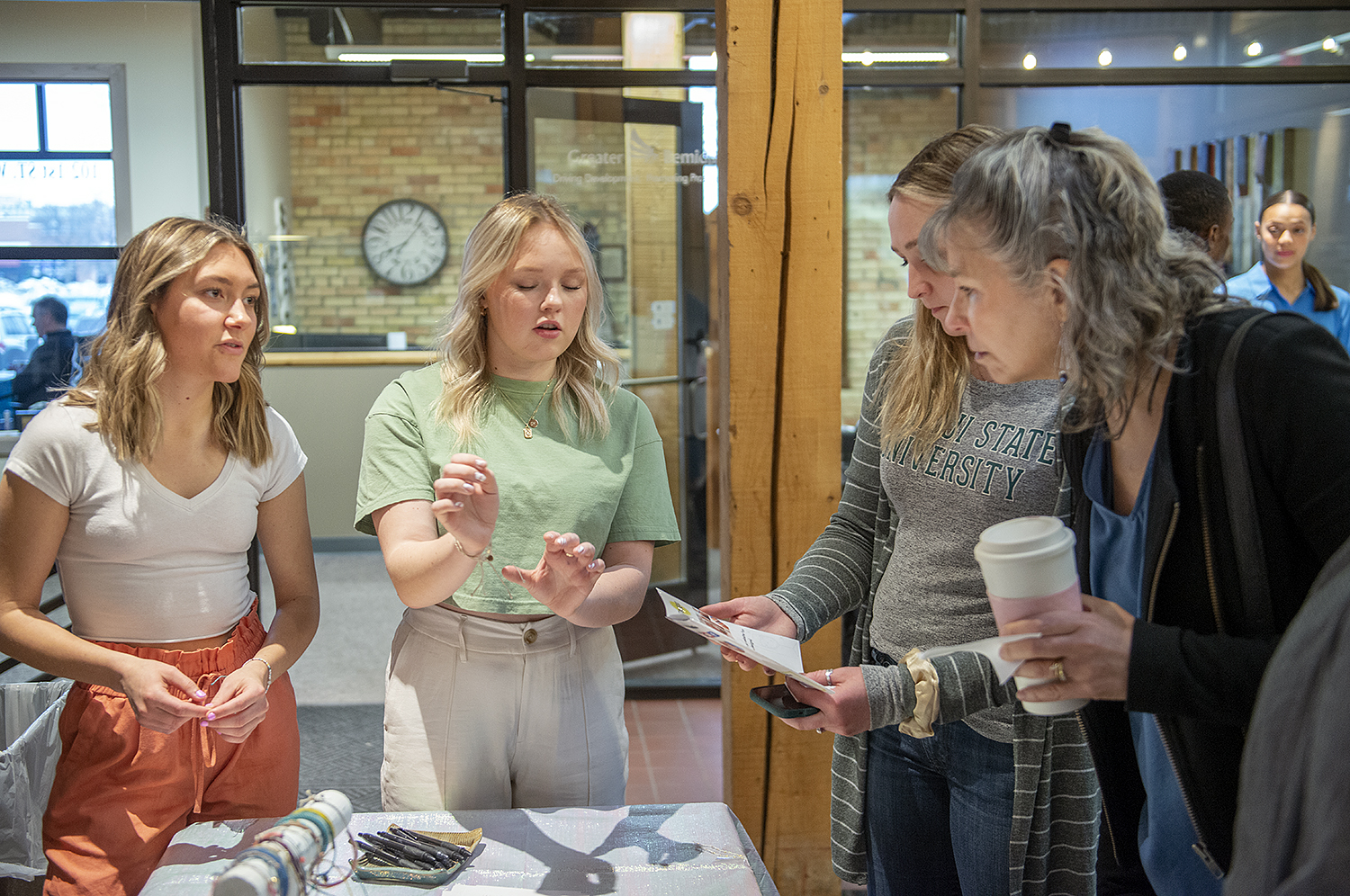 "The Sip Saver is a bracelet for men and women that helps reduce drug-induced sexual assault," Strandlien said. "We wanted to create something that was very practical and discreet – available for everyday use so you never forget it."
Student winners received gift cards and bluetooth speakers provided by the LaunchPad.
Additional product ideas included:
THA, a travel tool that helps students find accommodations while studying abroad;
Weed Off, an automatic boat wash to limit the spread of invasive species;
Game Changer, a sports jersey that changes color for efficiency;
Lunarra, a smart house device with multiple appliance integrations;
Infinity Inferno, a self-feeding fire place;
Kartskis, skis for shopping carts;
Snoboni, a self-driving all-terrain vehicle that can plow and smooth frozen lakes; and
Vator, a built-in, automatic car jack.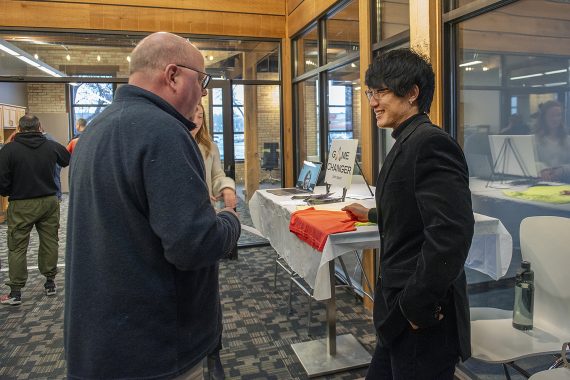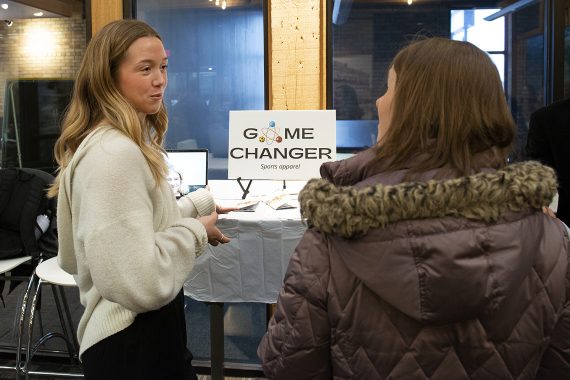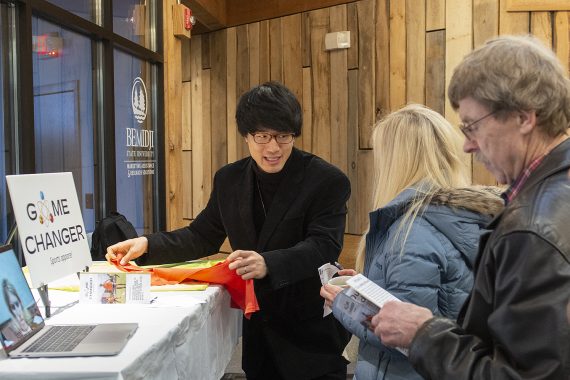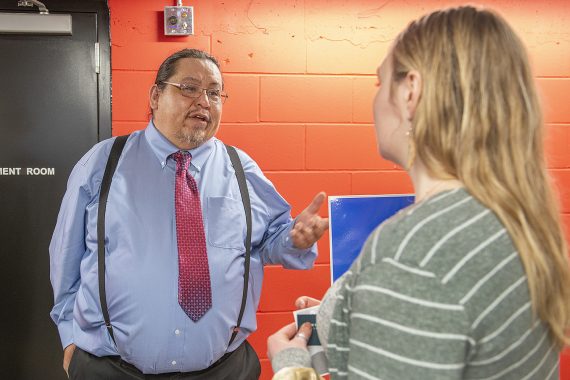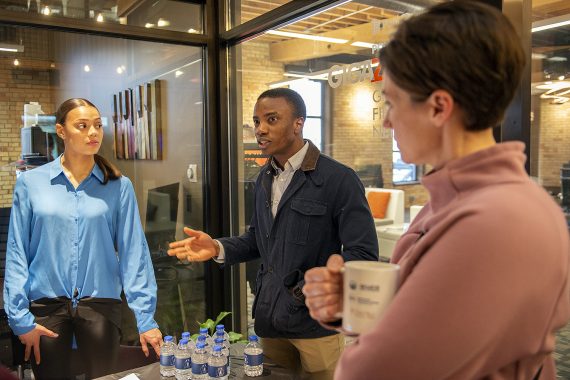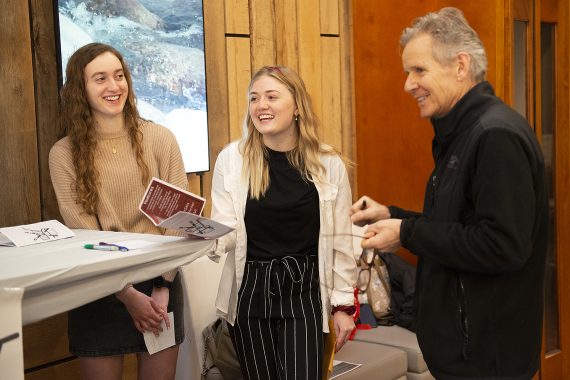 Student Trade Show Participants
The following students presented their original product ideas during the 2022 mock trade show:
| | | | | |
| --- | --- | --- | --- | --- |
| PROJECT | NAME | LAST | DEGREE | LEVEL |
| Vator | Christopher | Afram | Accounting | Senior |
| Weed Off | Alexander | Bartley | Mass Communication & Marketing Communication | Sophomore |
| Weed Off | Brenden | Benike | Business Administration | Junior |
| Vator | Brody | Butcher | Business Administration | Junior |
| Game Changer | Reegan | Goulding | Business Administration | Sophomore |
| Infinity Inferno | Nathan | Gruhlke | Business Administration | Freshman |
| Lunarra | Alaina | Hall | Exercise Science | Junior |
| Snoboni | Grant | Hartmann | Business Administration | Sophomore |
| Infinity Inferno | Elijah | Huff | Exercise Science | Senior |
| Game Changer | Shoma | Iwasaki | Business Administration | Junior |
| Vator | Adam | Jensen | Business Administration | Junior |
| Weed Off | Justin | Keezer | Business Administration | Sophomore |
| Weed Off | Jarrett | Kondos | General Studies | Freshman |
| THA | Madison | Krumrei | Exercise Science | Junior |
| Vator | Jackson | Loschko | Economics & Business Administration | Junior |
| Snoboni | Joshua | McLain | Business Administration | Sophomore |
| Kartskis | Sydni | Miles | Business Administration | Junior |
| Weed Off | Evan | Mischke | Business Administration | Junior |
| THA | Lizzy | Mullen | Business Administration | Sophomore |
| Infinity Inferno | Thorild | Nelson | Mass Communication | Junior |
| Sip Saver | Daeja | Nylund | Business Administration | Freshman |
| THA | Madelyn | Opdahl | Business Administration | Sophomore |
| Game Changer | Halle | Peterson | Business Administration | Junior |
| THA | Josie | Poulsen | Mass Communication | Freshman |
| Kartskis | Alexis | Putzier | Accounting | Sophomore |
| Kartskis | Lacey | Restad | Business Administration & Elementary Education | Junior |
| Lunarra | Kolu | Roberts | Business Administration | Junior |
| Kartskis | Meghan | Roy | Business Administration | Sophomore |
| Sip Saver | Spencer | Shaver | Exercise Science | Sophomore |
| Sip Saver | Macy | Strandlien | Marketing Communication | Freshman |
| Infinity Inferno | Conner | Sullivan | Economics & Business Administration | Sophomore |
| Lunarra | Skyler | Tillery | Business Administration | Freshman |
| Snoboni | Ryan | Tomczak | Computer Information Systems | Junior |
| THA | Claire | Witte | Marketing Communication | Sophomore |
| Lunarra | Ebube | Zulu-Okafor | Business Administration | Senior |
Contact
Links
2021-B-109