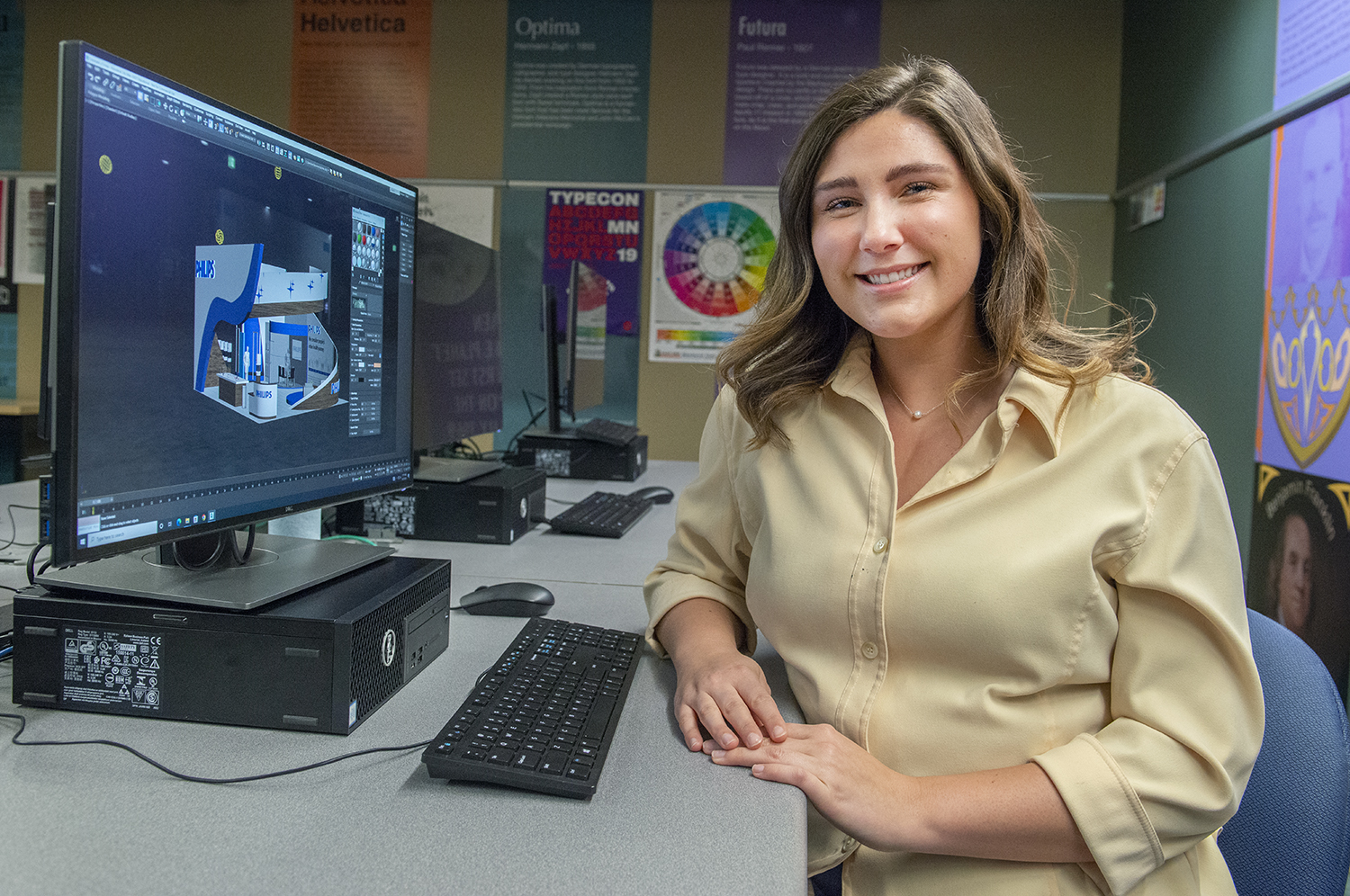 Hailing from Merrifield, Minnesota, Alison Johanneck '22 has always been creative. After starting college as a dentistry student, Johanneck transferred to Bemidji State University's technology, art and design program to pursue her dream of becoming an artist.
Johanneck earned her dental assisting degree at Central Lakes College in Brainerd, Minnesota, but quickly found herself questioning whether it that was the right career for her. Sharing her concern with her cousin, an alumna of the technology, art and design program at Bemidji State, Johanneck was encouraged to explore exhibit design. She enrolled at BSU shortly thereafter.
"I'm a creative person, but had never been in courses that allowed me to expand on that," Johanneck said. "After joining the TAD program, I was able to express creativity in new ways."
The opportunities the TAD program offers propelled Johanneck into unfamiliar creative environments, like trade shows, exhibit design and 3D modeling. Johanneck feels BSU's faculty challenged her to become better, while creating a safe space for exploration.
"Bonnie Higgins and Sachel Josefson are huge influences for me," she said. "They've helped me look toward my future and decide which direction to go in my personal and professional life. Similarly, Mitch Blessing is great at pushing students to see things from a fresh perspective."
As a student, Johanneck was also involved in BSU's Design Guild, a club for students to work on projects, collaborate and network with professionals in the field. She served as vice president during the 2021-2022 school year.
"Design Guild offered many opportunities," she said. "I've been able to explore real-life industry experience by traveling to different trade shows and exhibitions. I've also built connections with professionals already in the field and students who will be."
Johanneck's hard work and dedication paid off when she was named the recipient of the 2022 Exhibitor Media Group Student Achievement Award. This award is given to students active in the design world. For Johanneck, the award confirmed that she made the right choice switching careers.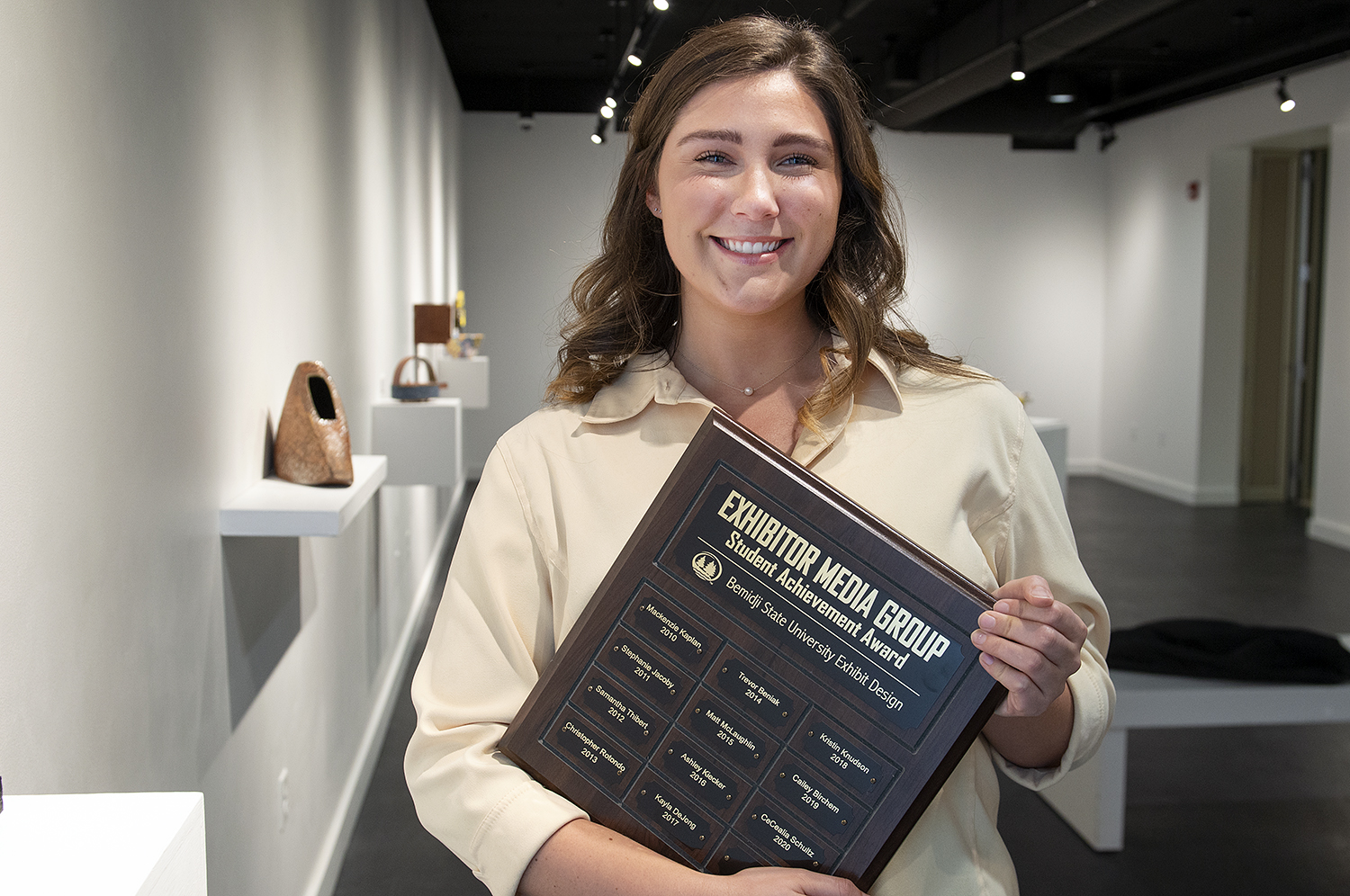 "Receiving this award helped prove to myself that I'm on the right track. I feel proud of my work and I know I'm doing something right," Johanneck said.
Bemidji State University offers the nation's only undergraduate program in exhibit design, offering its graduates a distinct advantage when searching for jobs in this in-demand field.
"Exhibit design students are highly sought after, often resulting in multiple offers from various employers. This gives us more freedom when deciding what we want in our future and what our dream job can look like," Johanneck said.
After graduating from Bemidji State this spring with a bachelor of science in design and minors in graphic and exhibit design, Johanneck hopes to work for an exhibit house before advancing to be a creative director or leader of a creative team.
EXHIBIT DESIGN
Bemidji State University offers the country's only undergraduate program in exhibit design. Extensive partnerships with professional organizations and design agencies provide BSU's exhibit design students with extensive opportunities to network with and work alongside globally renowned professionals. Successful exhibit design graduates from BSU work as creative leads, designers and experience creators in design agencies all over the world. Explore this world-class program by visiting bemidjistate.edu and searching for "TAD School."
Contact
Link
2022-B-116